25 Headlines To Run Through The Town Square Hollering About
The world is full of odd things and fascinating facts. This is a list of things that are strange and interesting. Some you might enjoy this list of interesting facts and some you probably won't but either way, you will probably learn something new. The average person spends approximately one month of their life wondering what happened to their keys. The man who holds the world record for consuming the most food in 24 hours is a Sri Lankan man called Kulothungan Chandra Sahabandu. In a bid to win the Guinness Book of World Records title, he devoured 13,000 rotis in 24 hours. A lion's roar can be heard up to 5 miles (8 km) away. The longest animal on earth is the blue whale. It can grow to an astounding 100 feet (30 metres) long and weigh over 150 tons (136 tonnes). There are currently around 3,000 different breeds of dogs in the world. … ummm … never mind, that's from the wrong universe. Here's the actual list:
PBR Unveils World's Largest Case of Beer - The 1844 Pack.
A huge mass of used wet wipes has formed an 'island.'
Tesla employees had no place to sit, no parking slots when they returned to office.
Prince Charles denies wrongdoing over $3 million cash handed to him in bags by ex-Qatari leader.
Couple bought home in Seattle, then learned Comcast Internet would cost $27,000.
Mechanic sentenced for selling thousands of devices that allowed trucks to bypass emissions controls.
Landscaper Killed in DC Road Rage Shooting Linked to Leaf Blower.
Man in court on marijuana charges arrested while driving away from court in SUV full of marijuana.
Cars Drive Onto Pedestrian And Bike Path To Avoid Traffic Jam.
Ugandan prophet claims he was driving when his car was lifted up by Jesus to heaven.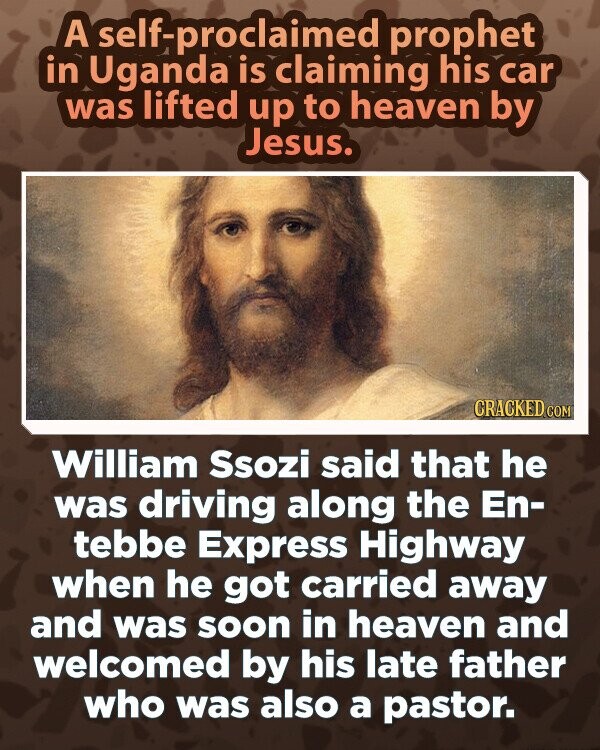 Court tells Miami gunman who went on racist tirade he is banned from pretending to be a Navy SEAL.
Former mayor of Turkey's Capital ridiculed for believing tweet on discovery of jelly bean reserves in Turkey.
Call to tighten New Zealand law that allows public pooing if no one watching.
Rudy Giuliani says NY is the "wild, wild west" after attack.
BMW Reminds Drivers To Use Their Car's Indicators.
Delta Air Lines offered $10,000 to passengers willing to give up their seat.
Avalanche dent Stanley Cup minutes after being crowned champions.