20 Happening Facts For Every Cool Cat and Kitten
Do enjoy this list of interesting facts. Some people like to call them "stupendous" facts, but that's just silly. If you say "stupendous facts," you sound stupid, and it makes it harder to read the list.Some people enjoy the following list so much, they print it out and hang it on the wall in their homes. The printout should be laminated, so the list does not wear away over time, which will prevent people from reading all the interesting facts.Some people enjoy the following list so much, they download it and play it on an endless loop in their homes. The downloaded list of facts will continue to provide entertainment for their family for many years to come.Some enjoy this list so much, they purchase a book with a printout of all the facts included in a plastic sleeve inside the back cover. These plastic sleeves can be reused many times if you do not care about the book's spine becoming damaged from repeated removal of the sleeve, and if you are willing to sacrifice the spine for the sake of knowledge.
The Jaguars had to get rid of the ax in their locker room after "the incident."
Radio stations east of the Mississippi River start with W, ones to the west start with K.
NASA doesn't get any money from NASA merchandise.
A serial killer was granted anonymity after their release from prison.
"The Great Wall of Vagina" is a plaster showcase of genitals.
Sri Lankan chiefs overthrew their king, assumed the throne, and killed each other one at a time.
Bees in Asia protect their hives from murder hornets with poop.
Pork shoulder is called "pork butt."
Mazda had to recall cars on two occasions due to spiders.
Uncle Sam has a wife named Sammy.
Ted Kaczynski listed his life sentences as "awards" at his University reunion.
A Wall Street restaurant ran on the honor system.
Hummingbirds have big, big brains.
A man created the first snowmobile after a blizzard led to the death of his child.
The Titanic's maiden voyage was delayed when the captain crashed another ship.
The cartoon image of a beehive is actually a man made "skep."
There is a type of "blind" chess.
An elephant actually made Hannibal's trip through the alps.
A snake bite produced two victims: a man, and the snake.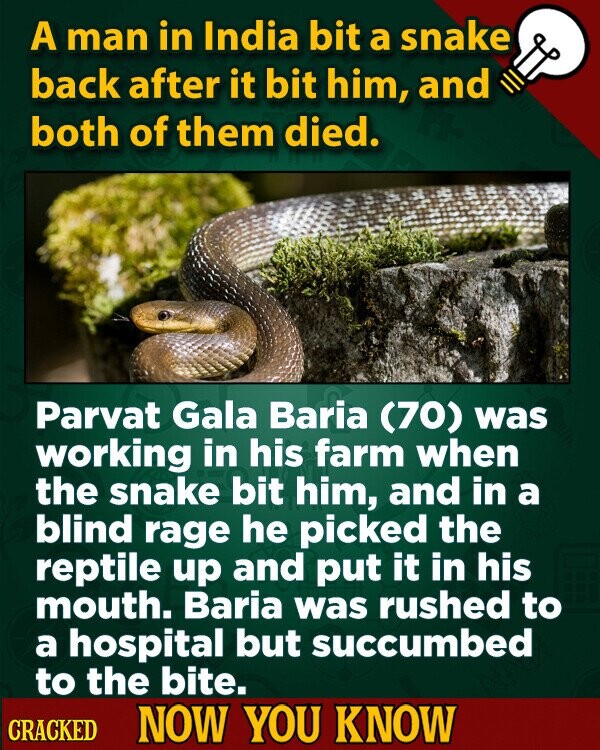 A restaurant in San Francisco still honors a deal from the previous building residents.