35 Medical Facts We Wish Weren't True (But Unfortunately Are)
Our bodies are pretty disgusting. We're walking meat sacks with fluids and gunk coursing through them, creating and expelling gasses with all sorts of smells and noises… And that's when everything is operating normally and healthy! When something goes wrong, on the other hand, Mother Nature seems to put it's hand on the "disgusting" dial, turn it all the way to the "10" mark, and not stop until the dial fully snaps off. Fetuses absorbing fetuses, hair growing tumors forming in eyes… The items on this list are a Cronenbergian nightmare movie just waiting to happen.
Human bodies were absolutely a mistake, and we humbly await the future where we can upload our consciousnesses to cold and uncaring computer systems, and maybe live as cool robots or something. Until then, we're stuck with the aforementioned meat sacks, and all of the farts and burps and chewing and growths that come with it. Ick.
Jawbone in the Eye
I'm starting with the man in the mirror...
Didn't need to see this one
"Retained Surgical Items"
This makes sense? We guess?
The mystery of left boobs
Your eyes know how to breathe!
See? Gaming isn't for nothing
3 kidneys!
Brain Age
Alcohol prescriptions are real
Your tongue print is individual
The Liver is Magic
Dem baby bones
Cats: They're just like us
"Bagel-Related Injuries"
Why you have sweaty feet
Fetus' got your back, bro
Hickeys can cause strokes?
Sudoku Seizures
Ol' Corkscrew Gullet
Green Blood?
Babies Having Babies
The 60 Year Old Fetus
No smelling while sleeping
Fingernails vs Toenails
The secret to a bigger penis (your arm skin)
Redheads and pain
The brain in your stomach
Science is amazing. And Gross.
Too Many Hiccups
Thanks, water!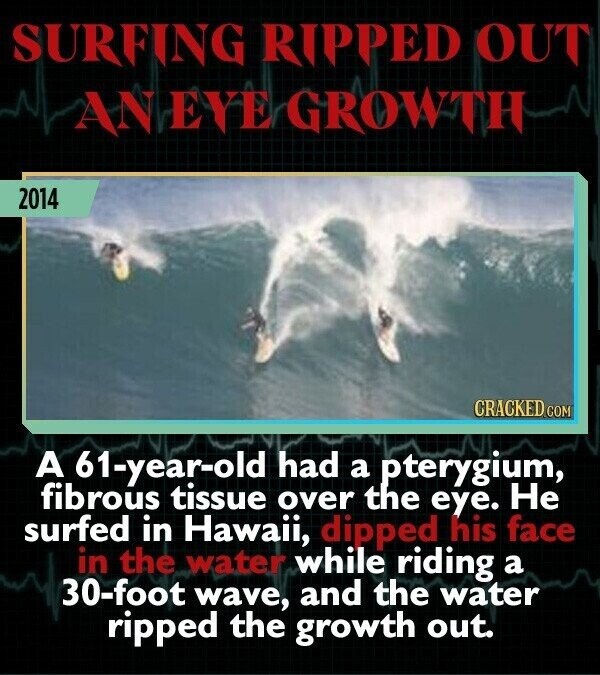 Sleep is, like, really important
Your heart doesn't need to beat, we guess?
No pain? Lots of problems.