15 Larger Than Life Facts That Made Our Brains Shiver
The apocalypse had been predicted by a cult of nutcases who thought that a comet was going to hit the planet Earth. When the world didn't end on the day predicted, some of the cultists were left disappointed—but their disappointment quickly changed to joy. They'd been wrong! They could be wrong about anything and everything. The cultists started to believe that there was no such thing as science or logic or reason. They began to believe that there was something greater than them, something so powerful that it was capable of making sure they would be spared from the impending doom.
They believed in a deity, an invisible, undetectable being that had taken notice of them and would protect them from the destruction to come. And this greater deity, it turned out, told them the secret of existence during one of the rituals they performed to gain its favor. The secret was hidden in a list of fifteen facts, which went …
Typhoid Mary infected over 50 people despite showing no symptoms of typhoid.
Babe Ruth and Lou Gehrig were struck out by a 17-year-old.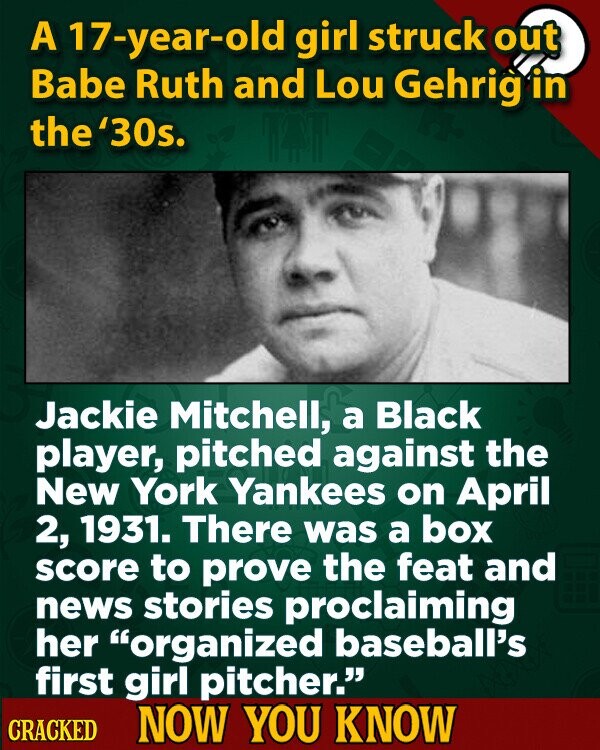 Accordion is extremely popular in North Korea.
Lincoln's bodyguard left to get a drink at the worst time.
A place in Panama is the healthiest area to live.
Humans aren't the only animals that like spicy food.
Libya had the hottest recorded temperature on Earth.
Some frogs hold their pee for 8 months while they hibernate.
Our ancestors used goosebumps to look intimidating.
A sea slug will grow a new body if its head is severed.
The first speeding ticket was for going 8 mph.
JFK's sister was lobotomised against her will.
Astronauts couldn't get insurance, so they signed memorabilia in case they died.
Men in Germany wouldn't listen to a GPS if it had a woman's voice.
Ferris Bueller's parents got married in real life.