15 Coo-Coo-Bananas Facts That Really Ejected Our Warp Core
The two gods fought in an arena that was a mountain. The arena was built into the side of a great cliff, and its sides were so steep it looked like the entire mountain might collapse at any moment, which would certainly be entertaining. It was a small arena with very high walls, and the gods could not jump from the ground to reach each other. Their battle began as soon as they touched the ground at opposite sides of the arena. Each god had only one weapon – his own body.
Their first move was to leap over their own heads. Zeus soared through the air and landed on his feet on the far side of the arena. He stood tall and proud, but Hermes did not seem to notice him; he had fallen on his face on the far side of the arena and lay there laughing.
"Why the laughter?" Zeus' voice boomed.
"I just remembered something funny I heard last week. It was a list of fifteen facts, and it went ...
Dr. Martin Luther King got a C in public speaking.
Native English speakers unconsciously follow a specific order when arranging adjectives.
A redditor discovered that half the world's population lives in a 5000 mile circle in East Asia.
Dog's feet smell like corn chips because of bacteria.
Spit can fly at 50 mph in a cough.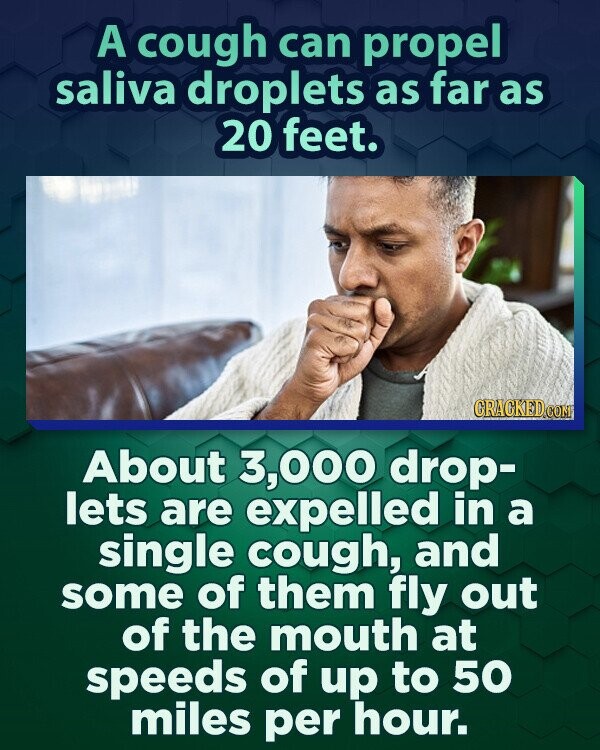 Men run obstacle courses with their wives on their backs in Finland.
Johnny Cash's brother has his own music career.
Old Yeller was adopted from an animal shelter before making it big.
7% of our body weight is blood.
A New Yorker artist hid his daughter's name in his drawings for decades.
A mummified "soap lady" from the 1790's is on display in a museum.
Tossing toddlers from 30 feet up was outlawed in India.
Wheat and barley were an ancient pregnancy test.
Never finish your plate in China.
A bouncy castle flew off the ground during strong winds, leading to 2 deaths.