15 Impressive Facts For Every Know-It-All
"I have psychic powers! I know it, and you don't." The man looked at the woman sitting across from him. He could feel her skepticism, but he was sure he had a valid explanation for his abilities. He just didn't quite understand them himself.
The woman sighed in exasperation. She'd met dozens of these people, men who were certain they possessed supernatural abilities that would make them famous or wealthy if only the right person believed in them. "What makes you think this time you will be different than all the times before?" she asked. "You've come to me before claiming that you are telekinetic, that you have the power to heal others with your mind, and even once that you can see the future."
"Well, I know what you're thinking…. oh yes."
"Oh?"
"Yes. That list of fifteen facts you just read is still fresh in your head. The one that goes ...
Hair dryers used to have asbestos.
Chile has a "Magic Mountain" hotel tucked away in a forest.
The chocolate chip cookie was invented by accident.
Virginity can be very profitable, if you're a model.
The 'Dog Oscars' are a big deal.
It snows on Mars, but not like it does on Earth.
Lacoste is responsible for the popped collar look.
Before "Night of the Living Dead," George Romero worked for Mr. Rogers.
Franz Liszt was a rockstar in the 1800s.
Dolphins are born tail first.
Beaver College was being censored online because of its name.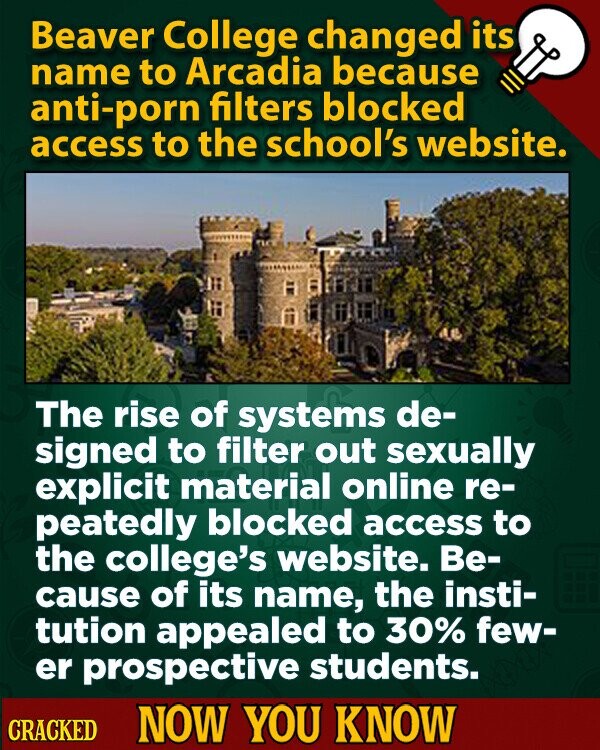 In Germany, depending on which way a black cat crosses your path, it could be lucky or unlucky.
Lincoln rejected an offer of elephants for use during the Civil War.
A cat pee aroma in wine is a good thing.
The author of 'The Talented Mr Ripley' loved snails.