15 Absolute Bonkers Stories From Around The Globe
"The world is not a wish-granting factory. There's no magic lamp or genie that'll make everything alright. It's not that easy, and anyone who says differently is full of it. But sometimes you can find a loophole."
This was one of those loopholes. A small crack that led down into the earth, a place where a man could escape his reality. It would never last forever, but while it lasted…he was free. He could be himself here. No one would know him or judge him for what he wanted.
And he had found this cave when he was young. The first time, there had been a small hole at the back. A tiny opening that he crawled into. His mother had never even noticed.
Somehow, at the back of the cave, there was something really odd. It was a list of fifteen facts carved into the rock, and as it happened, that list went ...
Bitcoin mining replaces coal mining in Montana, helping no one.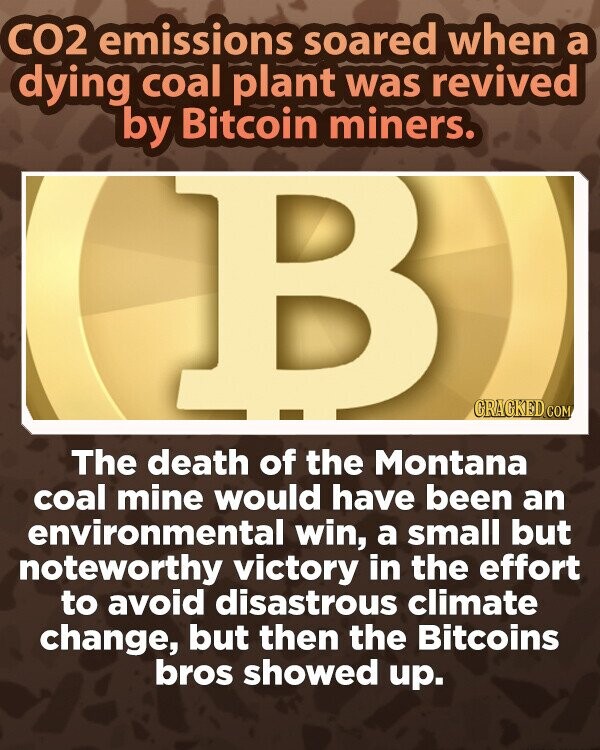 Chemical dump sells for big bucks in DC.
A metal-singing cockatoo surprised its new owner.
Tourists thought they could bring a bomb they found on vacation through the airport.
The police in Florida are urging people to shoot at home intruders.
A senior citizen volunteered at the local police station, and started selling drugs.
A woman married her cat so they could live together.
A horse, and its trainer, were on meth during a race.
The daughter of a Florida sheriff was arrested for meth trafficking.
Cereal for orange juice is finally here.
No homes for builders who make homes.
Texas wants Disney to relocate to avoid authoritarianism in Florida.
A school board member is being asked to resign for posting porn on Facebook.
A Red Hot Chili Peppers fan accidentally bought tickets to see a cover band.
Volunteers drank dysentery smoothies to help scientists.