40 Real Places Ripped Right Out of Sci-Fi and Fantasy Stories
Think of the most amazing places you've seen come to life in science fiction / fantasy movies and television shows: The dunes of Tatooine where Luke Skywalker longing looks up at two suns, the lush and gentle hills of the Shire in The Lord of the Rings films, or the expansive but claustrophobic cyberpunk cityscape of the Blade Runner films. While you'll never be able to truly see those places for real with your own eyes, don't despair! There are numerous places on Earth that feel like they'd be right at home in any single one of those films. Neuschwanstein Castle looks like it's something straight out of a Disney film, the Tsingy de Bemaraha looks like a Tim Burton-esque horrorscape, and The Garden of Cosmic Speculation could easily be from some underappreciated sci-fi TV shows that nerds will mourn the cancellation of for the next two decades. That said, if you don't feel like travelling, movies are a pretty good option too.
Arctic Island Warehouse
The Siberian mine that eats helicopters
Neuschwanstein Castle
Corryvreckan Maelstrom
The Seven Strong Men
Don't fall in here
The Atomium
DSU's Optical Science Center
The Garden of Cosmic Speculation
El Alto, Bolivia
India and Pakistan's Border Wall
Chapel Torre Girona
Kinda wish this is what Dune looked like
Volcanic ice caves SOUND like they should be oxymorons...
Gonna nope right out of this cave, thanks
How did this form naturally?
What's this weird, pink lake?
A real crystal fortress?
Mponeng Gold Mine
Sudbury Neutrino Observatory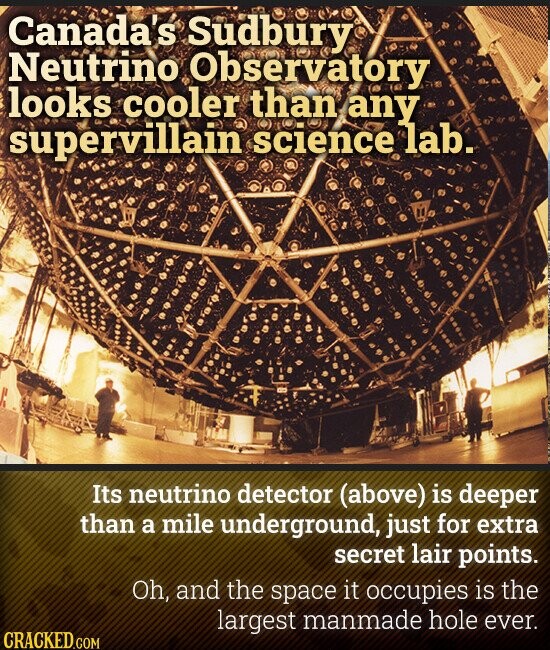 ARoS Kunstmuseum
The Ijen Crater
Salina Turda
The Polygone Riviera
This lake is ridiculous.
Sahara sea shells?
Marble caves... sort of.
Frozen waves? Not quite!
You can't convince me a unicorn doesn't live here
Minecraft in real life?
Pittsburgh Children's Museum
Berlin's Tropical Island Resort
Slab City, CA
Moshe Safdie's model society
This sea foam isn't fake
Psychadelic Russian mines
The strange colors of this tree!
Natural water stairs
Snow... snakes, yeah...
These lakes change colors!