15 Incredible Insights Into Our Collective Reality
It is raining again in Paris – rain that falls in drops rather than sheets and soaks everything it touches before falling on the other side of the road or disappearing altogether, leaving just an inch on the window. It is raining now and always. My father tells me the same story over and over as though each repetition will somehow change how I remember the past; the rain is the thing we have in common – or lack – but even if we could talk for hours about the rain or the streets of the city, there would never be the kind of intimacy my mother shared with another who died long ago.
My life has narrowed down to one room and three walls. There is no door; it doesn't open out and so I can see only one end. If it's raining again tomorrow and if I've had enough bread today, maybe, just maybe, I might step outside and close that door. And what happens after that? Perhaps nothing, perhaps everything; either way, that door is waiting. I'll cross that threshold when the time feels right and the words will come back to me: 'The first thing you do is walk to the end of the street.' And then what? What's behind the end of that street and why am I so certain that I need to go there?
No. This world is superfluous. I only need my list of facts, the one I have been faithfully re-reading for the last three months. Here it is:
You get brain-washed every night.
Dogs bow to signal a desire to play.
One actor's career spanned generations.
White chocolate is white, not so much chocolate.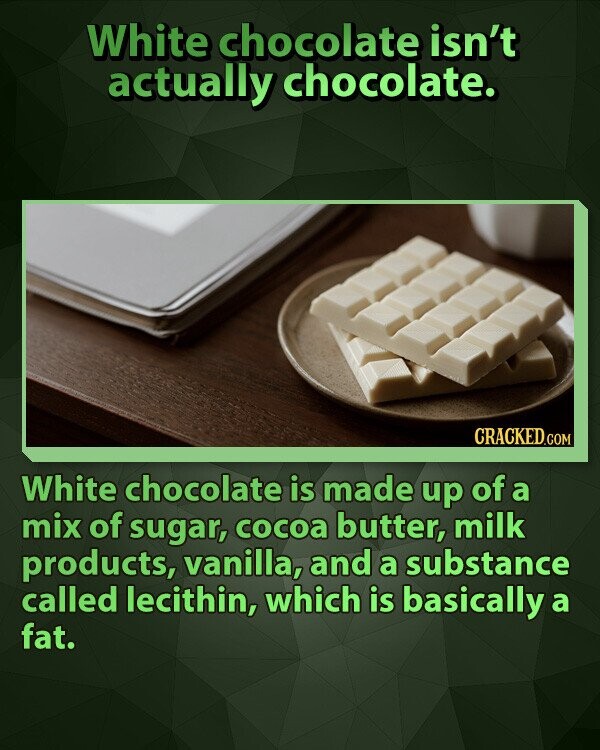 The "Grand Canyon" on Mars dwarfs the one on Earth.
There is a word for the person that your mom compares you to.
Forget Goodyear and Firestone, Lego has the tire giants beat.
Nearly everything from the production of "200" is destroyed.
It's not just Pandora - blue people exist on Earth, too.
Cannibal fog from Florida remains a mystery.
Obscene statues were this king's way of saying "Get Good."
Metallica's most popular song is probably not what you think.
Pluto was demoted while the woman who named it was still alive.
The chainsaw was invented to help in childbirth.
Bad art has an official museum.