15 Facts About Guillermo del Toro
Guillermo del Toro is an incredible filmmaker, whose movies are some of the weirdest, wildest, and most out-there films – Mimic, Nightmare Alley, Pan's Labyrinth, Hellboy, The Devil's Backbone, Pacific Rim – and his life has also been pretty wild.
Raised Catholic, this Mexican director spent much of the '80s working on special effects, before starting as a director with Cronos. He went on to make Pan's Labyrinth, Hellboy II: The Golden Army, The Shape of Water, not Star Wars, the upcoming thousandth Pinocchio, and Nightmare Alley most recently. He's co-produced or helped make dozens of kids' shows and movies you'd never guess including the terrible Rise of the Guardians, inspiration for dozens of Jack Frost AO3 fic. He's also just very weird and cool. He loves monsters the way Judd Apatow loves boner jokes. Man, remember Judd Apatow? We'll get to him next week. Until then!
Here are some odd and interesting facts about one of the best genre filmmakers of all time… including some movies we almost got.
Guillermo del Toro takes years to sketch out his stories in notebooks
Guillermo Del Toro's family thought his monsters were worthy of some holy water
Guillermo del Toro's dad's ransom was paid by James Cameron
Guillermo del Toro's house is like a mausoleum for monsters
Guillermo del Toro saw a UFO, but was disappointed by the design
Guillermo del Toro lost Pan's Labyrinth and a cabbie saved it
Guillermo del Toro helped make Kung Fu Panda 2 and 3
Guillermo Del Toro's Pacific Rim 2 was radically different
Guillermo del Toro almost made Silent Hills, a horror game
Guillermo del Toro's favorite movie is horror film The Uninvited
Guillermo del Toro almost made an adaptation of Lovecraft's At the Mountains of Madness
Guillermo del Toro almost made The Hobbit (and it looked great)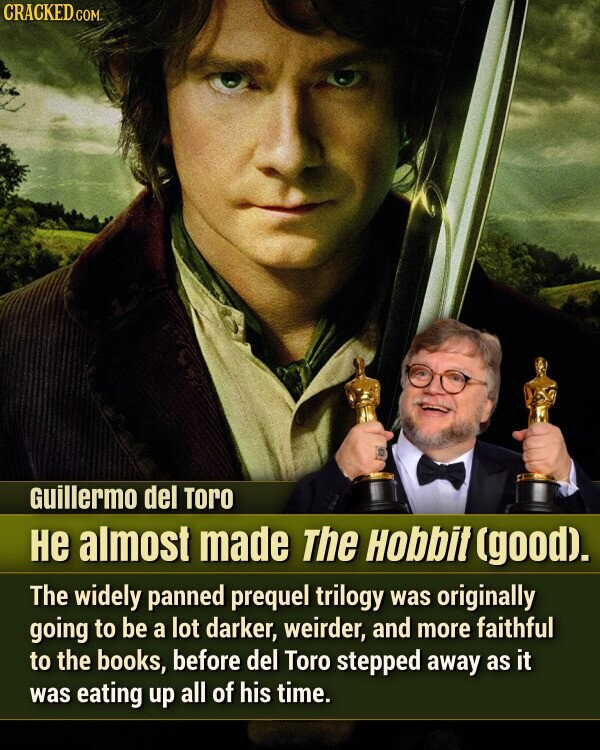 Guillermo Del Toro almost made a Halo film
Guillermo del Toro's raspy breathing was mixed in with the audio for the fish man
Guillermo Del Toro has only ever made one movie
Scroll down for the next article