The 100 Best Late-Night Monologue Jokes from the 21st Century, As Selected by Late-Night Writers
What a century for late night.
Sure, 20th-century comics architected the form, with Steve Allen, Jack Paar and Johnny Carson laying the foundation for the late-night talk show as we now know it. The opening run of topical jokes quickly became the load-bearing beam in the comic blueprint, and America tuned in nightly to see the events of the day summarized in punchlines. But Carson, the face most associated with the early days of late night, had a stranglehold on the business — he so dominated the ratings that no one even dared challenge his rule. Let's just say that in the 21st century, a single guy riffing on the latest Congressional scandals and screw-ups wouldn't be the norm.
Click right here to get the best of Cracked sent to your inbox.
By sheer volume alone, the number of late-night monologue jokes has exploded. By the 1990s, Carson had been replaced by Jay Leno, David Letterman and Conan O'Brien trading nightly gags. In the 2000s and beyond, they've been joined by Jimmy Kimmel, Jimmy Fallon, Stephen Colbert, James Corden, Chelsea Handler, Jon Stewart, Craig Ferguson, Samantha Bee, Lilly Singh, Sarah Silverman, Trevor Noah, Seth Meyers, Amber Ruffin, Bill Maher, Colin Quinn, Michelle Wolf, Larry Wilmore, Norm Macdonald, Jordan Klepper, Jesus and Mero and John Oliver — and those are just the comics represented on this list.
Sorting through all of those stand-up sets to glean the best late-night monologue jokes of the past 22 years and change is a pretty daunting task. That's why we assembled a panel of actual late-night monologue writers to help us figure it out, including Guy Nicolucci (Late Night With Conan O'Brien, The Daily Show), Joe Toplyn (Late Show with David Letterman, The Tonight Show with Jay Leno), Dan Cronin (Late Night With Conan O'Brien), Berkley Johnson (Late Night with Conan O'Brien), Marvin Silbermintz (The Tonight Show with Jay Leno) and Brian Kiley (The Tonight Show with Conan O'Brien). With their help, we sifted and winnowed — okay, it was probably more winnowing than sifting — through thousands of jokes to come up with our list of the very best of late-night laughs.
Here are our favorite 100 from 2000 until today — we recommend reading this in bed right before you fall asleep, just to set the appropriate mood.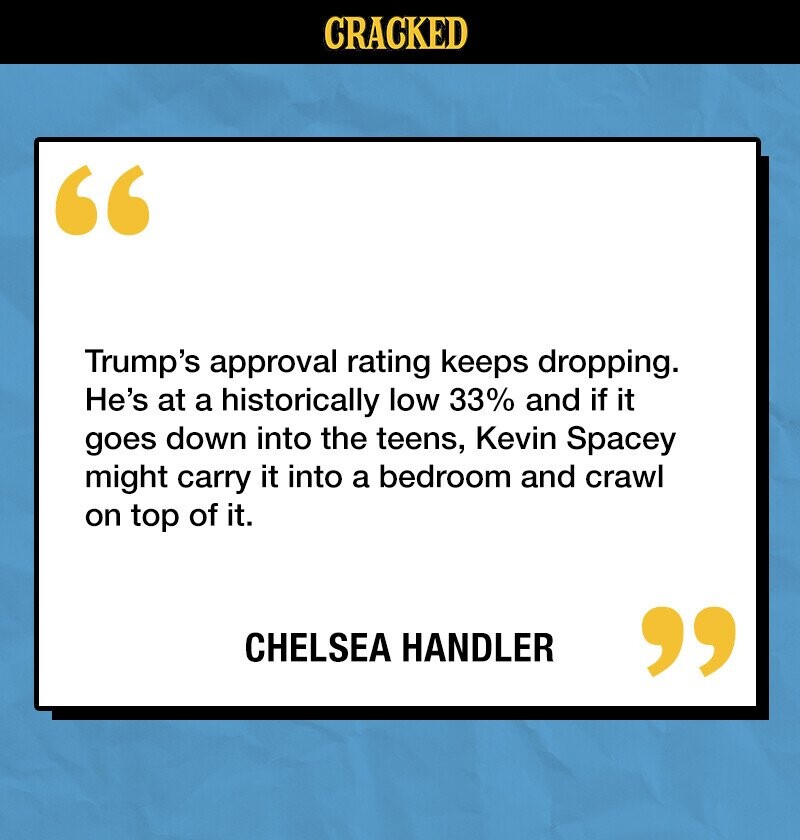 Scroll down for the next article