Winning a fight against the toys from 'Toy Story'
Like most people, I live in constant fear of inanimate objects coming to life and killing me. Movies like the Toy Story franchise, purportedly made to delight and amuse the world, are actually eerie recreations of my worst nightmares. In fact, ever since the release of the first film in the franchise, I haven't spoken a single word to Tom Hanks, so upset am I with his involvement with the films. On my therapist's advice, I've been documenting some of my dreams about these sudden toy attacks, using the dream journal techniques I discussed a few weeks back. And, because I understand that nothing amuses a Cracked audience so much as mocking a soul's inner most fears, I thought I'd share some of it with you. For hygienic reasons, I present it to you below, in a soothing Verdana font, instead of the tear and snot marked original.

The Setup The dream begins with me having taken on work as a self-employed mover following a series of poor life decisions, culminating with the purchase of a van. While assisting with the move of a seemingly normal suburban family, I enter the room of their son, Andy. Andy has apparently angered a shaman at some point in his past, resulting in every one of his curiously old fashioned toys becoming sentient, animated and evil.
Come closer and I shall sing you a song of pain.

Deciding that this hellfont of ancient native magic is none of my business, I slam the door shut behind me and run from the home. But when I reach the front door, I find to my horror that it is shut, the deadbolt locked tight. Behind me I hear the horrible, grating voice of Tom Hanks, cackling as he drops a key--clearly the only key to the house--into the back of Hamm, the piggy bank. I'm trapped. Immediately I wonder how many other movers have met the same fate as me; whether this family is cursed to forever lure manual laborers to their suburban tract home/feeding pit. I am about to die. But as that realization starts to sink in, a strange energy comes over me. A fire forms in my bowels, and a rod of steel and hate forms where my spine should be. For a single, glorious moment, I can perceive the design of the universe, and my place within it. I shouldn't be afraid of toys. They should be afraid of me. I take a couple seconds to form a plan... _________
Order of Battle
Woody An old school pull string cowboy doll, Woody is self evidently the leader of the group. Lacking some of the natural weapons of the other toys, Woody's primary strength is his intelligence, and his heart--which is cut from pure obsidian and can block out the sun. Weak point: Fire __
Buzz Lightyear A plastic spaceman action figure, with fold out wings and, surprisingly, a fully functional rocket pack. Buzz is also armed with a laser, utility belt and has a sturdy armored shell which was almost certainly formed out of children's teeth. The bravest and most heavily armed of the group, I surmise that by defeating Buzz and desecrating his corpse, I may break the will of the rest of the toys. Weak point: Fire __
Jessie A cowgirl doll, who I'm presuming is Woody's wife or sister or both. Jessie is nominally lightly armed, but I will have to be wary of her devastating ability to sing sad songs. I also take note of her red hair, which aside from implying the obvious evilness, also suggests she is probably drunk. Weak point: Fire __
Mr. Potato Head He's a plastic potato with sockets which can mount limbs, facial features and also presumably serve as hard points for military hardware. At present he is unarmed, but in the event he is carrying around a GAU-17/A minigun in his storage compartment*, he will prove to be exceedingly dangerous. A high priority target.

*His ass. It occurs to me now that Mr. Potato Head is in fact the ultimate drug mule. I encourage all readers and media personalities to begin using the phrase "potato heading" to describe this practice from now on.

Weak point: Fire __
Rex A plastic Tyrannous Rex, nominally armed with gigantic, flesh tearing teeth. Those are probably made of plastic as well, but to be safe I will assume he has carefully filed them down to razor sharp points, then dipped them in poison. Rex is also the heaviest of the toys, and thus will be the biggest threat if he falls on me from a great height. I will have to be careful around balconies and chandeliers.
Weak point: Fire __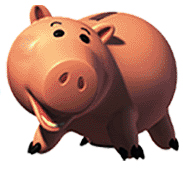 Hamm A functioning plastic piggy bank, Hamm's other primary attribute is that he looks delicious, having fattened up beautifully on the flesh of a thousand innocent men. Notably, his innards contain the key to my escape, as well as a frightening collection of gold fillings. Weak point: Fire _________ Plan of Attack Individually, I could destroy any one of these toys in seconds, using the techniques taught in my anger-harnessing class. But against all of them at once in a melee, I would certainly be overwhelmed. I will have to pick off the toys one at a time, using ranged weapons and crowd control techniques, until I've thinned their numbers and instilled fear in their the cavities where their hearts aren't. My first instinct, to arm myself, is a good one. The use of weapons is how mankind defeated the monkeys and moved out of the caves and into pyramids. A weapon should serve me well here, but because this is a suburban house, I should expect to have to improvise. Additionally, in the unlikely event that I do find a firearm, I should remember to save the last bullet for myself. _________ The Battle I charge directly at the cluster of toys screaming. "MORTAL KOMBAT!" I bellow, kicking Rex square in the face, sending him upwards and into the wall, leaving an enormous dent in the plaster. The rest of the group scatter at my initial rush, and I take the opportunity to put some distance between myself and the murderous mob, stepping into the kitchen. Quickly scanning the room I spot the knife block and pull on the biggest handle there. Returning to the living room, I find it deserted. Suspicious, I prowl carefully forward, until I spot Jessie and her sickening red hair. She opens her mouth to sing, but before the diseased bats can cascade from her throat, I've crossed the room swinging wildly. "I HATE MUSIC!" I announce, missing her with the knife swing, but landing a hefty kick on her as she tries to scramble away. Her tumbling figure trace a parabolic arc through the air. I throw my knife after her, missing badly, but gaining a bit of XP on knife throwing. A flicker of light dances across my hand. I try to somersault backwards, but don't know how. Instead, I hit a wall and slump over clumsily. Standing, I turn to see Buzz, perched on a staircase, playing his laser beam back and forth across my frame harmlessly. "DIRECT AWAY FROM THE EYES!" I scream, running towards him and lowering my fists down upon him in a meaty blow. The laser flicks off, and one of his legs goes sailing away, but Buzz's chunky plastic frame does hurt my hands quite a bit with the impact. I look down to see a small abrasion on my palm. "THIS BLOOD GIVES ME STRENGTH!" I announce, licking my wound. No response. I look around. The room was empty. Is this my chance to look for another exit? Or will that merely be playing into their hands? What's the last thing they'd expect me to do? I take my pants off and jump around the room in a rough circle, slapping my thighs and ass rhythmically. There.
That should give them pause. Now to find that pig and dash him over the ground... I run up the stairs and turn down the hall. Pouring out of Andy's room come a wave of army men. Uh-oh. Behind me come another bucket's worth of men scaling the stairs. I duck into the upstairs washroom, slamming the door shut behind me. I throw a towel down on the ground and hastily jam it under the door, trying to seal the gap. I stand up and quickly search the room. Hopefully this wasn't a mistake. I spot the scented candle. Thank god. "We know you're in there," Tom Hanks's horrible voice, like a cat mating with the sound of a television turning on. "Come out while your blood's still warm and delicious. There's no escape for you now." I smile to myself at that. Little does he know I have no intention of escaping. "Little do you know I have no intention of escaping," I call back. "I mean, I guess you do now." I consider punctuating that by kicking the door off its hinges, but decide that badly injuring my foot won't have the punctuating effect I'm looking for. I gently open the door instead. "FIRE!" I yell, setting fire to the cluster of toys gathered outside the washroom with the hairspray and lighter I found in the toilet. "FIRE!" I repeat, because indeed it bears repeating--there really is a lot of fire happening now. All around me the toys shriek and claw, melting into each other and the carpet. Screams and poison fill the air and I just laugh. Over the next 40 minutes, I set fire to every toy in the house, and several things which I decide could be used as makeshift toys, like cardboard boxes and an old shoe. The toy combat part of the dream sort of tails off around here, although there is sometimes an addendum where the mayor pats me on the back, and tells me "good job," and then turns into a mermaid and starts caressing me. I'm not going to tell you what happens next, because I don't want to write that kind of article just yet in my career. Rest assured though, by the end, she does catch on fire. ___