6 Hilariously Nerdy (Surprisingly Epic) Wikipedia Fights
Ever heard of the Dunning-Kruger effect? It's what happens when a moron, taken to task on his skills at not being a moron, vastly overestimates just how much of a moron he isn't. Wikipedia articles are Dunning-Kruger digitized. Someone writes an encyclopedia page, then thinks they're an expert because they wrote an encyclopedia page. But lack of oversight makes this as effective as claiming to be an astronaut after writing about urinating in space; like zero-G pee, the reality is far more complicated. And when multiple random strangers try it together, things get awful for everyone.
Final Fantasy's Aerith Vs. Aeris
Final Fantasy has a wider following and more coherent apocalypses than most doomsday cults. (Though with 15 "final" fantasies so far, the series is about as good at keeping its promises). One of the most famous characters by far is Aerith Gainsborough, adorable virtual shish kebab of the PlayStation One.

It looks like she should just pop
Final fanatics have put more effort into tracing her name's history than most royal families. There have been faces on currencies with less documentation. It's neatly summarized on the regular Wikipedia page:

Why this looks perfectly sane
Seems simple, right? Actual name, earlier version of the name, and not a single mention of tentacle porn. For most of you, the difference between "Aeris" and "Aerith" is so tiny that you're sort of upset I even mentioned it. But that line is the tip of 18,000 words of vicious online bullshit. Not debate, not discussion -- just a flaming screaming match with people posting entire new subsections just to call everyone else involved an idiot.

Someone here has definitely lost their mind, yes.
These chucklefucks got more upset than a Klingon with a lisp trying to voice-deactivate a ship's self-destruct. They argued for longer than most players even remembered playing the game. They argued the validity of Japanese translations with all the linguistic skill and respect of sex tourists.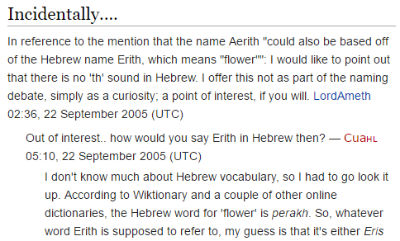 Yes, that last one DID redefine the Hebrew until it ended in "s" instead of "th."
It's a way for the worst kind of nerds to claim they're "better" fans than everyone else. Like many infinite internet arguments, it's driven by the delusion that there can be objective truth about fictional values. The real answer is laughably simple: It's a made-up thing, and even the people making it up didn't give a shit. But those points hurt when you've replaced your personality with PlayStation discs. Which I guess is why armies of alleged adults who encountered FF VII when they were eight years old have decided that pixelated fart in the wind has made up their entire identity. And they've found nothing better to do in their lives since.
Scroll down for the next article