The 3 Worst Christmas Movies Are All Available On Netflix
For every classic Christmas movie, there are dozens of irredeemably terrible ones, like The Christmas Shoes or Love Actually. It's easy to see why -- you can only tolerate your family on a family holiday for so long, and 6-year-olds aren't going to be too concerned with Air Bud 26: Air Bud's Just Santa Now's mise-en-scene. You need something to plop kids in front of when they start asking uncomfortable questions like "Can we make cookies?" or "Can Santa bring Mommy back?"
But is there a chance that these movies will also appeal to adults? No. But I watched some anyway, both because I needed an excuse to fill myself with Christmas spirits and because I hate myself. Maybe you can use these movies to ruin Christmas for someone else, or maybe just get drunk and riff on them with your friends. In either scenario, I'd like to suggest ...
The Christmas Bunny
Netflix's description reads, "A little girl finds a bunny to love ... but it's hurt! Luckily, a lady nearby can make everything better." So I guess this is a short film about a girl learning what a vet is.
We start with a surly kid, Julia, being driven to new foster parents. You can tell Julia wants a rabbit to love because she's holding a VHS tape of The Velveteen Rabbit. It's like how Luke Skywalker's first line is "I hope I get magic powers!"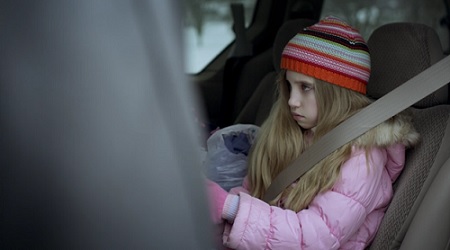 Julia refuses to speak, glares at everyone with open contempt, and monopolizes the VHS player that this 2010 family inexplicably has set up.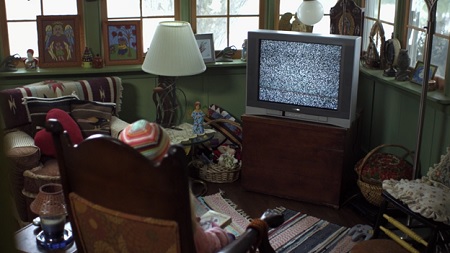 Her new home is decorated like a Hobby Lobby put a shotgun in its mouth.
Dad's unemployed, Mom doesn't work, and an expensive holiday is days away, so this was obviously the perfect time for Mom to heroically address her sadness about not being able to have a second child. The next day they take Julia to visit rich relatives, because thrusting a moody, self-conscious kid into the spotlight of a holiday gathering will surely help her settle in. Julia refuses to acknowledge anyone, and she also refuses to say grace. Wait, is this a horror movie?
Julia gets a present from Rich Uncle Name I've Forgotten ...
... and her response is to pimp slap that creepy bitch and flee the house. If the movie ended right there, it would be the greatest Christmas story ever told.
Instead, Rich Fat Cousin and Billy, Julia's gaping dickhole of a foster brother, shoot a rabbit with their new BB guns.
Julia adopts it and names it Rumple without giving a shit if anyone else in the family wants the cost and responsibility, and they take it to a vet on Christmas morning. Billy, History's Worst Child, complains that he doesn't get to open his presents, then suggests killing the rabbit. In my mental version of the movie, Julia then pimp slaps him, too.
The vet suggests a treatment, then sends them to a lady who lives in the woods when they can't afford it. Supposedly she knows more about rabbits than him, but I think he's just pissed about getting called in on Christmas by a family that thinks vets are a public service. The rabbit expert is none other than Florence Henderson, in a stark reminder that all of us must go downhill one day.
Henderson is a lunatic who basically steals the rabbit and tells them to come back in a week. Julia agrees to her terms by stomping back to the car. Her complete inability to communicate is supposed to imply sadness and trauma, but it just makes it look like this little girl got to star in a movie and couldn't possibly care less. "Yeah, whatever, scene's over because I say it's over. I'll be in my trailer. Also, get me a goddamn trailer. I'm Julia, bitches!"
No one will play with Julia at school, so she imagines the playground catching fire and killing everyone.
Instead of going home after school, she breaks into Henderson's secret bunny haven.
Henderson owns hundreds of rabbits, which in the non-inspirational-movie world is calling "hoarding." She grumpily teaches Julia how to care for them, and Julia responds by skipping a rabbit's birthday party she promised to attend, producing the most accidentally pathetic image of the movie.
As soon as Rumple's medical condition is healed with the power of love, Julia stops helping or giving a shit about Henderson, because you're never too young to learn how to use people and then throw them away.
Julia gets grounded for refusing to let Foster Cousin 2, who is polite and gentle, see Rumple, because Julia would rather see civilization burn down around her than share the only creature she will ever care about. Then Billy, God's Greatest Mistake, steals the rabbit to ride a death trap sled he and Fatty Dumb Cousin 1 rigged up.
Julia beats Billy for this, and he goes down like the pathetic little baby that he is. Then she bites him, and it is amazing.
Foster Dad blames Julia for what happened, because Foster Dad's job interviews went nowhere and he's angry at both the rabbit and God. Or, as the movie weirdly calls Him, "your friend up there." Frustrated at his own impotence, Foster Dad then yells at his wife about how Julia, who stopped his son from murdering an animal, needs professional psychiatric help. Julia overhears this, takes her rabbit, and marches into the woods, hopefully to plot her vengeance.
The police are called, and no one can find Julia despite the fact that she left a single straight set of footprints in fresh snow. Foster Dad even finds the prints, but still gets horribly lost. Maybe this is why you're unemployed, you goddamn numbskull.
Henderson shows up and helps, because Henderson naively thinks that Julia cares about her. So Julia is found and brought home, where she thanks no one and apologizes for nothing. This somehow restores Foster Dad's faith in his upstairs neighbor, God, even though his shitty unrepentant son should have crushed it long ago.
But then the original owners of the rabbit show up to take it back and, like everyone else in this movie, they're irresponsible garbage people. You can probably guess Julia's reaction.
She finally says more than one line in a scene, and it's all to yell at this kid about how he's a moron who could get a pet rock killed. He leaves the house in tears. Does Julia care?
Henderson asks Julia if she wants to help care for her other rabbits and enable her lonely hoarding after school. Julia, not even acknowledging that she failed to show up for the birthday party, demands payment. If Julia were the star of A Christmas Story, she would have stolen a BB gun and then used it to rob banks so she could buy more guns.
Finally, Foster Mom offers Julia a permanent home in the family because Julia's real mom went to jail for selling drugs, which Mom refers to as "being sick." That's right, Mom, welcome Julia into your family with a lie. She's going to fucking destroy you when she learns the truth about the Easter Bunny. Julia looks unimpressed, presumably because she remembers that Foster Dad was screaming about how she needed to leave yesterday. But she agrees, and then, like all great movies, we end on a pun.
Yay, now Julia has a loving family! Except she still barely talks, Billy learned nothing about why he's America's Greatest Living Sin, and Foster Dad is forced to take a job from his brother that he previously refused because Rich Uncle was established as a sleazy and exploitative mortgage broker. The message is supposed to be that everyone deserves a loving home, but Dad has to morally compromise himself to raise a girl that he didn't care about until a goddamn storm threatened her life. How's his unaddressed anger problem going to square that after a hard, unethical day on the job? Welcome to the family, Julia! Everyone but the rabbit with the short life span is terrible!
Santa Claws
"When a gift sack full of kittens gives Santa a bad allergic reaction, the kittens have to take over and deliver the presents on time." Would you have me believe, sirs, that Santa, a magical man with centuries of experience, has never planned for this contingency? I find your premise questionable!
We begin with two cats watching Santa deliver presents to the beautiful suburban home of someone who works for the production company. The older cat explains Santa to the kitten. This would be cute if their CGI jaws didn't unhinge like they were about to swallow entire bags of kibble.
The kitten sends Santa into a sneezing fit. This makes him break the record he was leaving and draws the attention of a Santa-stalking kid next door. Then we jump 30 years ahead and meet our hero, Tommy. His mom is the kid whose record broke, her neighbor is the Stalker, and neither have changed their childhood homes in the slightest. Mom hates Christmas now, because she holds a grudge that the Count of Monte Cristo would find alarming, and Stalker is a creepy man who talks to his Santa lawn decorations. And Tommy has kittens! The cats we met in the intro are long dead.
When Tommy asks for a Christmas tree, Tommy's mom explains that Christmas is a holiday invented to sell toys, and that you have to be self-sufficient instead of expecting to receive handouts. Then she tells him that she loves him very much. Then she tells him that love is merely a series of chemical reactions designed to distract us from contemplating our mortality. Then she hugs him.
Mom, or as I'll now call her, Whine Rand, makes Tommy do chores while she posts on her blog. It's one of those single-mom blogs that lets you afford a gorgeous Los Angeles home, I'm sure you know the type.
Her post reads, "There are times that I miss being having a man around the house." I bet you thought you could get that error past me, filmmakers, but you neglected to consider that I have nothing better to do with my life as I eat Chef Boyardee straight from the can alone in my dark apartment! You idiots.
Tommy accidentally knocks over some paper towels, and the kittens shred them. One of the kittens is named Hairball, which is like naming your son Froot Loops Vomit. This and other shenanigans piss off Whine Rand, and she declares that the kittens have to go because they're too expensive. Maybe get a real job, lady. Don't waste your life on the internet, like ... certain people I know.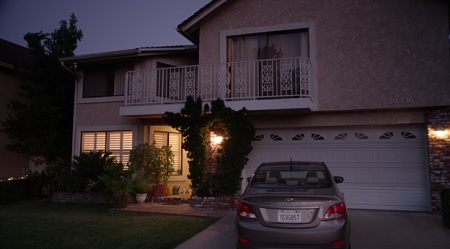 Tommy, after lecturing his neighbor on how sad it is that he believes in Santa, secretly celebrates Christmas in his bedroom. When Whine Rand discovers his little tree, she reacts like she caught him with heroin mixed with that drug from RoboCop. Lady, you're going to have to pull a miraculous comeback in the third act, because right now you're being a biiiiiiitch.
Tommy stuffs his kittens in a box and leaves a note asking Santa to find them a loving home. That's asking a lot of someone you didn't believe in 15 minutes ago.
Santa takes the box, and Stalker sees him while he's on the roof. He thinks, "Hey, I should record this!" and starts rummaging through his VHS tapes. A man who's dedicated his entire life to proving the existence of Santa didn't realize that recording him would be a good idea. Why, that's like making a Christmas movie without realizing that you'd need a good script!
Santa eventually thinks to look in the box, and the kittens make him fall off the roof. His reindeer, not caring that their master might be dead, tell the kittens that they need to replace him. The reindeer talk like stereotypical surfers for reasons that are never explained, but maybe that will be covered later in the Santa Claws Extended Cinematic Universe.
The kittens agree, and so begins a grand adventure full of bad CGI, stock cityscape footage, and shots of kittens playing in a sled set. Meanwhile, Tommy rescues Santa. Whine Rand comes downstairs but fails to see him, because it's just too dark.
The kittens make their first delivery, which is accomplished by playing with boxes that are clearly having laser pointers shined on them to attract their attention. It's the same trick they use to make Tom Cruise sprint in all of his movies.
Stalker tries to peek in at Santa, but Tommy's remaining adult cat startles him and he falls into the pool that this single mom who's strapped for cash maintains. The reward for being a true believer in the spirit of Christmas is to get treated like a clumsy idiot, possibly as reference to when Scrooge finally declares "Merry Christmas!" and then immediately takes a pie to the face.
We get a delivery montage, then Whine Rand wakes up again and finally discovers Santa, who's apparently just been shooting the shit with Tommy for hours. In what will no doubt go down as a timeless holiday moment, Santa uses magic to prove that he isn't a rapist. Then he gives a speech about the meaning of Christmas, and Whine Rand is so moved that she finally gets over losing one Club Nouveau record 30 years ago. Then Santa panics, because if his deliveries aren't completed, children around the world will all grow up to be as emotionally stunted as Whine Rand. And the kittens have crashed!
Santa needs his magic hat, but Stalker stole it, took it home, and started talking with his teddy bear, hinting at a vastly better movie we'll never see, Christmas Misery.
Wearing the hat gives Stalker an epiphany about how it's important to love and help others, a lesson he couldn't have possibly picked up anywhere else. That's right, kids, crippling personality problems aren't solved through years of therapy and hard work -- you just have to wear the right hat! Goddammit, that's the kind of thinking that made fedoras popular.
One kitten prays to the aurora for help. Another kitten calls this weird, and it's never mentioned again. And then it's right back to Stalker, who phones a previously unmentioned friend named Nerdy. Nerdy is, get this, good with computers! Together they hack into Santa's network and find the location of the crashed sleigh, probably along with Mrs. Claus nudes. Actual dialogue: "Please, if you'll help me, I'll owe you big time." "Alrighty, but you're going to owe me ... big time." This is not played for laughs.
While Stalker saves the day, Santa, who forgot that there's a Christmas crisis, eats a cookie. But it's a peanut butter cookie, and he's allergic! Holy shit, Santa, how have you survived all these years?
"Santa's fading fast!" we're told. Tommy frantically searches for an EpiPen while Whine Rand, who knows where it is and loves giving speeches on self-sufficiency, screams uselessly at him to hurry. I've kind of lost the thread on what valuable Christmas lesson I've learned here.
The sun comes up, and Santa has no reaction to the fact that he forgot to do his fucking job. Luckily, like in all great movies, a new and unseen character saved the day while the heroes dealt with an unrelated emergency that randomly popped up at the last minute. It's just like how Die Hard ends with the cops storming the building while John McClane runs home because he suddenly realizes that he forgot to file his taxes.
The kittens, spoiler alert, make it back safely. Stalker gets no credit for saving Christmas, but Santa does sneeze all over him, then mocks him when he leaves to clean up. He just did your goddamn job for you, you holly jolly jackass.
Santa, who previously stressed the importance of secrecy, parks on the street in broad daylight to say goodbye. He gives the kittens a basket of toys, and finally some actors are happy to be in this.
Stalker agrees to take care of the kittens so Whine Rand can save her blogging money for that home sauna she's had her eyes on, and Santa, the gibbering idiot God, heads home. The end!
Christmas Ranch
"Sent to her grandmother's ranch for Christmas, a rebellious teen bonds with her grandmother's horse and resolves to save the ranch from foreclosure."
You can tell that our heroine is rebellious because she's wearing a hoodie, listening to loud music, and looking moodily out the window. She's probably thinking about poetry, boys, vampires, or boy vampires who write poetry about other boy vampires.
It's not specified what Kristin Stewart's non-union knockoff, or Lizzy, is struggling with, so I'm going to assume it's cocaine. Plus, both of her parents have to work over Christmas because they're in, uh, real estate. You know how lots of people give their loved ones new houses for Christmas, it's a busy time.
Mom tells Grandma that Lizzy doesn't want to get out of the car until they leave, which sounds logistically impossible. That's what writers call a "pinch." Dad complains about the moodiness of teenagers with a voice that I think is supposed to imply "tired" but instead sounds like he's going to shoot himself after the scene is over.
Grandma forces Lizzy to go for a walk despite Lizzy's insistence that she hates nature and would rather go to her bedroom, presumably to do cocaine. Obviously, though, Lizzy meets the farm's last horse and finds him adorable. But he's sick, and someone has to take care of him! Who will it beeeeeeeee?
Lizzy searches Grandma's room for horse books. Grandma has achieved peak old lady, to the point where any additional folksiness could cause a saccharine rift in space-time.
Lizzy then heads to the barn to read up on horses because, just like Mr. Miyagi to Daniel, the mentor tells the heroine where to find a relevant book and then leaves her alone. The horse refuses to eat, and I discover that it's possible for a horse to look bored.
Meanwhile, a neighbor, James, drops something off. He's polite, hard-working, and generally too good for this movie. Lizzy gets mad at him for eating the dinner she was late for, and then, shocked at the thought of having to make her own food, she storms out.
Lizzy begins to hate the horse for not eating. But the next day, with absolutely no changes, she loves him again and names him Hope. In the first draft she called him The Horse That Teaches Me To Love Again And Also Cures My Bipolar Disorder. Then Hope The Trotting Metaphor randomly starts eating again, because why have our heroine solve a problem to demonstrate her newfound knowledge when the solution could just sort of happen?
But now there's a bigger problem -- the bank is going to take the ranch away. Grandma complains about greedy land developers taking advantage of everyday Americans to put up a "subdivision," but her ranch is a fucking mansion. How dare those greedy fatcats take a sprawling home one person can't afford and build homes for dozens! The ranch can be saved if Hope becomes a profitable showjumper, but Grandma doesn't have the time. Lady, all you do is make your ungrateful granddaughter sandwiches, flip through old photo albums, and clean the 27-room palace that you're on the verge of losing. You can find the goddamn time.
Grandma laughs at Lizzy's claim that she'll train Hope while offering no better ideas. Then she remembers that, oh yeah, her goddamn house is on the line, and she agrees to give literally the only possibility a try. Maybe Grandma is trying to fight the stereotype of elderly movie characters being inspirational.
Lizzy decides that the first step in training Hope is to ... decorate the house for Christmas. Lizzy orders James, who's come over to help, to go home and bring back a bunch of his Christmas decorations as tribute. He doesn't look impressed by this. "Go. Now. And hurry up!" he's told, because this movie mistakes confidence and authority with being a jackass.
When James comes back with "all the stuff my parents aren't using," Lizzy snarks, "Your leftovers?" Apparently Lizzy wanted him to strip all the cheer out of his family's home and transfer it to Grandma's like some sort of Joy Vampire. Then Grandma announces that she's going to have a nap. Lady, I'm really starting to hone in on the source of your financial woes.
James goes to help Lizzy with the horse, and then we cut to the two of them collapsing onto a blanket in mutual exhausted satisfaction. "You worked really hard," Lizzy says. I don't think the director quite realized what tone he was setting here.
"Do you feel different here?" James asks. "What do you mean?" "Like, out in the country here, does it make you feel different?" James, you sophisticated smooth talker. But Lizzy finally explains why she's here -- she and her friends had a couple of drinks and fell asleep, and then her curtains caught fire and Lizzy had to be rushed to the hospital for smoke inhalation. But wait a minute ... none of that makes any goddamn sense. Oh, and she also got suspended for having bad grades, which I guess checks out if she was trying to smoke beer.
Back at the house, Grandma put the decorations up but complains about what a chore it was. Oh my God, Grandma. Florence Henderson cared for 14,000 rabbits and you can't strew a few plush Jesuses around?
We get a training montage set to a song called "Hope Is Believing." I think it's from the album Hey, Here's What Words Mean. The problem is that they can't afford any actual horse jumping, so it's just Hope stepping over the same three logs repeatedly.
Grandma pulls a heel turn by insisting that Hope's training, which she has contributed absolutely nothing to, needs to be rushed forward. So we get to see basically the exact same montage again. There is more filler in this horse movie than there is in horse meatballs.
Hope is deemed "great" based on the fact that he's capable of basic forward motion. I don't know much about horses, but I feel like showjumpers need to progress beyond walking at some point. Possibly into jumping? Although, to be fair, Hope does make one jump so amazing that it has to be shown in slow motion.
They have dinner, which I mention only because the set decorator clearly has no idea how to pour milk.
But dinner is interrupted by a crisis! The bank demands $3,500 by Christmas Eve. They try to make the banker seem cruel and impersonal, but the bill is six months overdue and "I swear my horse will eventually turn a profit" doesn't sway me to Team Lazy Grandma. Lizzy responds to Grandma's financial woes with "This is stupid," yells about her refusal to lose the ranch that she's been at for maybe a week, and storms out. At no point does anyone suggest selling some of the 8,000 paintings and pieces of furniture strewn around the immaculately decorated home.
James follows Lizzy, and she yells at him, too. If they don't start making out soon, I'm going to have to seriously revise my Christmas Ranch erotic fanfic, Christmas Raunch. Then Lizzy cries about how she wants to leave and wishes she had never come here, even though she was ready to declare war on the very concept of banking five minutes ago. James calls her on her bullshit, to which Lizzy responds by screaming at him to leave. James finally realizes that he's too good for these people and leaves to start a glue factory, I hope.
Lazy Grandma and Ingrate Granddaughter argue about what to do. Grandma floats the option of selling Hope, but Lizzy yells that she doesn't want anyone else to have a horse that she doesn't own. I pray to my upstairs neighbor for Julia to show up and explain to these assholes how to solve a goddamn problem.
Instead, Lizzy gets an idea -- let's turn the ranch into a Christmas market! Uh, OK! Man, if the screenwriter pulled something out of his ass any harder he'd disembowel himself. Lizzy starts by calling her parents and demanding they come over, then immediately hangs up on them. This means the return of Suicidal Dad! Let's look at his face when he learns that his mother might lose her home and livelihood.
James shows up to help because he's trapped in the cycle of abuse, and between a handful of his carved wooden horses and some random new character's fruits and vegetables, there's, well, there's no goddamn way they're raising 3,500 bucks. But they have Hope as the star attraction! People will come from miles around and pay all sorts of money to see a horse!
So maaaybe 40 people show up ...
... and somehow they buy enough massively overpriced eggplants to cover "a few months of payments." That's enough time to cover Hope's training for shows! Yay! Everyone hug! Except for you, James, no one wants to touch you. It's OK, man. They don't deserve that honor.
Lizzy asks to keep living with Grandma for a bit, and we close with Grandma literally spelling out the message that hope is important. You just have to believe in the power of a bunch of new characters showing up to give you money. Oh, and something about horses, and also God helped.
So, a Christmas miracle saves the day ... except Lizzy is still having serious academic problems and emotional issues, and there's no way the performance of a single inexperienced horse in a sport where payouts are unreliable will permanently solve Grandma's money problems, especially if she refuses to re-evaluate her lifestyle. In other words, Christmas briefly helps everyone continue to ignore problems that are going to be all the more pressing in the coming year. Huh, this is secretly the most accurate Christmas movie ever made. Happy holidays, everyone!
Mark is on Twitter and has an inspirational book.
Let's Scrooge things up some more in 4 Christmas Movies That Get More Praise Than They Deserve and 5 Christmas Movies You Never Realized Had Insane Messages.
Subscribe to our YouTube channel and let us punch your childhood right in the feels with 6 Beloved Christmas Movies With Horrible Secret Meanings, and watch other videos you won't see on the site!
Also follow us on Facebook. Bah, humbug!
Scroll down for the next article