Kate Beckinsale
is Carol, an artsy free spirit. When she sees Steve's midget brother for the first time, she's horrified and confused, as if she's never seen a midget before (which is absurd, because we've all had those nightmares). She has lots of questions, but they all seem to presuppose midgets are aliens.
Those are
actual lines from the movie.
And even when she gets her answers, it's clear that she still doesn't consider dwarves to be actual people. When she meets Matthew's dwarf parents for the first time, she openly admits that she's considered not keeping the baby specifically because "
he might be like you people
." She eventually, of course, comes to accept and love midgets, either because she has a good heart or because there's nothing wrong with being a dwarf and this whole concept was retarded to begin with.
Highlight:
Her character's pretty boring and inconsistent, so I'm gonna go ahead and say "her butt."
Gary Oldman
plays Rolfe, Matthew's twin-but-midget brother in
the performance of his career.
Yes, Gary Oldman plays a midget. And yes, Gary Oldman plays Matthew McConaughey's twin.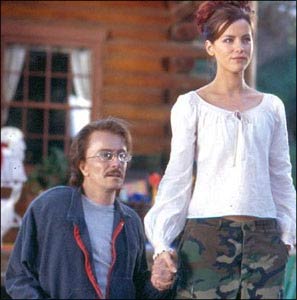 One more time here: Commissioner Gordon, Dracula,
fucking Stansfield
, plays Matthew McConaughey's twin brother, as a midget, and I
totally bought it.
Still, it's sort of unfortunate, because there's, what, two leading-man roles for midgets in the history of cinema, and one of them went to
Gary Oldman
? How many pissed off midget actors picketed that decision? Sub-question,
how hilarious is that
?
Highlight:
Rolfe tries to reconcile with his old girlfriend, only to find out she's been dating this (full-sized) security guard. When the tryst is found out, a fight breaks out with Rolfe and his midget lady on one side and the security guard on the other. It ends with her breaking a boombox over his head and, again, it's played totally straight.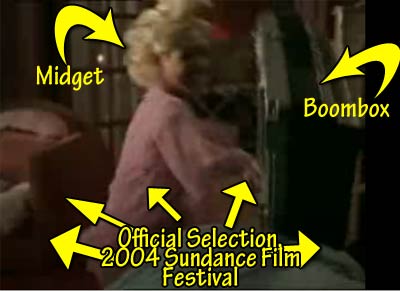 People, watch this movie. It is the only time you will see two midgets fight a man that doesn't immediately involve professional wrestling.
Peter Dinklage
is always, always great, but he shines as the French, Marxist midget Maurice. Oh, right, this movie has a French Marxist midget. He believes midget rights will only be achieved via the pistol (like a Marxist?) and he is without a doubt the only likable character in the movie. He just hangs out all the time, being badass and carefree and tiny and going straight nuts on full-sized Patricia Arquette's full-sized lady bits. It seems like whenever something dramatic or important is happening, the director likes to undercut it with a scene of Maurice just hanging out, looking weird. For example, when Steve and Carol get married and do this…
…we see Peter Dinklage, a few feet away, doing this:
"I will never get married, for weddings turn lovers into relatives." Hell yeah, Maurice. It wasn't a picnic wedding, and Maurice wasn't invited. They just hung out near the wedding kickin' it like... like a couple of Marxists. Highlight This image requires no explanation.
Just know that it's in the movie, and if you're not already renting it, go rent it now.
David Alan Grier
appears in a cameo as a celebrity in a distractingly terrible wig who likes to fuck midgets.
Highlight:
He only exists in this movie to have sex with midgets in ways that shake up the plot, and that is precisely what he does.