5 Mass Deaths You Never Noticed Happened In Cartoons
The world of animation has seen its share of horrible atrocities: Teen Titans Go!, post-season-two Family Guy, Caillou, etc. But then there's the other, less-obvious kind of animated tragedy. It's like this: You can't have a good cartoon without some sort of suspense-building disaster or antagonist, right?

Goddammit, Inside Out, I told you to WAIT IN THE CAR.

Well, in the end, all of those things are always defeated/overcome and everyone lives happily ever after. But the problem is that, sometimes, they shouldn't. Sometimes, animated movies and TV shows blatantly ignore the horrific aftermaths of their doomsday plot devices that, logically, should have resulted in millions of deaths. Sometimes, someone needs to call them out on it. Sometimes, that someone is me, and sometimes, that sometimes is now.
At The End Of Despicable Me, Most Major Cities Should Have Been Destroyed By Cataclysmic Flooding
Like I screamed at that cinema worker (and later the judge at my trial for disturbing the peace): Despicable Me is blatantly false advertising. It teaches you no real-life ways of stealing the Moon, which totally ruined my business plan. And you might be asking: Why would I watch Despicable Me for Moon-nabbing strategies? Also: Why would I want the Moon in the first place? In order: 1) The movie's Polish title is How To Steal The Moon so I'm clearly in the right on this one. 2) Two words: Lunar Porn, motherfuckers. Not only would I corner the market, the movie titles basically write themselves: Houston, We Have A Boner, Apollo 11 Inches, One Giant Lick For Mankind, etc.
But even though the entire movie revolves around Gru, a supervillain voiced by Steve Carell, trying to steal the Moon, it doesn't really go into the specifics of such an operation. All it says is: Steal a shrink ray (from where?!), fly to the Moon (how?!) ...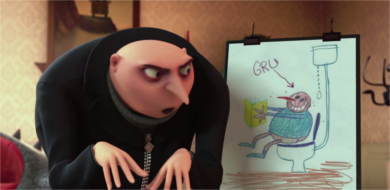 Sit on the toilet (how long?!)

Worst of all, the whole thing irresponsibly glosses over the dangers of having the shrunken Moon in Earth's atmosphere, and it suddenly going back to its original size, exactly like in the movie finale. But where Despicable Me has failed, science stepped in to address that question, and the answer they came up with is: "Oh God, oh Jesus Almighty, they're all dead! My whole family ... so many bodies!"

According to science, if the Moon was just 20 times closer to Earth, its gravitational force would be 400 times stronger than it is now. Now multiply that by at least 100 because that's how frigging close the Moon got to us at the end of Despicable Me.

Lunacy.

At "just" 400 times its regular gravitational strength, the Moon would cause global flooding that would put most major cities underwater, potentially killing hundreds of millions of people. Most of the eastern and western U.S. coastline? Gone. Japan? Under water. Half of Europe? Learning how to say "You Americans are so arrogant" in fish.

It would be an almost extinction-level cataclysm, because what most movies about moving the freaking Moon don't realize is that our satellite is like that one overzealous Twitter follower some of us have. Good to have around to illuminate the night sky/favorite our lame jokes, but if you let either get too close, they WILL murder you.
Scroll down for the next article