Dirty Sexy Money: Crappy Silly Show(y)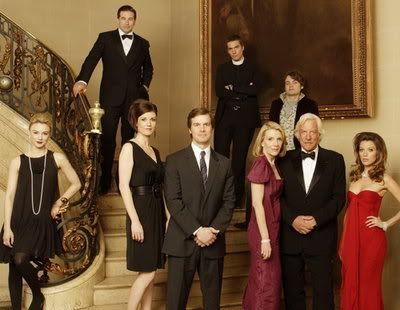 On Monday we talked about the upcoming premiere of the worst-titled show in history: Happy Candy BlowJob Dirty Sexy Money. Well, last night I checked out the first episode and learned that watching New Booty Diamonds Dirty Sexy Money is no passive affair. Instead, I suffered the three following extreme reactions:
Good lord! This isn't a drama! It's, it's, I'M WATCHING A SOAP OPERA! (Am I gay now?)
Wait! Nate Fisher came back from the dead, went to law school, and now works for the Darling family?
Am I crazy or, wait, is it true? YES. Billy Baldwin is good in this!
To explain, for some reason, I assumed ---that in a post-Sopranos, Deadwood, Rome, Weeds, Rescue Me world--- Dirty Sexy Money would be a drama. The presence of Donald Sutherland and Jill Clayburgh only added to that belief. But make no mistake. Hot Leggy Gold Dirty Sexy Money is a full blown ridiculous soap opera. (Oh, and as far as the question about being gay, I should explain I was having some hot gay sex while I was watching.)
Next, Peter Krause. I enjoyed him on Six Feet Under, but he's not exactly Malkovich or even Michael C. Hall. He may have been portraying a New York lawyer, advising the most powerful family in America, but he was still Nate Fisher, the dude who ran a food co-op in Portland before returning home to the family funeral business. Maybe Rachel Griffiths can leap off the abysmal Brothers & Sisters and stoke Krause's acting fire the way she did so well in 6FU.
And lastly, yes, it's true. Billy Baldwin was really enjoyable in his portrayal of a New York Attorney General, future Senator, and tranny sex enthusiast. Only Baldwin seemed to strike the right balance of drama and the playfully absurd that a completely ludicrous fluff piece like Steamy Sugar Orgasm Dirty Sexy Money needs to survive.
Scroll down for the next article