Read This And Never Watch A 'Fast And Furious' Movie Again
James Bond. Star Wars. The Lord Of The Rings. The Fast And The Furious. Three of these series are respected franchises that people will openly devote their passion to. The other is The Fast And The Furious -- which, by the way, just garnered the largest international opening weekend box office in the history of both cars and movies. And now, rather than scorn or derision, many react to the success of these films with "Why? Why are people seeing these things? What is this reality?"
Whether you like it or not, the latest Fast & Furious is just as important to the cinema landscape as The Last Jedi or Guardians Of The Galaxy Vol. 2. And because I know a lot of people who will never watch anything that features the rapper Ludacris traveling at over 100 miles per hour, I will give you this handy guide to a series that I love.
The Movies
The Fast And The Furious
Undercover cop Brian O'Conner (Paul Walker) infiltrates a street racing gang led by Dominic Toretto (Vin Diesel). Most of their other bros end up getting killed off, so they become bros because there's no one else to be bros with.
2 Fast 2 Furious
Brian goes undercover again in a sequel that sometimes makes you wonder if the series is already running out of steam two movies in.
The Fast And The Furious: Tokyo Drift
More characters are introduced, as the series struggles to figure out whether it's an actual thing or a big-budget adaptation of Cruis'n World. Dom shows up for a few seconds at the end to remind you of how good 2001 was.
Fast & Furious
Various characters from the previous films, led by Dom, unite to become the Avengers of driving through and past things. Dom's girlfriend Letty (Michelle Rodriguez) is seemingly killed -- an emotional moment that the film is in no way equipped to handle.
Fast Five
The Rock, sensing that his status as the baldest, tricep-est leading man in Hollywood is threatened, bursts into the series as agent Luke Hobbs. He hates Toretto's gang because they do crime, but he comes to respect them by the end because other people do worse crime.
Fast & Furious 6
Letty comes back on the scene, but she has amnesia, forcing Vin Diesel to do his first acting of the series. At the end, Han, the most beloved side character in the franchise, is killed by a mystery man.
Furious 7
The mystery man is revealed to be Deckard Shaw, who's avenging his brother (the bad guy from Fast & Furious 6). He's played by Jason Statham, and the world's supply of Bald Actors Not Yet Cast In Fast & Furious Movies dwindles ever more. Oh shit! Kurt Russell's here!
The Fate Of The Furious
Dominic goes rogue, and Shaw and Hobbs are forced to team up with each other and the rest of Dom's crew. Turns out Dom's being blackmailed the whole time because he has ... a secret kid! Secret kids, man. They'll get ya'.
The Characters
Dominic Toretto
Dominic Toretto is Vin Diesel's greatest role, and he speaks entirely in quotes that would go on the back of an airbrushed T-shirt. Also, he's fucking amazing, and is literally the best dude on the planet. No one has moral superiority like Dom does. Dom would beat Santa Claus in a war over who is a bigger benefit for humanity.
Brian O'Conner
Brian is Dom's tag team partner. He's the heart of the series, which means that Dom is the brains. Surprisingly, it totally works.
Letty Ortiz
Letty is Dom's "ride or die," and she's a perfect fit for Dom because they balance each other out. Dom is all like "We have a plan to shoot these cars into orbit so that we can steal space gold," and Letty responds by ramping her Ford GT40 off the moon.
Luke Hobbs
Wider than most of the rooms that any given scene takes place in, Luke Hobbs is supernatural. He can redirect a goddamn submarine torpedo with his bare hands, which means that, naturally, the only people that can beat him up are Vin Diesel and Jason Statham.
Deckard Shaw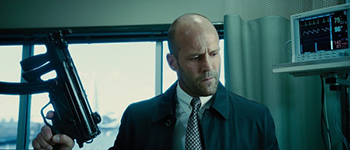 A former enemy, Deckard now seems to be on OK terms with Dominic and his team. He did kill Han, but the enemy (who killed one of my friends) of my enemy (who killed another one of my friends) is family, I guess.
The Stunts
The first film ends with two cars narrowly avoiding a train.
The latest film features a car/submarine chase.
Between those two points, they crash a car into a boat ...
... drag a vault through the streets of Rio ...
... fight a tank ...
... burst a car through a plane ...
... drop a few cars from the sky ...
... and go skyscraper-hopping.
And a lot of it is done without CGI, so there's that.
Important Things To Remember
Fambly
If you hang out with Dominic for long enough, you become "family" -- or "fambly," as Dom pronounces it. The people on his team? They're not friends. They're fambly. Dudes who used to be on his team? Still fambly. Guy who showed Dom where the Italian sausages were at Kroger? Dom hasn't stopped texting him to hang out.
Corona
Dom's (and thus his crew's, by extension) beer of choice. They drink these often. The series makes way more sense when you realize that every scheme that they take part in was probably invented after ingesting a six-pack of Corona.
"I live my life a quarter mile at a time."
I'm not quite sure what this means. I think it's because he can drive a quarter mile really fast, but if I drive it slower, what does that mean for me? Because I'm still going a quarter mile. That was still a part of my life that happened. I just don't want to claim that I live my life a quarter mile at a time and have Vin Diesel tell me that I'm wrong, but it's cool, because we're family now.
Daniel has a blog and a Twitter.
For more check out 5 Historically Bad Movie Franchises We Keep Forgiving and The 6 Baffling Mistakes Every Horror Franchise Must Make.
Subscribe to our YouTube channel and check out The Insane Future of the 'Jurassic Park' Franchise - Cracked Writer's Room and watch other videos you won't see on the site!
Also follow us on Facebook. Hurry!
Scroll down for the next article