A Look At The Anonymous Sex Scene At Trump's Convention
As we speak, hundreds (if not thousands) of Republicans are having having hot, nasty, anonymous Cleveland sex. I know this because browsing Craigslist personals reveals a thriving, throbbing hookup scene around the Republican National Convention. Browsing these listings turned out to be a fascinating insight into the complex tapestry of erotic delights that surround a political convention -- like the fact that slapping meat with a stranger with opposing political views is apparently a huge turn-on.
The first thing I noticed was that searching for "men seeking men" with the key phrase "RNC" netted me a full page of results: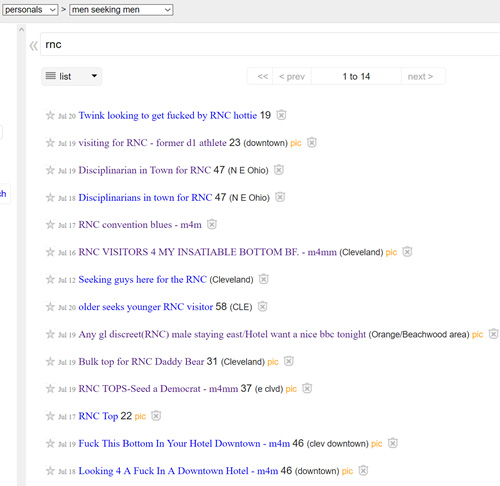 "Men seeking women" was much less common, but there is still a smattering of returns:
But the results for "women seeking women" and "women seeking men" returned no results whatsoever. It seems Lady Republicans are too classy for Craigslist.
So let's dig into just what these men wanted. The "men seeking women" results were ... kind of sad, to be honest. They seemed to be entirely made up of local Clevelanders hoping to score a hot night with an upstanding Republican lady, under the assumption that their marriage is miserable ("we both won't change our situation ...").
When it's a left-winger posting the ad, you start to see the first signs of the "Button-Down Republican" as a fetish. Take this dude, who insists "You keep your convention outfit on."
And this one, who promises your star-crossed Romeo and Juliet affair across the aisle won't involve any political talk, just a forbidden journey to the "dark side."
There also seemed to be definite trend in local gay Clevelanders looking for strong (NSFW), authoritarian Republican tops (NSFW) to dominate them. Don't click those links unless you want to see a lot of ass and balls, by the way. But check out this post by a Democrat with a clear, mighty attraction to being fucked by his political rival. "WOULDN'T IT BE HOT TO PUT THE SCREWS TO A DEMOCRAT?"
Or these posts from bottoms looking for strong, corporal-punishment-supporting conservative lovers:
The weird thing is, this particular kink -- inter-party sex that your favorite candidate would disapprove of -- appears to only go one way. There are plenty of Democrats seeking Republicans, in the most explicit terms possible:
Yeah, the term "Republican cock" comes up a bunch. Like this next one, who claims they "always fantasized about sucking on a nice hard Republican cock" and are apparently turned on by the exotic draw of a "conservative manhood."
You get the sense that in their social circles, a Republican is like a unicorn. Or rather, the sexual equivalent of a unicorn, so maybe like a guy with two dicks -- a crazy walk on the wild side you can tell your friends about later ("Then he started talking about funding Medicaid via state-level block grants!").
But I haven't been able to find any Republicans fantasizing over the same thing, in the other direction. In fact, some of the Republicans I found would only hook up with other Republicans:
I'm not sure this guy knows what "straight" means.
Now, you might note that the above dude insisted on only "white" partners. I wouldn't take that as a specific indictment of gay Republicans; it's incredibly common for Craiglist hook-upers everywhere to specify only a single preferred race (and almost always advertise their own). I did, however, run into one deeply troubling race-focused RNC fuckpost:
Yes, that appears to be a black man looking for a Republican partner to roleplay an erotic slave/master relationship. A white male delegate from Georgia could probably discover all sorts of things about the world in that room.
That's another thing -- there are plenty of postings playing to the "closeted gay" stereotype, including this guy who prefers "married politicians" who "rim and suck behind closed doors."
And this one, which promises you will "take a break from your delusions."
And really, shouldn't all of us take a break from our delusions every now and then? But when it comes to the listings that are the most difficult to resist responding to, who could say no to this Democratic couple which wants a Republican couple willing to come wrestle them?
Actually, that part about including a photo sounds shady. I'm pretty sure they just want to make sure they can take you.
Robert Evans just wrote a book; you can order A Brief History of Vice now.
For more reasons Trump is a frightening, frightening figure, check out Donald Trump Is Courting 9/11 Truthers: The Weird Reality and The Ridiculous Endgame Of The Trump Nomination.
Subscribe to our YouTube channel, and check out Everything Crazy Happening At The RNC (So Far), and other videos you won't see on the site!
Also, follow us on Facebook, and let's pour one out for the original political sex fiend, LBJ.
Scroll down for the next article