8 New Movies That Deserve Way More Hype
As reported every year, Hollywood is once again fearing a summer of sequel fatigue to the third Planet Of The Apes, the fifth Transformers and Pirates movies, and the recent sixth Alien film. Luckily, I have the cure -- and it comes in the form of our ongoing series about upcoming films primed to blast your eyeballs with sprays of white hot originality ... provided that you learn they even exist in the first place.
So while you're catching all the big summer popcorn films this summer, do try and check out these lesser-known but totally boss, low-budget masterpieces as well. In an age where everything exists online, you film snobs have no excuse not to see ...
Dave Made A Maze: A DIY Fantasy Adventure With Cardboard Minotaurs
Not to be confused with our mustachioed childhood scribe, actor Bill Watterson had it in him to direct an elaborate fantasy movie on a small-scale budget. Since he didn't live in New Zealand or possess any real magic powers, Bill was forced to get creative in crafting his imaginary world. The solution was to take 30,000 square feet of cardboard and create a soundstage labyrinth like some kind of hobo Goblin King.
And just so we're clear -- what Watterson lacked in production capital was gained in extreme attention to design and detail. This is the killer setting for Dave Made A Maze, a film that's nice enough to combine its title and synopsis into the same four words.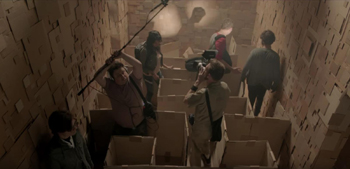 Look for the sequel, Dave Needs A Maid, coming soon.
The movie centers on this Dave fellow -- a character known for never following up on his various projects and goals -- as he constructs a seemingly tiny maze in his apartment, only to become lost in it himself. It's then up to his girlfriend to venture into his creation in order to pull him out, a task that proves harder than expected when the boxy construction turns out to be deceptively spacious.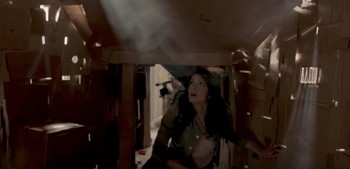 This room alone would rent for $2400 a month in NYC.
And to make matters worse, Dave has loaded his project with various booby traps and even cardboard fantasy creatures, such as a murderous minotaur out for blood while dressed like a sweded Gwar member.

"If I only had a brain ... your brain!"

If you look closely, his abs are their own maze too.
Fucking delightful! While screenings of the film are currently sporadic, it's due to arrive on streaming and have a limited theatrical release on August 18th. Do consider it for your next binge-watching drug party, as it clearly goes great with paper bags and wood glue.
Scroll down for the next article