7 WTF New Movies Nobody Told You About (Spring 2017)
Update: We still don't think these movies have gotten in front of enough eyeballs this year. Download the hell out of 'em for your holiday travels!
As usual, January was a rough time for movies. Luckily, 2017 is quickly making up for Hollywood's dumping month, as audiences were gloriously coldcocked with John Wick's gold-clenching fist, terrified by body-snatching honkeys in Get Out, witnessed multiple withered rage monsters in Logan and Kong, and grimaced while Dr. Cox went Battle Royale in The Belko Experiment.
And not to toot my own bodily extensions, but several of those aforementioned films have appeared in our ongoing series devoted to digging up the lesser-known and absolutely bonkers movies soon-to-be-showing at your local theater ... a series we will be continuing after this exact sentence you are currently reading.
The Bad Batch: Dystopian Cannibals And An All-Star Cast
Release Date: June 23, 2017
Hey, what if I told you that Jim Carrey and Keanu Reeves were appearing in a movie together? And what if Giovanni Ribisi and Jason Momoa were also there? Also -- the film is about cannibals in the desert having neon raves. Would you accept this fever dream of a premise? Well, you don't have a choice -- because it's coming to your face this freaking summer.
It's called The Bad Batch, and the trailer promises a barren wasteland of only the top-shelf line of suave cultists and hobo marauders.

So Burning Man basically.
Directed by Ana Lily Amirpour (A Girl Walks Home Alone At Night) the film has been described as a combination of Mad Max and Texas Chainsaw Massacre -- and follows a character named Arlen as she becomes immediately captured by a cannibal gang, has a few limbs removed, and makes an escape while strapped to a skateboard. Per post-apocalyptic law, this automatically makes her a Furiosa-style badass.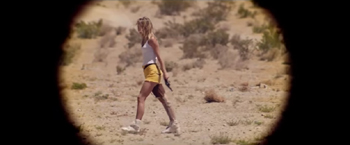 No word if there are any sick ollies or kick-flips.
From there the film turns into a revenge plot and weird friendship between her and a walking-bicep named Miami Man. And since the character requires tough-guy long hair, some stupid tattoos, and the surname "man," there was really only one person to play him.

Who somehow looks less gritty than when playing Aquaman.
Also, somewhere in the mix Jim Carrey shows up looking like grandpa hobo in a completely non-verbal role ...

Jim Carrey just wore the clothes he'd worn to the set that day.
... Followed by a "Jim Jones-like spiritual leader" played by Keanu Reeves with a porn mustache. Because God is real and wants us to be happy.

He is "The One" after all.
Seriously, where did this wonderful fucking movie come from? It's both daunting and heavenly, like if a giant jack-in-the-box filled with Legos and cocaine suddenly appeared over the Earth.
Scroll down for the next article