5 Techniques Fearmongers Use To Create Moral Panics
In the days before the Information Age, it was perfectly ordinary for huge groups of people to believe wrong, deranged things. For example, for most of the '80s, many Christians believed Satan was hiding in the salacious lyrics and beats of popular music. For instance: I'm Phil Collins and this is my blood orgy, baby / my murder fuck pit, baby.
I read over a dozen books about Christianity's war on rock, and I've realized that even though they lost that war, and badly, their impotent witch hunt is the perfect template for modern lunatics to manufacture outrage. In fact, some of you might be doing it already. So let's look back on how an entire religion lost its mind fighting a make-believe enemy, and how you can do it too!
Blindly Pick An Enemy
One day, God told Dan and Steve Peters that rock music was evil, and they turned that unlikely story into a lucrative writing and ministry career, though not a successful one. Their lord gave them a purpose, and also congenital idiocy, so they set out to destroy rock and roll. I know the hilarious conceit of this article is that you're a terrible person looking for ways to be worse, but I want to get real for a second: If you ever notice your raison d'etre is word-for-word the scheme of a Hulk Hogan's Rock 'n' Wrestling villain, you blew it.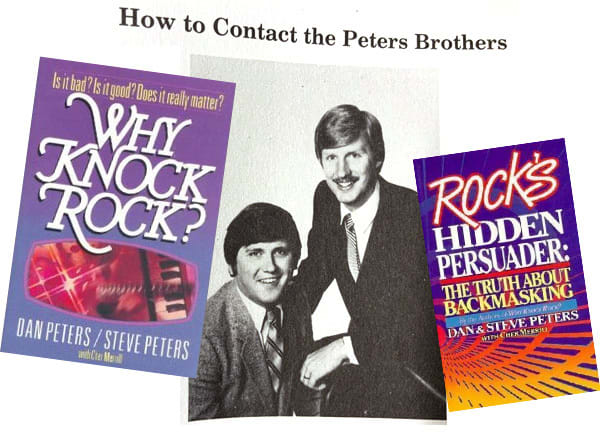 For the first 44 pages, their bestselling 1984 book Why Knock Rock? is an essay about rock. They did not take for granted that readers would be music experts, so they wrote it specifically for a being emerging from an ocean trench knowing only fear and nothing of "moo-sic?" It's as boring as it sounds, but also weirdly catty. Dan and Steve call every artist from 1947 to 1985 a knockoff or a sellout. This is, of course, in addition to accusations of witchcraft and demonic possession. Crazy isn't an exact science, but by my estimation, sounding like a reprocessed Adam Ant clone is 17.4 times worse than being a literal demon, and having sex is 3.1 times worse than that.
The Peters brothers' core belief is that if a band did it, then it must be bad. Success, drugs, rhythm guitar -- all are presented as evidence for moral crimes. Try to imagine 500 biographies authored by a bad writer who hated all 500 people for every single thing they ever did, take away the fun, and that's the message The Actual God needed Dan and Steve to share. I know one of the perks of Christianity is the complete lack of internal logic, but if any of this book is true, then God is a basic, jealous bitch.
The thing that truly made Dan and Steve's careers was when God told them to burn records and they did. Sort of. In order to "meet fire codes, it was decided to burn only the album covers." Still, even if you're being a big pussy about toxic fumes, burning your "enemy's" culture is the exact kind of spectacle fascist culture warriors love and everyone else hates. So Dan and Steve's record burnings became big events. It was a bit "radical," but then so was Jesus Christ -- a comparison Dan and Steve were happy to make to anyone who would listen. If there was any internal logic to Christianity at all, burning a bunch of Quiet Riot albums and declaring it to be a defining trait of Jesus Christ would get you kicked out for sacrilegious dumbness.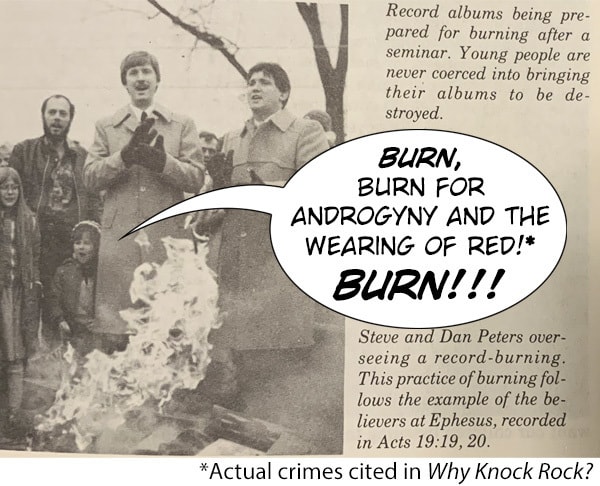 So to sum them up, Dan and Steve hate musicians because of whatever they do, burn art other people bought, and are absolutely sure it makes them like Jesus. When they scratch and claw their fingers into each other's assholes, they make it holy by whispering, "Yes. Go in dry, brother, like the desert Moses led his people through." The blind, Jesus-brained confidence of these two is astonishing. Nothing can penetrate their self-righteousness, and many people have tried.
In their book, Dan and Steve include a transcription of the time Dan went on a radio show to confront Gene Simmons about his demonic lifestyle. Dan brought up an interview wherein Gene said he had a lot of sex with teenagers. To me and you, that sounds like a gross combination of reasonable and problematic. Gene might have some insecurity issues and untraceable sores on his dick, but consenting partiers are allowed to party, grandpa. Yet with this as their only evidence, Dan accused the entire KISS band of having sex with 14-year-olds. Why not, right? It's not like anyone in the Evangelical community ever says things like, "Hey, aren't you're that guy who baselessly accuses others of unspeakable crimes?" or "Wait, you've been wrong about the end of the world like seven times now," or "Hold the fuck on, aren't you that president who only says and does dumb, amoral things?"
To Dan's donkey mind, this is no baseless accusation. It's the same religious anti-logic you can use to excuse, praise, or condemn anything you want. You work backwards from what you choose to believe, which in this case is that Gene Simmons has sex with 14-year-olds. You don't need proof, since God isn't wrong, but look right there! He said he sleeps with teenagers! That's what a 14-year-old fucking is! He admitted it! And the whole band does it, because it would be naive not to think that! And you're not naive! Every band does it!! If they don't, you're some lunatic who hates rock and roll for no sane reason!!! Seal your- listen! Seal your holes and pee through your skin to hide your shame from God! Burn their music as your filth seeps from your pores! We know we are right, for He has given us the anti-color ray to destroy the Rainbow Brite Friendship Squad once and for all!!!!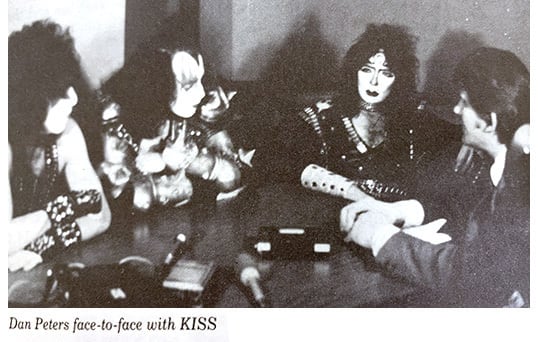 Now that we've learned the dangers of thinking too hard about any of this, let's continue. Simmons wriggled his way out of trouble by explaining to his accuser how his accusations were false. It's strange, because as the guy who made them up, he should already know this, yet he's somehow the only guy on the planet who doesn't. They repeat this exact interaction for four pages -- Dan makes things up, scolds Gene for them, and Gene explains how Dan is making things up. I'm not really a welcome member of the Moral Majority, but if I was a preacher and Gene "The Demon" Simmons kicked the shit out of me in a morality argument, I wouldn't put it in my fucking God book.
It's important to me that you understand the depths of Dan and Steve's stupidity and casual evil. Chapter 9 is nothing more than a goddamn list of ways musicians died. It's 29 pages long! Veal recipes have more respect for the dead than Dan and Steve Peters. Something inside of them must have known they looked like horny necromancers, so they open the chapter with a kind of apology. They suggest that it's not "sadistic or morbid," and insist they are doing this so "we can at least profit from their mistakes."
Here's the thing, though: Not all musicians are killed by drugs or botched summonings. Some lives end seemingly unrelated to their vices, and this list condemns everyone who has ever played music and then died. For instance, Johnny Burnette (1934-1964) was best-known for his 1960 hit "You're Sixteen," but fuck him for dying in a boat accident. If there is any internal logic to Christianity, God killed that man so you would know not to boat, amen.
So How Do You Translate This Hate Of Rock To Other Subjects?
Your enemy doesn't have to be as silly as rock and roll. Satan for you might be successful YouTubers, or dubbed anime, or the diseased races invading your country, you hero. It's really as simple as deciding something is the worst and figuring out why you're right later. If you badly failed fourth grade, you might remember calling this system "the scientific method." It works for everything, and any attempts by good or smart people to change your mind will instead drive them crazy.
Scroll down for the next article