5 Pro Athletes Who Are Hilariously Bad At Sports
It's one thing to be bad at sports. It's completely another to be bad at sports, yet somehow end up competing at the top level of said sport. It sounds impossible, but every once in a while, athletes with the sporting ability of a wet mitten manage to sneak their way into top-tier competitions. And that's when things go from "graceful athletic competition" to "Benny Hill montage."
The World's Most Amazingly Awful Golfer Played Cat And Mouse With Officials For Decades
The year was 1976, and the golf-loving world was gearing up for the Open Championship, a prestigious-as-shit tournament which modern audiences and people who watch two minutes of golf before switching back to a COPS marathon know as the British Open. It was the preferred hunting grounds for the cream of the golfin' crop -- the sort of folks who would go on to have the first golf computer games named after them. Among these argyle-patterned titans of the industry was Maurice Flitcroft, an up-and-coming pro golfer no one had ever really heard about. But hey, every big name had their first major competition once, right? Let the guy in, see how he fares, and if he gets lucky, his name will haunt the players of Maurice Flitcroft's Golf Masters forever.
With that logic and with no internet to double-check Flitcroft's credentials, the officials shrugged and wrote him in to compete against legends like Jack Nicklaus and Arnold Palmer. Flitcroft repaid them by immediately making history. Only, not the sort of history that most stuffy golf enthusiasts like to reminisce about.

A rare image of Mr. Flitcroft in the vicinity of a prize.
The astute reader might have guessed by now that Maurice Flitcroft was not exactly what you'd call a seasoned golf professional. He was a 46-year-old crane operator from Northern England who had never once played a full 18-hole round of golf -- he just happened to pick up a club one day and, after whacking a ball at some scraggly local field a few times, decided "Screw it, I'm a professional now." So he entered the tournament, artfully dodging questions about his handicap and professional status by either lying or just not fucking answering. And that's how the 1976 Open got all sorts of rough.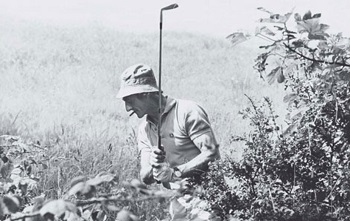 Yes, that's a "literally and metaphorically" joke, and yes, you're welcome.
Clad in plastic shoes, a fishing hat, false teeth, and playing with an incomplete set of cheap mail-order clubs, Flitcroft took the tee amidst a sea of immaculately dressed pros with perfect swings. He attacked the ball like he'd heard that it would reveal his darkest secret if he didn't kill it, and yet he barely got it off the tee. His ultimate score -- a ridiculous 49-over-par 121 -- is still the worst in tournament history, and no one has even come close to performing more badly. Immediately after he was done playing, they changed the rules so that Maurice Flitcroft, specifically, would never again be able to compete anywhere in the country.
Not that Maurice gave a single fuck. He had decided that he liked the game, lords and ladies be damned. For the next 20 years, he would attempt to enter the Open and several other competitions, using various plots that even Wile E. Coyote would deem impractical. What's more, he succeeded. Sporting false names, ridiculous disguises, and giant dyed mustaches, Flitcroft managed to enter several tournaments over the years, gleefully playing a few holes until his signature "confused combine harvester" technique revealed his true identity and disgruntled officials chased him off the premises (sometimes literally). Sometimes, he would disappear for years on end, only to suddenly reappear and have officials promptly shit bricks as they realized that they had the Maurice Flitcroft on their hands. He even gained a nemesis in the form of Keith McKenzie, the adequately stuffy secretary of the Royal and Ancient, a powerful St.-Andrews-based organization that was essentially running the sport. No, I didn't make up that name. I know, it sounds like something you'd find in an annoying Witcher 3 side quest. Go Google it, I'll wait.

Golf grasped the concept of pretentiousness early on, and never saw the point of letting go.
Eventually, the Universe caught up to the plucky underdog role Flitcroft had been playing for all those years. People started recognizing him as a folk hero who stuck it to the elitist sport at every opportunity. Even the sport itself started warming up to the "worst golfer in the world," to the point where at least one golf club has named an event in his honor. When he died in 2007, the esteemed Golf Digest gave him a fond obituary. Sadly, to this date, he still hasn't gotten his own Windows 95 golfing game.
Scroll down for the next article