X-Man is a game where you can have sex if you can get through a maze festering with crabs, scissors, and teeth -- which is pretty realistic if you're having unprotected sex with people based on their ability to navigate single-path mazes. After a few years of that, the guy's dowsing rod would look like the main mast of a sunken pirate ship, and the woman's festering labyrinth would only have teeth so that she could cry "For the love of all that is holy, run."
Universal Gamex
That pink thing is either teeth, or a man who's worked out how to suck himself. Either way it prevents having sex with someone else.
Survive the psychological ordeal of STDs, vasectomies, and vagina dentata, and you're "rewarded" with the world's worst sex scenes.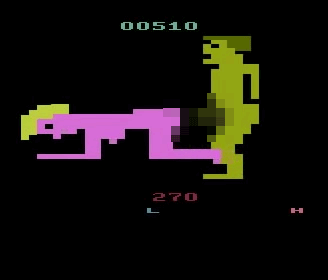 Universal Gamex
We used more pixels censoring it than they did animating it