Survive the psychological ordeal of STDs, vasectomies, and vagina dentata, and you're "rewarded" with the world's worst sex scenes.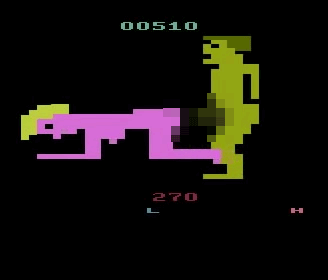 Universal Gamex
We used more pixels censoring it than they did animating it
Mechanics Review
Anyone who could extract exciting ideas from these blocky shapes was too busy watching infinite free orgies in the clouds outside. And the blocky shapes beeped and chirp with every thrust. It's about as sexy as setting an alarm clock on R2-D2, if the buttons were on his underside between his legs, and ends in an explosion noise when the timer hits zero. Anyone who played an Atari 2600 knows the explosion noise -- the console only had three sound effects -- so anyone playing X-Man was forever cursed to hear gaming spaceship detonation and high-speed car crashes as awful orgasmic release.
On the upside, the Atari 2600 controls were a joystick with only one button, which was always set to "fire." It couldn't be a better hardware representation of male equipment.
Atari via Wikimedia Commons
And at three inches, it was distinctly unthreatening/flattering.
All that said, the sex scene involved monotonously thrusting in one position until the inevitable countdown and ending, which means it's a brilliant simulation, but only of terrible sex.