What We Think We Want
Freedom, baby. Ya feel me? More than just a word for the type of radiation given off by the American flag, "freedom" is the greatest thing that a video game can offer you. In real life, we're trapped in stupid human society, with stupid "laws" and petty "physical consequences for our squishy human bodies" preventing us from fulfilling our deranged fantasies. But in video games, anything is possible. That's why the best games are stuff like Grand Theft Auto and Minecraft -- ones that don't even tell you what to do. They just point at the world and say, "All yours, my child. All yours. Also, here's a machine gun."
And hey, did you hear about this No Man's Sky game? It's like that, but with an entire universe! There's so much goddamn freedom in that game that anyone who goes near it becomes riddled with malignant patriotic tumors. That much freedom guarantees it'll be awesome, right?
The Reality
Not to sound like a conspiracy theorist, but "freedom" in a video game is a lie, man. You're only ever doing what the video game was programmed to allow you to do, man. And that's always how it is.
For example, take Grand Theft Auto. You can't do "anything" -- you can do the violent, hyper-masculine activities the designers remembered to program. That may be fun as hell, but it's still not "freedom." Even Minecraft, which seems like the purest sandbox game possible, still only lets you mine and repurpose materials into your own creations. You can't, say, try to sustainably coexist with nature. There's no granola-munching hippie lifestyle in Minecraft. And these limitations, it turns out, are what make the game fun. If you don't give us direction, we get sorta lost.
For proof, look at the saga of No Man's Sky. It's a game about exploring space, and when they debuted a trailer at E3, everyone lost their goddamn minds over it, as I did above, because of all that sweet, intoxicating freedom. The main hook was that there were nine quintillion planets to explore, and you could go anywhere and do anything. It seemed pretty damn neat. But then it came out, and everyone was so horribly disappointed that fans dubbed it "No Man's Lie," and demanded refunds (and in many cases, received them). What was the problem? Were there only two quintillion planets? Were all the planets the same? Did the game just straight up not work?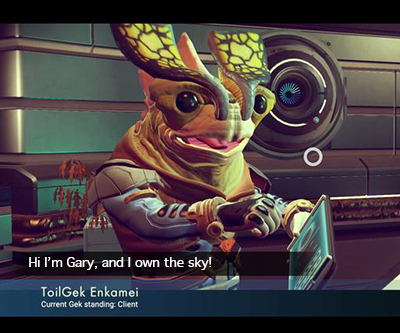 Hello Games
Was it this guy?