The Single Best Joke from Each 'SNL' Weekend Update Anchor
Many comedic elements have changed at Saturday Night Live over the course of 48 seasons and counting, but the one constant is Weekend Update. The weekly goof on the news is among the show's most reliably hilarious segments (although you wouldn't necessarily know it by the struggle to churn out funny fake news in the 1980s). While topical jokes don't always age well, we've identified the best punchlines for each of Weekend Update's illustrious anchors below… 
Click right here to get the best of Cracked sent to your inbox.
Chevy Chase: "I'm Chevy Chase and you're not"
For pure funny, we're partial to writer Alan Zweibel's classic about a new postage stamp commemorating prostitution: "It costs a dime, but if you want to lick it, it's a quarter." But Chase's trademark open wins for establishing the show's smart-ass ethos and unintentionally (?) turning the ensemble player into the show's breakout star. 
Jane Curtin: "Try these on for size, Connie Chung!"
The joke would have generated big laughs for Gilda Radner or Laraine Newman, but the line was so out-of-character for Curtin's ultra-serious news anchor that it brought the house down.
Bill Murray: "The last and most complete of the Dead Sea Scrolls has been published and discloses a code of behavior banning sex anywhere within the walls of Jerusalem. Experts have deduced that the scroll was written outside the walls of Jerusalem since a marginal inscription reads, 'For a good time, call Rifka and bring your own goat'"
Mmmm. Sacrilicious.
Charles Rocket: "Amelia Earhart's luggage was finally found today at Los Angeles International Airport"
"The bags will be held for 30 days, and if not claimed, they will be lost again." (Rocket was better improvising on the streets with his Rocket Reports than he was delivering one-liners about long-lost historical figures.) 
Brian Doyle Murray: "Secretary of State Alexander Haig has decided to grow a beard."
We agree it's a witless joke made only marginally funny by an dopey illustration, but we defy you to hop on Peacock, dial up SNL Season Six, and find a better one. 
Brad Hall: "This week, a total of 35 children of American fathers and Vietnamese mothers left Vietnam for new homes in the United States of America. The children were conceived during the Vietnam War, and at least 15 of them bear an uncanny resemblance to Bob Hope"
Still a fallow period for Weekend Update (which was dubbed "Saturday Night News" during Hall's tenure), but at least this joke shows the proper disrespect for comedy's elder statesmen. 
Christopher Guest: "Frank Sinatra's life will be the subject of a six-hour CBS miniseries in which Mr. Sinatra will play himself in recent years. The young Frank Sinatra will be played by Eddie Murphy. And the program will be titled, Ol' Blue Eyes Is Black"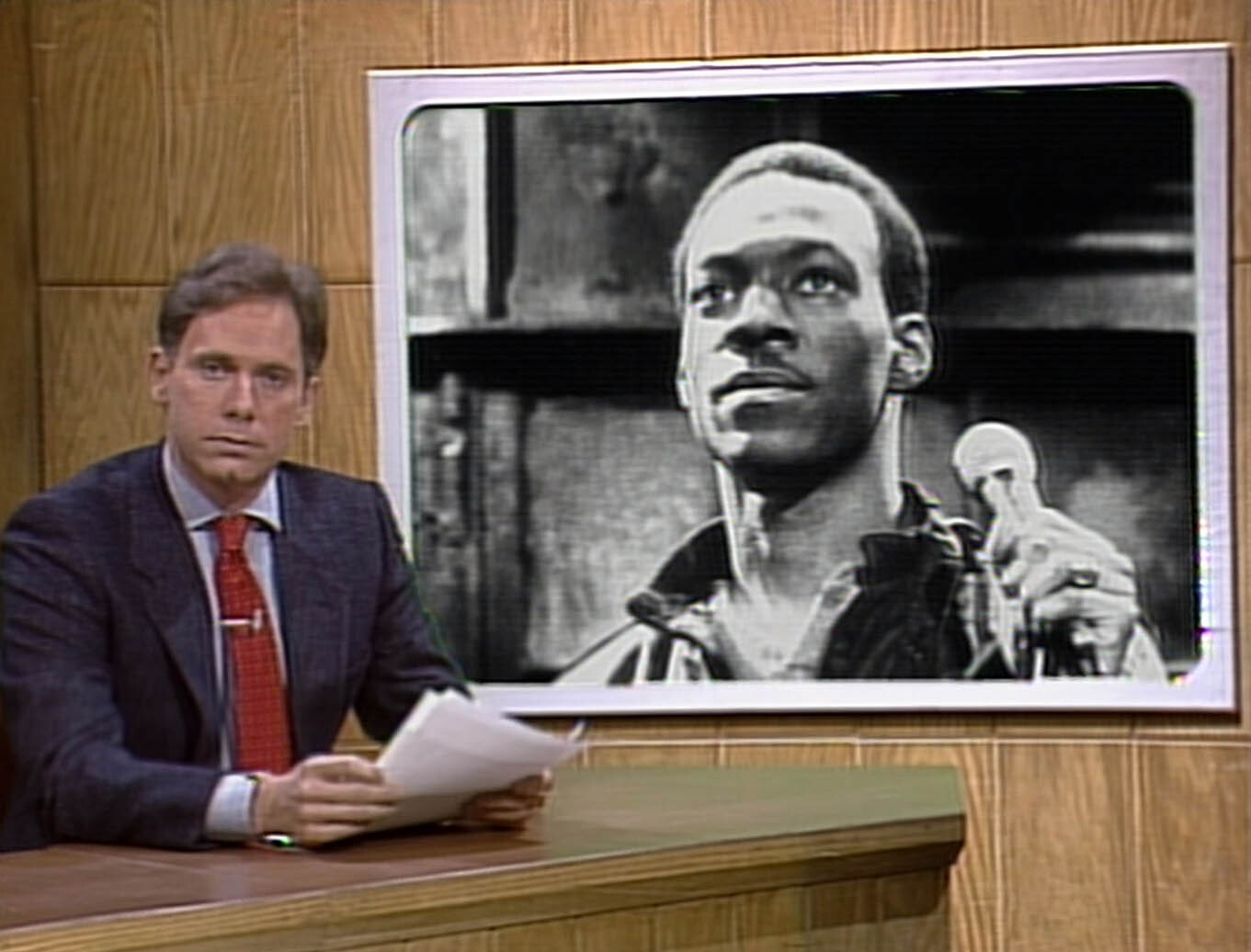 The joke's okay, but it's Guest's deadest of deadpans that sells it. 
Dennis Miller: "David Lee Roth says he plans to cut back on his touring schedule to devote more time to his film career. The singer has already appeared in a number of movies under his stage name, 'Anne Bancroft'"
We're not sure what's funnier — Miller's delight in the Roth/Bancroft resemblance or the graphics people flashing back and forth to nail the punchline home.
Kevin Nealon: "A new study has revealed there is a new study revealed every 2.8 minutes"
While many of Nealon's topical jokes have gone stale, he did have a way with meta-news jokes that still resonate. "A survey has disclosed that surveys are even more popular than new studies," he continues. "And a recent poll indicates that recent polls are gaining acceptance over new studies and surveys."
Norm Macdonald: "Well, it's finally official — Murder is legal in the state of California"
There are about 30 minutes of YouTube compilations of Macdonald crapping on O.J. Simpson, but this joke in particular sums up why he lost his job. 
Colin Quinn: "At a televised town meeting in Japan, President Clinton was asked by a Japanese woman how he apologized to Hillary and Chelsea about his affair with Monica Lewinsky. President Clinton responded by screaming, 'Look, Godzilla!' and then ran away"
By his own admission, Quinn was a shaky news anchor, even starting the show in front of the desk in his more natural stand-up comic stance to calm his nerves. But being a weird fit for the newsman job didn't stop Quinn from getting off the occasional zinger.
Jimmy Fallon: "
In health news, results of a recent study suggest that married men are healthier and live longer than men who are unmarried. And in celebrity news, happy birthday to Larry King, who turns 400 this week
"
For those of you too young to remember, Larry King was famous for two things: Multiple wives and being really, really old.
Tina Fey: "
After experiencing chest pains Monday, Vice President Dick Cheney was rushed to George Washington University Medical Center. When asked how Cheney's angina would affect the administration, President Bush confidently told reporters,
'
Boys don
'
t have anginas!
'"
Unless you hear it from your ER doctor, the word "angina" will always be funny.
Amy Poehler: "
A six-year-old boy in England got his black belt in karate this week. So before he gets too big, don't miss this awesome opportunity to kick a black belt's ass"
Simple, to the point, timeless.
Seth Meyers: (On Arnold Schwarzenegger having an affair with a maid while his wife was in the house) "Really? I have to say, you have giant balls for
a guy who definitely has tiny steroid balls"
After Poehler left Meyers on his own behind the news desk, he continued their "Really?I?" segments. Who knew such a simple word could become such a reliable joke construction?
Colin Jost: "Former President Donald Trump was indicted for his role in paying hush money to porn star Stormy Daniels. The trial will be like a Stormy Daniels movie because I'm deeply ashamed at how excited I am to watch it"
The joke is funny on its own, but the show version got extra juice since Michael Che secretly told the audience not to laugh at any Jost jokes before his partner got on set. You can practically feel the flop sweat.
Michael Che: "Newspapers around the country dropped the cartoon strip 'Dilbert' after creator Scott Adams said he chose to live in a community where no Black people live. So he lives in your building, huh Colin?
Jost's underrated skill is being an affable punching bag, whether it's Sarah Sherman accusing him of sex crimes, Lesley Jones trying to seduce him or co-anchor Che constantly taking him to task for his unbearable whiteness.
Scroll down for the next article