The Weirdest Pairings of Hosts and Musical Guests on 'Saturday Night Live'
It's pretty clear that Lorne Michaels has been trolling us for years, playing a game of WTF mix-n-match with Saturday Night Live hosts and musical guests. The contradictions can't just be random — there's no other explanation than Michaels rearranging index cards on his bulletin board, asking, "Which of these combinations are the least likely to be in the same area code at the same time?" 
The goofy juxtapositions have spawned a viral Twitter account, SNL Hosts Introducing the Musical Guests, that celebrates unlikely fusions like Nathan Lane sharing the stage with Metallica. With nearly 50 years of odd couples to choose from, we've compiled a list of peak SNL combo-platter weirdness.
Click right here to get the best of Cracked sent to your inbox.
Christopher Walken and Arrested Development
We'd pay a few bucks to hear Walken lend his idiosyncratic speech cadence to Arrested Development's "Tennesse." Also, fellas, he could use a little more cowbell.
William Shatner and
Lone Justice
It's not so much that Shatner and Lone Justice are a supremely odd pair, though they are. We'll just take any excuse to post video of Shatner goofing around in his T.J. Hooker uniform.
Dick Cavett and
Ry Cooder
What the hell is Cavett doing here, introducing slide-guitar hero Cooder to mesdames et messieurs? C'est cringe, Richarde. Frankly, Cavett and virtually any musical guest not regularly seen on a PBS pledge drive seem like a peculiar pairing. 
George Foreman and Hole
Forget Foreman jumping into the mosh pit at a Hole concert. We're interested in a Foreman v. Courtney Love title bout, which might be a better tussle than you'd think. Ask the singer from Bikini Kill if Love can throw a solid haymaker. 
Danny Aiello and Coolio
Musicians pictured on the wall in Aiello's restaurant in Do the Right Thing: Frank Sinatra, Luciano Pavarotti, Liza Minelli and Dean Martin. Musicians not pictured on the wall: Coolio. 
Bob Newhart and Des'ree
What's the most contemporary album owned by the legendary Bob Newhart? An Evening with Belafonte? Uniquely Mancini? The Wonderful World of Robert Goulet? Any musical artist with a hit post-1962 would have seemed like a strange match with our favorite stammering comic.
George Steinbrenner and Morris Day and the Time
Steinbrenner and Day are actually a pretty good match in the vanity department. It's tough when the host and the lead singer both think they're the prettiest presence on the stage.
Betty White and Jay-Z
Before an online campaign that got White her SNL hosting gig, she'd never heard of "Facebook." We're going to go out on a limb and guess she'd never heard of Jay-Z either. 
Eli Manning and Rihanna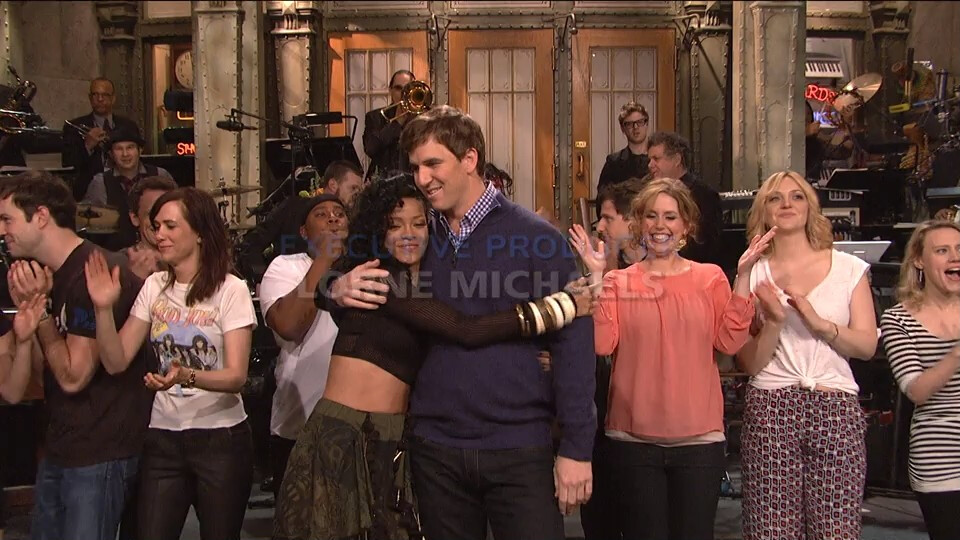 That awkward moment when you go in for the full embrace, then chicken out and slide into a side hug. With their respective outfits, could Manning and Rihanna even get into the same nightclub?
Robert Blake and Kenny Loggins
Sorry, but Hollywood tough guy Blake, a man who has been arrested and charged with murder, would pound the crap out Loggins under any other circumstances. Blake ended that night's show with "Our Gang, the Little Rascals, wherever you are — keep punching!" 
Ed Koch and (The) Dexy's Midnight Runners
Koch introduced the night's musical act as "The Dexy's Midnight Runners," which is like announcing "The U2" or "The Coldplay." What better way to tell America, "I'm very old, and I've never heard of these guys. Can I please go to bed now?"
Jackie Chan and Kid Rock
Legend has it that Chan was backstage looking for the intern responsible for his prop, asking Kid Rock if he'd seen "the boy with the ball." The exchange inspired the rock-rapper to write the song "Bawitdaba." You stay classy, Kid Rock. 
Sally Field and Tony! Toni! Toné!
Tony! and Toni! didn't quite know what to make of Field. But we hear Toné! is a fan. 
Donald Pleasance and Fear
The guys in Fear "look very frightening," stammered Pleasance, "but they're really very nice." In Pleasance's defense, what host would have made a good pairing with Fear, the band that nearly destroyed Studio 8H on live television? Producer Dick Ebersol gave a pre-show lecture to the slam dancers, brought in at John Belushi's request, but when the cameras turned on, they were "jumping off the stage headfirst and careening around the studio while the band blasted away deafeningly," according to Saturday Night: A Backstage History of Saturday Night Live. The punks' defiance made Ebersol so mad that he reportedly kicked a garbage can all around the control room, an incident he doesn't mention in his own SNL book. 
Frozen Caveman Lawyer and The Gin Blossoms
This isn't such a bad pairing. We just wanted an excuse to watch Frozen Caveman Lawyer introduce a musical act. 
Tony Danza and Laurie Anderson
Did anyone ever consider casting avant-garde artist Laurie Anderson as Mona on Who's the Boss? We're not saying it would have worked, but we're not saying it wouldn't have worked.
Patrick Stewart and Salt-N-Pepa
Stewart's enthusiastic introduction of "Salt- … n-Pepa!" was so iconic that John Mulaney built a routine around Sir Patrick's seeming surprise at Pepa's last-moment appearance. 
We'd like to suggest that Stewart's intro has a spiritual cousin in Helen Mirren's "Ladies and gentlemen, Foo Fighters!"
Steve Forbes and Rage Against the Machine
Presidential candidate Forbes was not only an unlikely fan of the heavy metal/rap/punk band. He was the very Machine that it was Raging Against. In protest, the band hung upside-down American flags on the stage (which crew removed before the performance). Their first performance of the night was so angry that RATM was asked to leave the building before its second song. The band did just that, but not before ripping up the flags, running into Forbes' dressing room and chucking red-white-and-blue scraps at the candidate's One-Percenter entourage.  
Charles Barkley and Nirvana
The best part about pairing up Sir Charles and Nirvana? Both the band and the host knew what a stupidly amazing combination they made. The result? The best promos ever. 
Scroll down for the next article