Bill Hader: 13 Now-You-Know Facts
Every so often there are Saturday Night Live performers that were born for the stage. When it comes to impressions, character work, writing ability and consistency it's hard to find another performer up to snuff with Bill Hader. The comedian turned writer/director/actor with his hit show Barry on HBO has put in the work to be deserving of his own fact list. We salute you with these 13 facts, Mr. Hader.
Bill Is A Huge Movie Buff
Bill Hader is a massive movie buff. According to friend John Mulaney, "His knowledge of film and comedy is insane, voluminous and complete." Mulaney added, "There's this really endearing quality to him that is like, he's still a kid with parents and two sisters who don't want to go outside in Tulsa and wants to go downstairs and watch DVDs. I wouldn't call him a loner, but he likes to be alone." To see Hader truly look like a kid in a candy store, watch this clip of Hader as he is given the chance to explore the Criterion Collection room. 
John Mulaney Used To Hide New Jokes In Hader's Cue Cards
Hader's most famous SNL character Stefon was co-written between him and fellow SNL writer John Mulaney. Hader was famous for breaking during these Weekend Update sketches because Mulaney would often switch out or add jokes that Hader had never seen before, right before the live taping to surprise him. Hader said one of his favorite instances was during a Halloween segment when Mulaney added a joke that said "Hey Seth, you know Blackula the black Dracula? Did you know they made a Jewish one? Do you know what Jewish Dracula is called? Sidney Applebaum."
He Created The Voice Of BB-8
Alongside Ben Schwartz, Bill Hader helped design the voice of Star Wars' BB-8 droid. Hader described the experience as, "JJ f*cking around with this sound effects app on his iPad that was attached to a talkbox operated by me, It looked ridiculous, but it made BB-8's voice."
He Struggles With Crippling Anxiety
Bill Hader has spoken openly about the intense crippling anxiety that accompanied him during his time at Saturday Night Live. Hader told The Hollywood Reporter, "The live aspect of SNL — I'm just not built for it. Before shows, I would go into a bathroom that was way down this hall, go into a stall and have a full-blown panic attack, crying, the whole thing. And then I go and get in a giant banana costume. This voice would come on in my head of like, 'You f*cking asshole, do you know how many people would kill for this? Dude, get your sh*t together, come on.'"
Hader Was A South Park Writer
Bill Hader has helped to write several South Park episodes, but the very first episode he worked on was the legendary Kanye West Fish Sticks episode. Hader said he came up with the joke on the South Park writer's retreat when Trey Parker made everyone go see salmon ladders. Hader said the writers joked about the fish and someone added, "What if the fish had a big d*ck?" to which Hader responded, "Are you saying fish sticks like to eat or fish d*cks?" The rest is comedy history.
Hader's Full Circle Moment
Hader was a production assistant on the 2002 film Spiderman, which was filmed on the same Sony lot that Barry films on today!
The Similarities Between Hader and Barry
Barry and Hader are more similar than you think. Barry is an actor who falls into the profession of hitman due to his raw talent, even though he yearns for the spotlight. Hader on the other hand has always wanted to write/direct, which he now does with Barry, but was sidetracked with Saturday Night Live for many years due to his natural talent as a sketch comedian. Co-creator Alex Berg told The Hollywood Reporter, "He didn't spend six years doing ImprovOlympic or whatever it was. He fell ass-backward into it. And he's just so unbelievably good at that it just willed itself into being, and he couldn't stop it. We both thought the idea of somebody who was incredibly naturally gifted at something that they didn't love doing was an interesting internal struggle, the struggle of like, 'Oh, well he should be a killer because he is great at it, but it's eating him up.'"
Hader Was Not An Aspiring Comedian When He Got SNL
Hader dropped out of community college in 1999 and moved to Los Angeles. He began performing at backyard comedy shows for fun with his friend Matt Offerman, with no intention of going into the entertainment industry. One night, Matt Offerman's brother, Nick, yes that Nick Offerman, brought his wife Megan Mullalley to the show, and she was quickly taken aback by Hader's comedy chops. The already successful comedic actress recommended Hader to Lorne Michaels and Hader quickly joined the cast in 2005.
Bill Meets His Idol
One of Bill Hader's Idols is the voice of Dateline NBC, Keith Morrison. Sunday TODAY's Willie Geist set up a scenario for the two to meet, and Hader couldn't look more like an adorably shy middle school girl meeting Justin Bieber.
He Was On Punk'd
Bill Hader's first acting role came in the form of MTV's Punk'd, where Hader worked as a correspondent for one episode. Hader told Andy Cohen, "It was an art gallery and it was my dead brother's artwork. She put her jacket down and somehow the jacket caught on fire and set off the sprinklers and it ruined all the artwork. So we actually flooded this art gallery, and then I had to come out all wet, holding this artwork, like, 'Look what you did!'" He claims it was his only appearance because he was "not very good."
He Dated Anna Kendrick
Bill Hader was quietly dating Anna Kendrick for nearly two years but wanted to keep the relationship quiet in pursuit of privacy and an effort to prioritize his daughters. Unfortunately according to Entertainment Tonight, the couple recently broke up in June of 2022. 
Hader Was Fired From His Theater Job For Spoiling Titanic
Hader told Howard Stern that he was once a movie theater usher, and was fired for spoiling the ending of Titanic for a group of rude sorority girls. Hader continued that he introduced the movie to the whole theater but added, "The boat sinks, Leo dies at the end. It's great. You think he's sleeping, but he's frozen."
Hader Descends From Royalty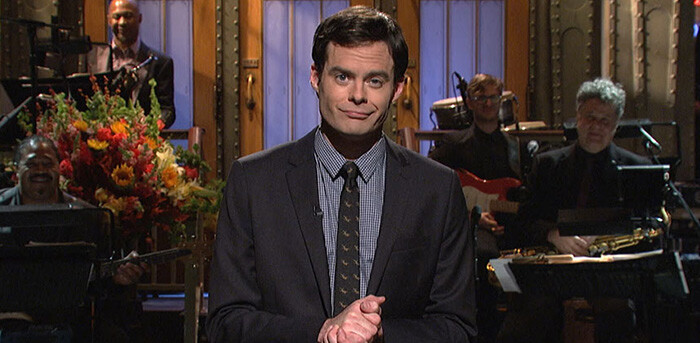 When Hader appeared on PBS's Finding Your Roots, Bill found out that he was a descendant of European royalty. Hader was told he is the descendant of King Edward I of England as well as "Charlemagne, the famed leader of the Holy Roman Empire." Hader released a fit of giggles after learning about his lineage, commenting, "I'm just blown away. I mean, the conqueror of Europe? I couldn't even get the coffeemaker to work this morning."
For exclusive ComedyNerd content and more, subscribe to our spiffy newsletter:
Top Image: HBO
Scroll down for the next article