13 Cult Classic Comedies That Failed At The Box Office
Everyone deserves a second chance, especially comedy movies. While these films didn't make waves at the box office, they get their time in the spotlight now, as certified cult classics. Here are 15 cult comedies that have risen from the ashes to become the fiery phoenixes of laughter they are today.
Year One
The final film of legendary comedy writer/ director/ actor Harold Ramis, Year One was panned by critics and received mildly by audiences. If I am allowed one "bad opinion" on anything in the universe it is that I will never understand why this movie was not a massive success. Jack Black, Michael Cera, Paul Rudd, David Cross, Hank Azaria, Bill Hader, Horatio Sans, Harold Ramis, Paul Scheer, and Matt Besser all appear in this high production and highly original comedy that cost $65 million to make only to return around $34 million back to Sony. I will fight for Year One until the day I die.
Wet Hot American Summer
Wet Hot American Summer was a battle through every stage of its production. Wain searched for investors for years before finding someone willing, the filming crew was rained on nearly every shooting day, and the box office return was embarrassing. It was made with a $1.8 million budget and it reclaimed $295,206 at the box office. After its release, midnight screenings began popping up, as the younger generation and college students spread the movie around like wildfire. 
Office Space
Mike Judge has a lot of classic movies and TV, but one of the biggest is surely Office Space, the comedy showcasing the mundanity of office life, and what would happen if you refused to conform. The movie's return was $10.8 million versus its $10 million dollar budget, and it would take many years and many screenings on Comedy Central for the fans to surface.
Mystery Men
Mystery Men is a film loved by many for its out-there visuals, zany costumes, and star-studded cast, but at the time of its release, audiences were not that interested. Actors from the film say the production was not easy as many ego-fueled comedians were all pushing to get their funniest bits in against first-time feature film director, Kinka Usher. Before its release the premiere date was pushed back, waning audience interest even further. The film made the studio just $16 million versus a whopping $68 million dollar budget.
Idiocracy
Another Mike Judge entry to the list is the movie Idiocracy. It's hard to understand why the film wouldn't be an instant success with its powerhouse cast, but it's mainly due to the film's complete lack of marketing with no ads, trailers, or press kits released before the film. It was made for four million and only made about $500,000 in ticket sales.
Popstar: Never Stop Never Stopping
Many critics consider The Lonely Island's music mockumentary Popstar: Never Stop Never Stopping to be one of the most underrated comedies of all time (surely behind Year One). Sadly, audiences did come out to see the picture with ticket sales being just 10 million against its 20 million dollar budget.
Scott Pilgrim Vs. The World
Edgar Wright's film adaption for the comic Scott Pilgrim Vs The World is often the favorite movie of anyone you know under the age of 28 who owns a Beck album on vinyl. The film is no doubt a genius collection of comedic talent and inspired filmmaking techniques, but for some reason, nobody went to see it in theaters. The president of Universal, Ron Meyer, even said, "Scott Pilgrim, I think, was actually kind of a good movie.  But none of you guys went! And you didn't tell your friends to go! But, you know, it happens." The film only made about $26 million dollars after theaters took their cut against its $60 million dollar budget.
Man on the Moon
Despite not being a success with either critics or audiences, Jim Carrey still went on to win his second consecutive Golden Globe for best actor. The film, repopularized by the 2017 documentary Jim and Andy: The Great Beyond, cost $82 million to produce but only returned about $47.4 million.
Brazil
Monty Python and The Holy Grail's, Terry Gilliam created one of the most visually interesting and chaotic political satires in 1985's Brazil. If you're a big practical effects lover then this weirdo film is perfect for you, unfortunately, many audiences didn't feel the same. The $15 million dollar film only returned $9.9 million domestically.
Hocus Pocus
The Halloween classic Hocus Pocus was not originally a successful film at all, one reason being the film was released in the dead of summer, instead of near Halloween. The film only made $29 million domestically versus its $28 million dollar budget and lost Disney money. The real fans didn't appear until its release on home video and Disney Channel re-runs in October.
Clue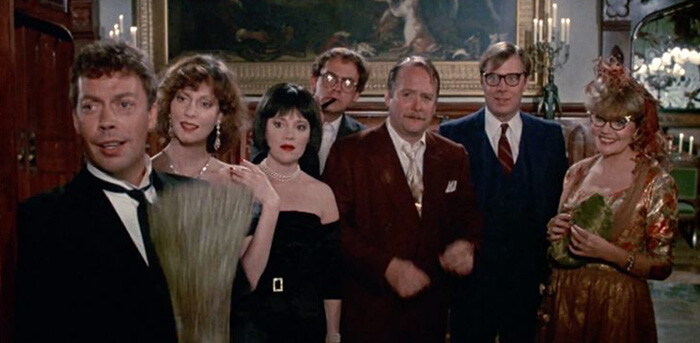 The 1985 film Clue, based on the board game of the same name was given a lukewarm reception by critics and audiences alike. Its $15 million dollar budget was met with just $14.6 million in ticket sales, despite the film having different endings screen at different theaters, which is objectively awesome. The film found its audience after TV screenings and home video releases.
A Christmas Story
A Christmas Story is the definition of a true cult classic. You either watch this movie every year (maybe multiple times) for the holidays, or you have no idea why anyone likes this film. Critics were the same with Janet Maslin at The New York Times saying it was "an ironic but fond look at an old-fashioned, Norman Rockwell-style Christmas, became this past Christmas' most pleasant surprise." When just a year before Vincent Canby of the The New York Times said the acting was "less funny than actors in a television situation comedy that one has chosen to watch with the sound turned off."
Death To Smoochy
This Edward Norton and Robin Williams dark comedy was disliked by both critics and audiences alike. The film, directed by Danny DeVito, only made back about $4.5 million of its $50 million dollar budget. However, the film has gained a cult following over the years with Village Voice critic J.Haberman saying, "This is the first Williams performance I've enjoyed since Aladdin—and that was also a cartoon."
For exclusive ComedyNerd content and more, subscribe to our spiffy newsletter:
Top Image: MGM