15 Famous People With Surprisingly Dark Family Histories
Famous people seem to lead charmed lives, but that's largely because money totally buys happiness. More often than not, you have to live through some bonkers shit to develop the drive (and the balls) to achieve such great success, so even some of the most wholesome celebrities are the fruit of a dangerous family tree, the kind with dead roots and deceptively precarious branches.
Woody Harrelson
Harrelson's father, Charles, was not only a hitman, he was so good at it that he pulled in $250,000 for assassinating a judge who was about to preside over the trial of a drug kingpin. It earned him two life sentences (just to make double sure he never ended up back on the streets), and until his death in 2007, his appeals were paid for in part with his son's movie money, which is a further blow to anyone who paid to watch EDtv.
Kelsey Grammer
Kelsey Grammer may very well be cursed, and not just to star in increasingly convoluted comedies. His father was killed in a home invasion when Grammer was a child, his little sister was murdered seven years later, and his two half-brothers died in a scuba diving accident five years after that, so you can hardly blame him for lashing out at that asshole dog.
Glenn Close
When Close was seven, her parents joined the Moral Re-armament, then her dad took off to the Congo to become the personal physician of dictator Mobutu Sese Seko, leaving the rest of the family to live at the cult's headquarters in Switzerland. She even performed with Up With People, the cult's musical group that performed at all those Super Bowls back when the halftime show was just a bathroom break.
Joaquin Phoenix
Phoenix, on the other hand, was actually born into a cult after his parents joined the Children of God in 1970. Yes, the pro-incest, pro-pedophilia sex cult. To be fair, it's not like anyone advertises themselves as a sex cult, so as soon as the Phoenixes realized something was off about their new friends, they got out.
Charlize Theron
Theron straight-up witnessed her mom kill her dad. The alcoholic, abusive Mr. Theron had come home in a rage one night when she was 15, shooting through the door of the room where she and her mother had barricaded themselves until her mother, in a choice of words, "ended the threat."
Dennis Hopper
During World War II, Hopper's father worked overseas as a spy, and the family even believed he'd been killed until he showed up one day after the war was over, explaining that the government had faked his death. Hopper blames the incident for his famously paranoid behavior, and like, that's fair, man.
Dylan McDermott
McDermott was born to a 15-year-old mom, so that's already not great, but then she started living with a gangster who had a habit of pointing guns at children and eventually killed her when McDermott was only five years old. He went to live with his father and worked in his bar when he was 13, and after his father married Eve Ensler, writer of The Vagina Monologues, she adopted him and started writing plays for him to star in once he recovered from the whiplash of it all.
Jonathan and Christopher Nolan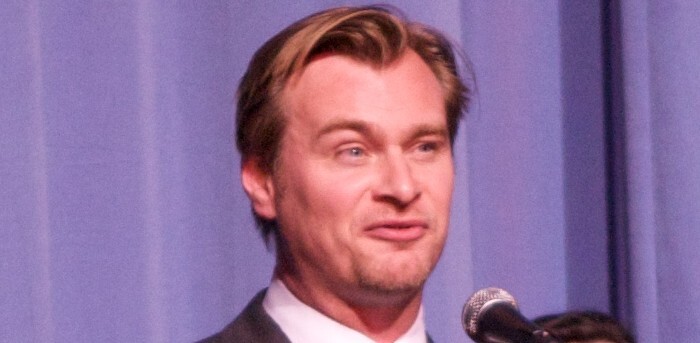 The Nolan brothers have another brother who is arguably far more interesting. In 2010, Matthew Nolan was accused of killing a financier in the course of attempting to extract money out of (i.e. torturing) him on behalf of a drug trafficker in Costa Rica, after which he made an elaborate but thwarted plan to escape from jail. In the end, the U.S. found "insufficient evidence" to extradite Nolan to Costa Rica to face the charges, so he's still out there. Just something to think about next time you consider trashing a Nolan movie.
Hope Solo
The World Cup winner was conceived during a conjugal visit while her father was in prison for embezzlement. He was later arrested for kidnapping her after her parents' divorce and then for murder, although that one turned out to have been a setup by a cop who knew an easy target when he saw one.
Leighton Meester
"Oh, yeah?" says Leighton Meester, in our minds, because she was actually born in jail after her parents were convicted of smuggling over 1,200 lbs. of weed from Jamaica. She said her family history made her "very nonjudgmental and open-minded," a trait she had to suppress on Gossip Girl.
Mariah Carey
In her memoir, The Meaning of Mariah Carey, she alleged that her brother was an abusive drug dealer who once accepted money to kill someone (though the client apparently got impatient and did it themselves) and her sister once burned her with boiling hot tea, drugged her, and offered her up to her pimp boyfriend when she was 12. Her siblings have sued her over the book, but her sister also claims their mother forced her to take part in satanic rituals, so she's maybe not the most reliable source. She was also once arrested for offering sex work in an ad that promised a "sweet, sweet fantasy," so she definitely knows how to work an angle.
Nancy Kerrigan
In 2010, Kerrigan's brother, who had a history of substance abuse and violence, got into a fight with their father that ended with the elder Kerrigan's death from a heart attack and two and a half years in prison for his son. Say what you will about Tonya Harding's family, but none of their fights turned deadly.
Cary Elwes
Elwes's maternal grandparents were so against the idea of their daughter marrying penniless aristocrat Dominick Elwes that they instituted wardship proceedings and took out a restraining order against him, forcing the couple to run all over the world to find someone to marry them. They finally succeeded in Cuba, but then Castro revolutioned everywhere, which puts a real damper on a honeymoon, forcing them again to flee in a raft. Dominick was briefly arresting, but they stayed married for 10 years, shortly after which he intentionally overdosed on barbiturates after refusing to participate in a high-society murder cover-up. It was basically a Scorsese movie with fancier accents.
Frances McDormand
McDormand was adopted by a pastor and his wife after she was abandoned as a toddler by a "white trash" woman who went to her father's church. She was one of approximately nine children fostered by the couple at some point, though she's not entirely sure. "They take in strays," she explained. "They also have nine cats."
Jackie Chan
After being widowed in World War II, Chan's mother tried to sell her two daughters and then settled for just abandoning them, became an opium smuggler and legendary gambler, and married the cop who arrested her. They changed their names and moved to Hong Kong before Chan was born, so he didn't learn about any of this until a 2003 documentary uncovered the truth. Oh, his father was also a spy. At least he never faked his own death.
Top image: U.S. Navy/Wikimedia Commons