15 Comedians Whose TV Shows Just Didn't Work
"It's a very odd thing with Hollywood, where you do stand-up, you're good at it, then they go, 'How would you like to be a horrible actor?' Then you say, 'All right, that sounds good. I'll do that.'" - Norm Macdonald.
Norm made a great point. Being a great stand-up comedian is a much different craft than acting in a sitcom, and not to say that these shows failed solely because of the acting, but for whatever reason, they just didn't click with audiences.
You'd think The Norm Show would be on this list, but its 54 episodes over 3 seasons on ABC is a lot better than these great comedians' failed shows ever did.
Andrew Dice Clay - Bless This House (1995)
At the time, he was massive, but did we really want him in our living rooms?
Although he was the first comic to headline Madison Square Garden, he was banned from MTV and SNL, alienating many fans with his sexist jokes towards women. His 1995 CBS sitcom Bless This House did not help the cause.
Bless This House had "The Diceman" play postal worker Burt Clayton, and would last just 16 episodes before being cancelled in January 1996. It was then listed on TV Guide's 2002 list of the '50 Worst Shows of All Time'.
Kevin Hart - The Big House (2004)
I've got it… Reverse Fresh Prince of Bel Air!
Kevin Hart was making a serious name for himself as a stand up comedian, so the 24-year-old was given his own sitcom, The Big House, where he played a rich kid named Kevin Hart (playing a version of himself) from Malibu who is forced to move in with his working-class relatives in Philadelphia.
A Fresh Prince spinoff of Carlton living in West Philly sounds way better! The Big House would air its first and last episodes within one month, from April 2nd to April 30th in 2004.
John Mulaney - Mulaney (2014)
With his stand up and 5 years at SNL, he seemed like the perfect candidate for sitcom glory. The show even included comedy great, Martin Short.
The awkward chemistry between Mulaney and his friends on the show wound up hobbling Mulaney right out of the gate, so FOX reduced its 16-episode commitment, and ended up putting it out of its misery.
Jeff Foxworthy - The Jeff Foxworthy Show (1995)
With "down south" and "heartland" audiences behind him, this could've been the next Home Improvement.
In1995, ABC aired The Jeff Foxworthy Show. Where Jeff played an air conditioning repairman who lives with his wife Karen and young son Matt (who was Haley Joel Osment).
It lasted one season before ABC cancelled the show, then NBC took over (and besides Foxworthy and Osment) the show got a whole new cast, including the other cute 90s kid, Jonathan Lipnicki as his second son. NBC would also cancel the show after one season, ending it after a total of 41 episodes.
Dave Chappelle - Buddies (1996)
Man, we're glad he got Chappelle's Show not long after this.
In March 1996, ABC started airing Buddies, starring Chappelle and Jim Breuer, after their guest appearance on Home Improvement proved popular enough with audiences and critics that ABC decided to spin the two characters off into their own show.
Jim Breuer was quickly replaced with Christopher Gartin, which created ill-will between Dave and the network. Buddies lasted just 5 episodes and 8 episodes remain unaired.
Craig T. Nelson - Coach (2015)
Wanna bring back that really successful 90s show here in 2015? Naw, we're good.
Not many people know that Craig T. Nelson began his career as a comedian, and was an early member of The Groundlings in the mid 70s. 
He's best known for his highly successful show Coach, that ran from 1989 to 1997, where he starred as college football coach Hayden Fox (and won an Emmy for Outstanding Lead in a Comedy Series).
NBC gave the 2015 version of Coach a 13-episode order, then quickly withdrew after seeing the terrible pilot.
Rob Schneider - Rob (2012)
Schneider's in this weird middle ground where producers think he's big enough to attract an audience, but he never is. Good thing for all those Sandler films.
This 2012 sitcom had him playing a loner who marries into a Hispanic family. After a lot of dull culture clash comedy, the show was canceled after nine episodes.
Wanda Sykes - Wanda At Large (2003)
She's funny enough! Just let Wanda say what she wants!
Wanda At Large was the first show to be created, written, produced and star a black woman, so a lot of people were rooting for its success. Sadly, her edge was watered down and Fox canceled it during its second season, leaving five episodes unaired.
Margaret Cho - All American Girl (1994)
Another first that could've been great if a network didn't mess with it.
On ABC from September 1994, to March 1995, we saw comedian Margaret Cho star as Margaret Kim, the rebellious daughter of Korean American bookstore owners in San Fransisco.
At the time, major U.S. network green-lighting a sitcom featuring an all Asian cast was groundbreaking, but despite Cho's attempts to make it authentic, the network watered it down with formulaic sitcom tropes.
Kelsey Grammer - Hank (2009)
After 22 years as the hilarious Frasier Crane, he wanted to try something new.
Hank was a Kelsey Grammer sitcom led off an all-new night of comedy for ABC which included fellow newcomers (and much more successful) The Middle, Modern Family and Cougar Town.
It was cancelled after 5 episodes, and was so unfunny that Grammer admitted to Jay Leno that he personally called Warner Bros. and asked that they halt production immediately. Oof.
Joel McHale - The IT Crowd (2007)
Okay, The Office is massive. Quick, what other British show can we remake?!
This U.S. remake of the critically acclaimed UK sitcom was ordered to series, but never actually went into production after the pilot.
Joel McHale luckily landed Community soon after, and honestly, Jeff Winger was the role he was born to play.
Dane Cook - Next Caller (2012)
We really can't stress (or fully explain) how massive Dan Cook got in such a short time.
NBC thought he'd be a solid vehicle for a show, but only four episodes were filmed, and none of them actually aired, before they stopped production. The show also featured and Arrested Development's Jeffrey Tambor, but it just didn't work.
Paul Reiser - The Paul Reiser Show (2011)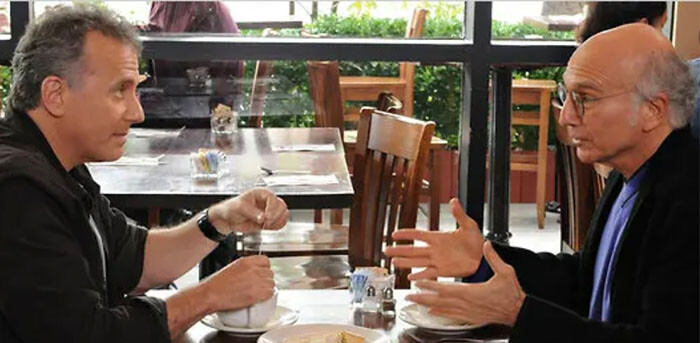 Think that's a picture from Curb Your Enthusiasm? It's not. It's from an unaired episode of the Paul Reiser Show.
Paul Reiser began as a stand up comedian in the late 70s and early 80s, before landing roles in movies and TV. Obviously best known for Mad About You, we're thinking he tried his own version of Curb that clearly wasn't Curb, and NBC cancelled it after 2 episodes.
Patton Oswalt & Brian Posehn - Super Nerds (2000)
We're thinking this would've been pretty awesome.
The comedians created and filmed a pilot for Comedy Central, but they passed on it. It (would have) starred Oswalt as a comic book store manager with Posehn as his best friend who hangs around the place all day.
Oswalt and Posehn recruited some fellow Mr. Show almuni, and Sarah Silverman to play supporting parts, but Comedy Central just didn't want to pick it up.
The Sklar Brothers - Apartment 2F (1997)
That identical twin chemistry is undeniable though.
At the time, they had appeared on a ton of network sitcoms, so MTV gave comedy duo, The Sklar Brothers a series about their escapades in New York City.
Many thought it was a weird mashup of sketch, stand-up, and sitcom (maybe it was just ahead of its time), and the short-lived series only aired from July to November 1997.
They even got comedians Zach Galifianakis, Stephen Colbert, Bill Burr and Amy Poehler to guest star in the 11 episodes that aired, but for some insane reason, it just didn't take.
For exclusive ComedyNerd content, subscribe to our spiffy newsletter:
Top Image: Warner Bros. Television