Comedy Albums: Their Return And History
Welcome to ComedyNerd, Cracked's daily comedy superstore. For more ComedyNerd content, and that hilarious party record, the Iran/Contra Affair, please sign up for the ComedyNerd newsletter below.
What does a ComedyNerd hipster look like?  Your mileage may vary, but we're guessing that swaggy superfan looks something like a bespectacled Sylvester carrying a huge stack of comedy vinyl.
Comedy albums were the ancestors of the comedy specials of today, says Wayne Federman in The History of Stand-Up. "These records allowed comedy fans to listen anytime, multiple times, and even transcribe and break down a comedian's act. Collecting and dissecting these recordings spawned a new generation of comedy nerds." (See, Wayne thinks so, too.)
So fans were likely pretty geeked when the iconic, Los Angeles-based Comedy Store recently announced that it's starting a new record label devoted exclusively to comedy.  The label hopes to mine its extensive history for a series of vinyl albums, EPs, and special projects. 
"We're envisioning this a step toward honoring the rich tradition of comedy albums from back in the Richard Pryor, George Carlin, Lenny Bruce era, when listening to vinyl was a time of wonderment and joy," said Comedy Store CEO Peter (son of Mitzi, brother of Pauly) Shore.
Comedy Store Records arrives at a time when vinyl is making a surprising resurgence. Whether it's nostalgia or, as some audiophiles argue, better sound quality, vinyl album sales in the United States grew for the 15th consecutive year last year. The 27.5 million LPs sold in 2020 represented a whopping 46 percent increase over the previous year. 
Overall, according to MRC Data, vinyl accounted for 27 percent of album sales in the United States -- not the majority but nothing to sneeze at either.
So maybe the Comedy Store is on to something.  Let's take a look at that "rich tradition of comedy albums" and how the vinyl revolution may impact the comedians of today. 
Party like it's 1955
The first comedy record to blow up? That was Joe Hayman's "Cohen on the Telephone," recorded more than a hundred years ago in 1913. The record gave us one side of a frustrating phone call (a comedy routine staple that Bob Newhart and Ellen DeGeneres would use years later) between a Jewish-accented telephone user and his landlord. It was the first comedy record to sell a million copies.
But it wasn't a comedy album -- not the way we refer to them today. 
That honor goes to Redd Foxx, who "single-handedly invented the modern comedy album" back in 1955.  His "Laff of the Party" LP contained no novelty songs or studio bits -- Foxx's "party record" on the tiny Dooto Records label consisted of a simple live recording of his nightclub act, complete with dirty jokes and raucous audience laughter. 
Tommy (Cheech and) Chong says Foxx's party albums inspired his own career in comedy.  "Redd had a big influence on me right out of the gate. It was the first comedy record I had ever heard."
Recording the album cost next to nothing and sold big-time -- Fox moved more than 10 million copies of Foxx's party albums.  Ka-ching. The comedy record boom was on. 
Next came Foxx contemporaries like Moms Mabley, as well as ironic hipsters like Shelley Berman and the recently departed Mort Sahl.  By the fall of 1961, Billboard was reporting that comedy on vinyl was "the brightest aspect of the album business." 
Things really got weird -- and really blew up -- with the comedy albums of Bob Newhart. 
Before the mild-mannered accountant recorded The Button-Down Mind of Bob Newhart in 1960, he was moonlighting as a creator of funny comedy bits for a Chicago radio station, Newhart explains in his book I Shouldn't Even Be Doing This!  a Warner Bros. executive loved the recordings and thought they would make a good comedy album with a live audience. There was only one problem: Newhart had never done stand-up and had no idea what to do next. 
Record contract in hand, Newhart signed with an agent who searched the country for a nightclub that would book a comic with no experience. They found one in Houston--the Tidelands Motor Inn hired Newhart as an opening act. For two weeks, Newhart tried out material before recording what became his first album. "There was no secret ceremony," Newhart recalls. "I simply went backstage at the end of the night and poured myself a double scotch."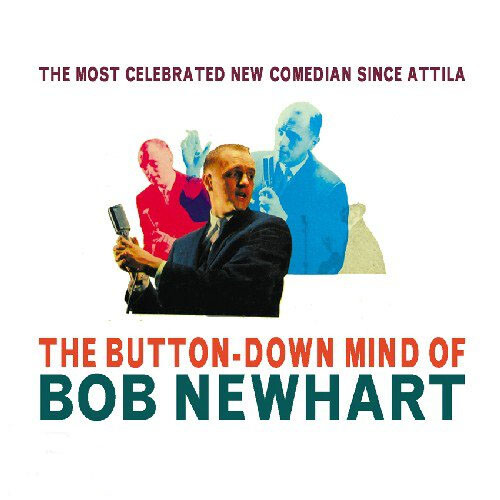 The comic with no experience saw his album skyrocket to No. 1 on the Billboard record charts (not the comedy chart -- the whole dang chart).  It was such a phenomenon that Warners asked for an immediate sequel even though Newhart had used almost all of his material on the first one.  By the end of the year, a second album was released -- and Newhart had both the number one and number two albums in the country. 
(That record stayed intact until Guns N' Roses released Use Your Illusion I and II simultaneously in 1991. Newhart was philosophical when his daughter told him Axl Rose had bested his achievement: "Well, you hate to lose a record, especially when you don't know you hold it, but at least it went to a friend.")
How big was Newhart? At the 1961 Grammy Awards, he took home Best New Artist, Best Comedy Album, and Album of the Year, beating out no-talent bums like Frank Sinatra, Harry Belafonte, and Nat King Cole. 
Comedy albums continued to make history. There was Vaughn Meder pahrking Kennedy's cahrs in Hahrvuhd Yahrd on his LP The First Family -- at the time, it was the fast-selling record in U.S. history, moving more than a million copies a week. 
Others followed and became huge stars -- Lenny Bruce, Dick Gregory, Nichols and May, and Jonathan Winters. Bill Cosby parlayed successful Tonight Show appearances into a recording contract with Warner Bros. By 1967, Cos had five comedy albums simultaneously parked in the Billboard Top 100. (All of this, of course, decades before Cosby found himself parked in a state correctional facility.)
Rock and roll comedians
As the 1970s rolled around, a new generation of comedy stars was emerging. They rivaled rock stars in terms of records sold, social influence, and copious amounts of recreational drugs enjoyed.  Comedy vinyl drove it all.
George Carlin was one of the first of the new wave to break through, a former disc jockey who started stand-up life as a clean-cut, coat and tie comic.  His humor morphed into a hippie sensibility after he was canned by the Frontier Hotel in Las Vegas for "saying 'sh--' in a town where the big gambling game is called 'craps.'
He used that line to open his 1972 album, FM and AM, blowing people's minds with his album cover featuring Carlin decked out in bell-bottom jeans, shoulder-length hair and beard, according to William Knoedelseder's I'm Dying Up Here. Later that year, Carlin followed up with Class Clown, which included his "Seven Words You Can Never Say on TV." Both albums went gold.
Robert Klein's best-selling Child of the Fifties cemented him as a Saturday Night Live hip host. 
Richard Pryor blew up as well, transforming (like Carlin) from polite guy with a microphone to a profanity-spewing provocateur.  He used the Comedy Store as his testing ground for several of his Grammy-winning best-sellers, including That N-----'s Crazy (1975), Is It Something I Said? (1975), Bicentennial N----- (1976), and Wanted: Richard Pryor Live in Concert (1978).
Pryor's success probably gave Mitzi Shore the idea to turn Comedy Store sets into comedy albums nearly 50 years before the company's recent announcement. The idea, according to Knoedelseder, was to package popular performers for a single show -- say, Robin Williams, Jay Leno, David Letterman, Elayne Boosler, and Tom Dreesen -- and charge $5 a pop to see it. They could record the night's performance and sell it as a "Comedy Store's Greatest Hits" record.  The problem was Mitzi only liked to pay in exposure -- but that's a ComedyNerd story for another day. 
Comedy albums kept getting bigger. Steve Martin's Let's Get Small went multiplatinum and his musical parody King Tut, off his follow-up album A Wild And Crazy Guy, went to Number 1 on the singles charts. Soon Martin toured stadiums as his two albums sold more than 5 million copies.  His SNL pals the Blues Brothers (Dan Aykroyd and John Belushi) opened for Martin at L.A.'s Universal Amphitheater. Their Briefcase Full of Blues record, while not technically a comedy album, also hit No. 1 on the pop charts and sold 2 million copies.
Eddie Murphy. Chris Rock. Rodney Dangerfield.  Billy Crystal. Joan Rivers.  The path to late-century comedy dominance was still paved with vinyl. Adam Sandler parlayed his SNL success into a series of successful albums in the 1990s and 2000s, unusual for Sandler's technique of recording sketches in a studio vs. live comedy performances. 
Who was bigger than any of them when it came to the best-selling stand-up albums of recent years? That would be Jeff Foxworthy, the down-home hick who delivered so many iterations of You Might Be a Redneck If… .  What was his trick? He combined live stand-up routines with a country-music backing track. Singles like "Redneck Stomp" drove country radio airplay, album sales, and concert tix. 
The return of comedy vinyl
Vinyl's influence waned in comedy just as it did in the music industry. Scoring a smash comedy album used to be a signpost of a comedy artist making it big but digital audio, both in downloadable and streaming forms, has diminished that accomplishment considerably. 
In the 2010s, it's been the streaming comedy special -- Hannah Gadsby's Nanette, John Mulaney's New in Town, Tig Notaro's Boyish Girl Interrupted -- that signal a comedian's leap to stardom.
But that doesn't mean there's not a place for vinyl in the lives of comedy nerds.  Comedy Store Records joins a surprising number of other companies who are releasing comedy vinyl, chief among them AST Records (with artists such as Patton Oswalt, Paul F. Tompkins, Carmen Esposito, and Jen Kirkman) and Stand Up! Records (with vinyl offerings from Dana Gould, David Cross, and Hannibal Buress).
Interested in picking up a few vintage discs for yourself? A podcast devoted to comedy on vinyl called, appropriately enough, the Comedy on Vinyl Podcast (400 episodes strong!) does deep dives on the classics, many available on eBay for pennies on the dollar. 
Going forward? Comedy Store Records has announced its first signee -- comedian Rick Ingraham. "One of the funniest people on and off stage, Rick is a staple at @thecomedystore and the perfect comic to set the stage for what's to come."
Will Rick's album make him the next Richard Pryor or Adam Sandler?  We'll give it a spin at the Cracked offices and let you know.
Top image: Atlantic Records, Warner Bros. Records, Sub Pop Records, Columbia Records
Scroll down for the next article