Top 40 Tom Cruise Movies Ranked Worstest To Bestest
Looking over the history of Tom Cruise movies, it's clear that, for the most part, he's had a keen eye toward quality. Sure, there may be a blatant cash grab here and there, but who wouldn't do that? If you had the opportunity to make ten dollars instead of five, it's a no-brainer.
That's what makes it such a cool task to rank his films. There are so many good flicks, and he's been so consistent that even the top five movies would inspire so many arguments. But we're going to rank most of his output here, and we have the advantage of not being wrong. So here is a definitive list of Tom Cruise movies, ranked from worst to best …
Honorable Mention: Tropic Thunder (2008)
Rotten Tomatoes Score: 82%
Runtime: 1h 47min
Rating: R
Director: Ben Stiller
While hosting a relatively-brief appearance by Cruise, as studio exec Les Grossman, his work was here so memorably-volcanic that it has to be included. Stiller, Robert Downey, Jr., Jack Black, and various other comedic knuckleheads act in what starts as a war movie shoot but then turns into something much more real. Still, Cruise as a Harvey Weinstein parody and RDJ in Blackface kind of rubs the wrong way, even in satire.
Cocktail (1988)
Rotten Tomatoes Score: 7%
Runtime: 1h 44min
Rating: R
Director: Roger Donaldson
It seems like a formula that should work: Tom Cruise, Elisabeth Shue, and a bunch of people flipping gin rickey ingredients in the air. Cruise stars as Brian Flanagan, a hotshot bartender who slings drinks in Jamaica while trying to decide who to fall in love with. Despite hitting all the hot zones of Cruisemania in the '80s, this one didn't fare as well as his other hits.
Far And Away (1992)
Rotten Tomatoes Score: 50%
Runtime: 2h 20min
Rating: PG-13
Director: Ron Howard
Capitalizing on the dubious chemistry between Cruise and Nicole Kidman, Ron Howard tried his hand at an honest-to-goodness epic about Irish Tom Cruise traveling with his lady friend (Kidman) to Boston in the late 1800s. The Tomatometer may say 50%, but tell us all the memorable scenes you recall from this movie that don't involve how bad his fake accent is. Go on; we'll wait.
Losin' It (1983)
Rotten Tomatoes Score: 18%
Runtime: 1h 40min
Rating: R
Director: Curtis Hanson
Early Tom Cruise was directed in this film by Curtis Hanson, who would later do such fine work as L.A. Confidential and Wonder Boys. This wasn't quite up to that level yet. Cruise and some pals (including young, thirsty Rorschach from the Watchmen movie) drive down to Tijuana with Shelley Long, and they live it up south of the border. Innuendo galore. 
The Mummy (2017)
Rotten Tomatoes Score: 16%
Runtime: 1h 50min
Rating: PG-13
Director: Alex Kurtzman
This is probably the movie that started the "we miss Brendan Fraser terribly" movement. Which is sad because Tom Cruise running is already amazing, so Tom Cruise running from Egyptian demons should be easy box office gold. Somehow the fun got lost, and this was just Mission: Impossible with a desert tinge of franchise desperation. 
Legend (1985)
Rotten Tomatoes Score: 38%
Runtime: 1h 34min
Rating: PG
Director: Ridley Scott
Hey! Wanna see Tom Cruise galavant around with a unicorn? No one else in 1985 did, either, and this was the year everyone went bananas about Michael J. Fox turning into a dunking werewolf, so don't come at us with that. Here, Cruise tried to fend off the Lord of Darkness with Ferris Bueller's girlfriend. Also, Tim Curry is in it. 
Jack Reacher: Never Go Back (2016)
Rotten Tomatoes Score: 38%
Runtime: 1h 58min
Rating: PG-13
Director: Edward Zwick
There's a huge governmental conspiracy going on, and paperback superhero and former MP Jack Reacher (Cruise) must unveil the wrongdoing, all while trying to clear his own name, which is Jack Reacher. Never go back, and moviegoers did not.
Rock Of Ages (2012)
Rotten Tomatoes Score: 43%
Runtime: 2h 3min
Rating: PG-13
Director: Adam Shankman
Tom Cruise rocks out as Stacee Jaxx in a music-centered romp written by Justin Theroux. It tries to be a hair metal version of Footloose, with the Sunset Strip serving as the setting, instead of a barn or wherever they're not supposed to dance in that movie. 
Mission: Impossible 2 (2000)
Rotten Tomatoes Score: 57%
Runtime: 2h 3min
Rating: PG-13
Director: John Woo
Yeah, we said it. It's not great. You can throw all the fluttering doves you want into a slo-mo gunfight, but it's not going to make for a compelling story. Team lead Ethan Hunt (Cruise) is tasked with stopping a former agent from unleashing a deadly new disease. Apparently, it was called "tryingtooharditis."
Lions For Lambs (2007)
Rotten Tomatoes Score: 27%
Runtime: 1h 32min
Rating: R
Director: Robert Redford
You ever look at a great lineup of bands at a festival, and then each band subsequently goes on boring monologues instead of playing music? That's kind of what happened here, in a tale of two Army soldiers hurt in Afghanistan and how it unfolded with congressmen, journalists, and college professors. It's exactly, one thousand percent, unequivocally as boring as it sounds.
All The Right Moves (1983)
Rotten Tomatoes Score: 61%
Runtime: 1h 31min
Rating: R
Director: Michael Chapman
"I want this Cruise kid to be a gritty product of a podunk steel mill town, who has a gift for football that can get him out of there. Oh, and he should be Serbian-American." Okay, whatever, it kind of works. His coach tries to stymie any progress he could make in the sport, but Cruise flashes that winning grin enough to get himself a scholarship and future leading man roles.
Valkyrie (2008)
Rotten Tomatoes Score: 62%
Runtime: 2h 1min
Rating: PG-13
Director: Bryan Singer
Y'know who looks exactly like a German army officer? Tom Cruise! As Colonel Claus von Stauffenberg, he joins up with a rogue faction of Nazis who are convinced that Adolf Hitler is acting super Hitlery, and they decided to come up with an assassination plot. And boy, they almost did it, with a suitcase explosive nearly taking out the Nazi leader. The story is better than the movie. 
Oblivion (2013)
Rotten Tomatoes Score: 53%
Runtime: 2h 4min
Rating: PG-13
Director: Joseph Kosinski
Here, Cruise depicts the amazing life of a drone repairman on an Earth that has been waging war with aliens for some time. He's trying to get out of there for good but finds a survivor near a crashed alien craft. He's then captured by people who turn out to be humans, and together they all forget this movie was ever made.
Knight And Day (2010)
Rotten Tomatoes Score: 52%
Runtime: 1h 49min
Rating: PG-13
Director: James Mangold
It's pure popcorn fun, but Cruise has better kernels in his filmography (see what we did there?). Roy Miller is a secret agent on the run from the Feds and gets mixed up with Cameron Diaz, a restorer of classic automobiles. Together, they work to clear his name, which is something Tom has to do an awful lot in his movies. 
The Last Samurai (2003)
Rotten Tomatoes Score: 66%
Runtime: 2h 34min
Rating: R
Director: Edward Zwick
Remember, we aren't necessarily ranking these by the raters of tomatoes, but rather a mix of the quality of Cruise's overall work, and if they kinda maybe suck a little bit. Teaming up with director Edward Zwick (Jack Reacher Never gonna rewatch Go Back) again, Cruise plays Captain Nathan Algren, a military man hired by Japan to train their military because we all know white people save inner-city schools and foreign armies. 
Taps (1981)
Rotten Tomatoes Score: 68%
Runtime: 2h 6min
Rating: PG
Director: Harold Becker
Tom Cruise's first major role in a film was this early '80s fare, concerning a group of military cadets at an academy that is facing closure. They decide to take matters into their own hands and take over the campus. Cruise did fine, but he hadn't completely learned how to commandeer the screen just yet. That would change very shortly.
The Outsiders (1983)
Rotten Tomatoes Score: 63%
Runtime: 1h 31min
Rating: PG
Director: Francis Ford Coppola
Picture every teenage girl's bedroom wall in the 1980s. Now shove all those brooding hunks into one movie made by the director of The Godfather and Apocalypse Now, and you've got a recipe for a little bit of success. Granted, this film launched so many young white males into your lives, but the tale of two rival gangs is like West Side Story told by an old man who is completely enamored by his own storytelling. Cruise holds his own, and Rob Lowe plays a guy called Sodapop Curtis, so that's awesome. 
Vanilla Sky (2001)
Rotten Tomatoes Score: 42%
Runtime: 2h 16min
Rating: R
Director: Cameron Crowe
It starts off with a great Radiohead song …
… then crumbles and dissolves into something that looks amazing but feels threadbare. Cruise plays a rich publisher who gets into a car accident and is forced to deal with his own vanity. Reteaming with director Cameron Crowe after Jerry Maguire, there are also some sci-fi and mystery elements, but Cruise hasn't figured out how to consistently make the audience see past his narcissism. 
Days Of Thunder (1990)
Rotten Tomatoes Score: 38%
Runtime: 1h 47min
Rating: PG-13
Director: Tony Scott
This one is actually better than its tomato rating. Cruise had already conquered jet fighters; let's put him on the ground in something fast! Robert Duvall plays his surly crew chief, and director Tony Scott is another person tasked with making that Tom Cruise/Nicole Kidman partnership work on the screen. It doesn't, but the races are fantastic, and Cruise's name is Cole Trickle, so bonus point there.
Interview With The Vampire (1993)
Rotten Tomatoes Score: 64%
Runtime: 2h 3min
Rating: R
Director: Neil Jordan
Let's take the two hottest movie stars in Hollywood at the time and make them pale blood drinkers. That shouldn't work, but it kinda did. Tom Cruise and Brad Pitt play Lestat and Louis, respectively, two vampires who have a 300-year-old past and are eager to share their stories with a modern-day reporter. The two vamps also raise a little girl as a vampire of their own, making it a goofy My Two Dads romp.
American Made (2017)
Rotten Tomatoes Score: 86%
Runtime: 1h 55min
Rating: R
Director: Doug Liman
You might see the score granted to this movie and wonder why it's located as such on this list. That speaks more to the classic movies and roles that Cruise has had than the quality of this film, which is pretty good. Here, he plays pilot Barry Seal who, with the help of the CIA, runs drugs from Central America to the U.S. in the '80s, giving birth to the Iran-Contra scandal and the Medellin cartel in the process. What a proud parent!
Eyes Wide Shut (1999)
Rotten Tomatoes Score: 76%
Runtime: 2h 39min
Rating: R
Director: Stanley Kubrick
There's something so beautiful about watching this movie, but you can't help but feel slightly unfulfilled, much like Cruise's wife in the film, played by Nicole Kidman. And yes, even Kubrick cannot find a way to make us care about these two people together. Kidman plays a wife who gets high and talks a lot. She confesses to feeling sexual attraction for a stranger, leading husband Cruise to wander out for a night, ending up at a bizarre masked orgy party. It's all over the place. But so weirdly watchable!
Jack Reacher (2012)
Rotten Tomatoes Score: 63%
Runtime: 2h 10min
Rating: PG-13
Director: Christopher McQuarrie
Despite Jack Reacher being a massive hulk of a man in the books, diminutive Tom Cruise charms his way into the role. He plays Jack Reacher, a former military police officer and erstwhile drifter who comes to investigate a rash of sniper shootings in Pittsburgh. It's a fine popcorn beat-em-up with an incredibly random casting of Werner Herzog as the villain if you're into that sort of thing.
Top Gun (1986)
Rotten Tomatoes Score: 58%
Runtime: 1h 50min
Rating: PG
Director: Tony Scott
You feel that this should be higher. It spawned so much: Cruise's leap to megastardom, the American obsession with shouting "Talk to me, Goose!" and Val Kilmer's devious lip-curl. But at its core, it's about a whiny brat with daddy issues who has access to too many fast vehicles. But the action scenes are great, and the volleyball is even better.
Edge Of Tomorrow (2014)
Rotten Tomatoes Score: 91%
Runtime: 1h 53min
Rating: PG-13
Director: Doug Liman
This dude has got to start showing signs of aging at some point, or we are going to have to start asking some uncomfortable questions. This one pits Cruise as Cage in a kind of Groundday Day scenario, if Phil Connors was instead fighting aliens every day. Each time Cruise dies while killing some extraterrestrial baddies, his day starts over. Not with "I Got You, Babe" on the alarm clock, but with alien "Mimics" in his face. 
The Color Of Money (1986)
Rotten Tomatoes Score: 89%
Runtime: 1h 59min
Rating: R
Director: Martin Scorsese
If Tom Cruise had made a film about him being good at lawn darts at this time, it would have made a quarter of a billion dollars and saved the economy of a small country. This one was about him being good at pool. Martin Scorsese directs the newly-minted star Cruise as a kid named Vincent who gets trained by an old billiard hustler played by Paul Newman, who himself played a young pool protege in 1961's The Hustler. The soundtrack, always a strength of Scorsese's, is great, and you can smell the cue chalk and cheap beer wafting off the screen.
A Few Good Men (1992)
Rotten Tomatoes Score: 83%
Runtime: 2h 18min
Rating: R
Director: Rob Reiner
This is a good film, no doubt about it, but it's one of those cases where the infamous moments that happen are better than the overall product. "You can't handle the truth!" is etched in our minds forever, but it's still just a pretty good court drama. Cruise and Jack Nicholson facing off is still holds up, though.
War Of The Worlds (2005)
Rotten Tomatoes Score: 75%
Runtime: 1h 56min
Rating: PG-13
Director: Steven Spielberg
The setup is great: what would a semi-absentee father of two kids actually go through if alien tripods came out of the ground in New Jersey? The effects are stunning, and the sound of these things vibrates the gonads. But then Cruise keeps trying to reach his son emotionally, and a crazed Tim Robbins ambles into the movie halfway through, and things … don't stay as great.
Mission: Impossible III (2006)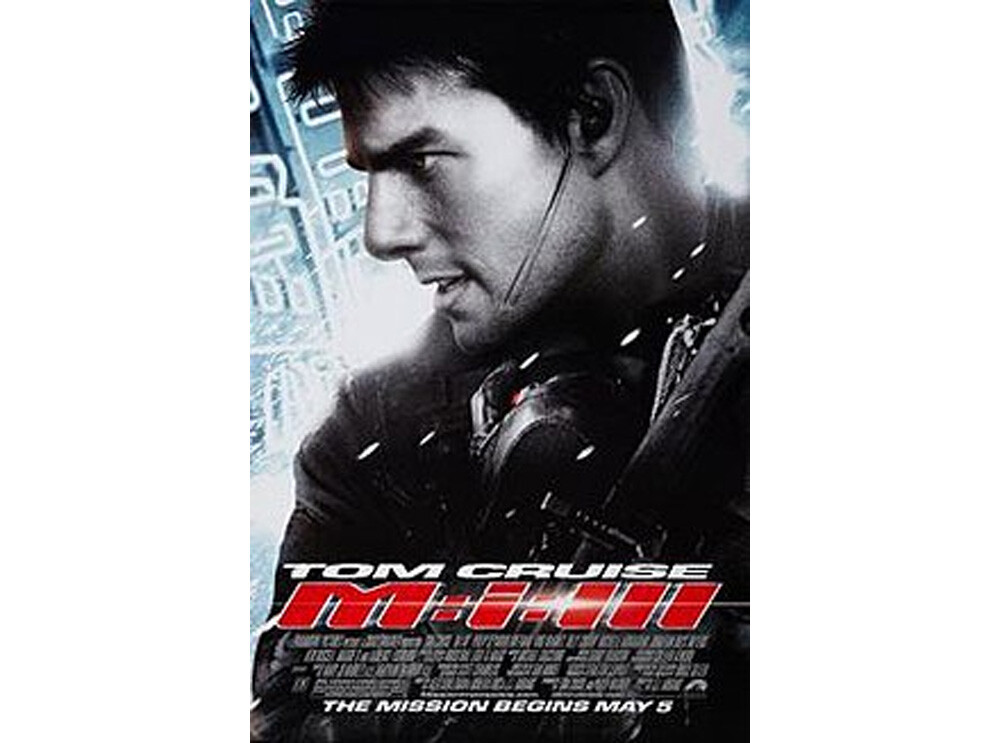 Rotten Tomatoes Score: 71%
Runtime: 2h 6min
Rating: PG-13
Director: J.J. Abrams
The installment that brought the franchise back after the severely lackluster part two, Mission: Impossible III made the series fun again, burying emotions down low in the stomach, where they're supposed to be. Cruise again reprises Ethan Hunt, who has to take down an arms dealer, played brilliantly by Philip Seymour Hoffman, who's chewing up enough scenery to fill three sound stages. This laid the groundwork for the franchise's stellar sequels. 
Risky Business (1983)
Rotten Tomatoes Score: 92%
Runtime: 1h 39min
Rating: R
Director: Paul Brickman
It's where the meteor landed. Tom Cruise won over every single person that saw this film, in which he plays a bored teenager who gets into all sorts of trouble when his parents leave town. No, not the kind of trouble that involves dancing in tighty whities to Bob Seger. More the kind that involves sex workers, an angry pimp, and parents' Porsches sinking into Lake Michigan.
Mission: Impossible--Fallout (2018)
Rotten Tomatoes Score: 97%
Runtime: 2h 37min
Rating: PG-13
Director: Christopher McQuarrie
These later Mission: Impossibles are going to be hard to rank, as they're so loaded with memorable setpieces and good ole action fun. They have taken over James Bond as the best spy franchise by far. This one has Ethan Hunt battling a secret group called the Apostles, who want to nuke several holy sites around the world. The plot almost doesn't even matter, as fun as this film is. Bonus: The most expensive mustache problem in cinema history.
Rain Man (1988)
Rotten Tomatoes Score: 89%
Runtime: 2h 13min
Rating: R
Director: Barry Levinson
Even as a douche, Tom Cruise wins you over in one of his first roles that's truly dramatic. Here, he embarks on a road trip with his brother Raymond (played by Dustin Hoffman), who is autistic, under the guise of building a bond. But Cruise's character really wants a taste of that sweet inheritance their father left to only his brother. Together they actually do become closer and try to scam a Vegas casino using Raymond's ability to expertly recall things.
Minority Report (2002)
Rotten Tomatoes Score: 90%
Runtime: 2h 25min
Rating: PG-13
Director: Steven Spielberg
The first Spielberg film for Tom Cruise saw him as John Anderton, which is every bit as bad a last name now as it was then. Anderton (ugh) runs the Precrime unit for the future police. There, they have people that can predict crimes before they happen. It's great until John's name pops up. He has to, you guessed it, CLEAR HIS (STUPID) NAME.
The Firm (1993)
Rotten Tomatoes Score: 75%
Runtime: 2h 34min
Rating: R
Director: Sydney Pollack
Mitch McDeere (Cruise) is graduating from Harvard Law and is looking for a job. He finds one in Tennessee, moving there with his wife, with $$ in their eyes at the money they'll be raking in. McDeere soon discovers that the firm's clients are less than savory, and he's quickly involved with the mob and murder. The FBI comes calling, and in CLEARING HIS (LESS STUPID) NAME, he smartly flips the script on his sinister employers.
Mission: Impossible--Rogue Nation(2015)
Rotten Tomatoes Score: 94%
Runtime: 2h 11min
Rating: PG-13
Director: Christopher McQuarrie
Another stellar, front-to-back delight for the eyes and ears, this sequel deals with Ethan and his team finding themselves without a home. Their organization is disbanded and disavowed, and with them out of the game, the sinister Syndicate begins to gain power. The underwater sequence alone is enough to make your sphincter pucker with tension. Simon Pegg is terrific as usual.
Jerry Maguire (1996)
Rotten Tomatoes Score: 84%
Runtime: 2h 19min
Rating: R
Director: Cameron Crowe
This movie really does encapsulate why Tom Cruise is kinda the best at what he does. He oozes pure magnetism. You want to see what he's going to say. When he's excited, so are you. Jerry Maguire is a very successful sports agent who decided he wants more out of life but is fired for it. One athlete sticks by him, and with him, Jerry learns all the lessons he had been missing out on, like, you know, loving people and caring about people.
Born On The Fourth Of July (1989)
Rotten Tomatoes Score: 85%
Runtime: 2h 25min
Rating: R
Director: Oliver Stone
You gotta admit, Cruise is not afraid to take some risks or work with different styles of directors. This film tells the story of Ron Kovic, a Marine who becomes paralyzed in Vietnam, then falls off the rails before becoming a heroic story for other castaway veterans. Oliver Stone actually finds a way to inject some emotion into the story, something the usually-bristly director isn't exactly known for.
Mission: Impossible—Ghost Protocol (2011)
Rotten Tomatoes Score: 93%
Runtime: 2h 12min
Rating: PG-13
Director: Brad Bird
It's pretty well-known that Cruise likes to do his own stunts. But to climb the side of the tallest building in the world in Dubai is something else entirely. Hunt and his team are blamed for a terrorist attack, and they have to do something in the way of clearing their names? Yeah, that's it. It's fun, it's terrifying, and Brad Bird of Pixar movie fame is firing on all cylinders here.
Collateral (2004)
Rotten Tomatoes Score: 86%
Runtime: 2h
Rating: R
Director: Michael Mann
Max is a cab driver who's squirreling money away for a bigger dream. One night, a hitman named Vincent gets in his taxi, then orders him to drive around while he assassinates various targets. Cruise pulls off menace without reason, and yet still somehow he has heart, leaving you kind of rooting for him and Jamie Foxx to figure things out without killing each other. Michael Mann directs Cruise and Jamie Foxx expertly and lets the two actors inhabit the characters.
Mission: Impossible (1996)
Rotten Tomatoes Score: 66%
Runtime: 1h 50min
Rating: PG-13
Director: Brian De Palma
This is where the series started, and although it's morphed throughout the years into more of an "Ethan Hunt is a superhero" slant (kind of like how they did John McClane), the basics are here: super neato spy gadgets, tense heist scenes, elaborate disguises, and Ving Rhames' roast beefy baritone. The tomato meter makes zero sense here.
Magnolia (1999)
Rotten Tomatoes Score: 83%
Runtime: 3h 8min
Rating: R
Director: Paul Thomas Anderson
There's no question here. It's epic, and though Cruise is part of a terrific ensemble cast, he steals every single scene and is the literal heart of the movie. As Frank T.J. Mackey, he plays a self-help guru who is full of braggadocio, but when he finds out that his father is near death, his confidence crumbles, and he has to face his own demons. Oh yeah, there's also a rain of frogs, and everyone sings an Aimee Mann song together.
Top Image: Paramount Pictures
Scroll down for the next article