4 Things Created A Perfect Storm For '80s Teen Sex Comedies
Welcome to ComedyNerd, Cracked's new deep dive series on funny folks and things. Today's topic: examining the world of '80's horny teen comedies  (Also, the ComedyNerd newsletter just launched. You can sign up for it by submitting your email below).
The Man Who Voiced Every '80s Movie Trailer said it all:
At T&A High, the student bodies got a lot more bounce to the ounce! And the Screwballs only have one thing on their minds. If you're looking for something different but can't quite put your finger on it, it's Screwballs! Yes, everyone's trying to hide the salami in Screwballs! Where homework takes on a whole new meaning. Screwballs—the nuts who always score!
In case you missed it, we're talking about Screwballs. And if you were around in the '80s, chances are your local video store was graced by the presence of Screwballs (maybe even Screwballs II), along with any of the dozens of other teen sex comedies that dominated the VHS shelves. 
The reason for the movies' popularity isn't hard to deduce. "By 1982, if you were a teen male," says The New York Times' Wesley Morris, "your fantasies no longer had to live under a mattress."
Viewers had a lot to choose from. Want to watch behind closed doors? You had Private School, Private Lessons, and Private Resort. There were food-themed titles: Hamburger: The Motion Picture and Hot Dog: The Movie. Hop in your Pontiac Firebird to go on Spring Break, a Fraternity Vacation, or visit a Hot Resort. If you're in Cali, jump in Hollywood Hot Tubs with a Valley Girl, or enjoy a Malibu Hot Summer at the Malibu Bikini Shop. Maybe you'd meet The Last American Virgin at the Last Resort. If you could come up with a movie name that had some combination of the words hot, bikini, school, or resort, you likely had a hit on your hands.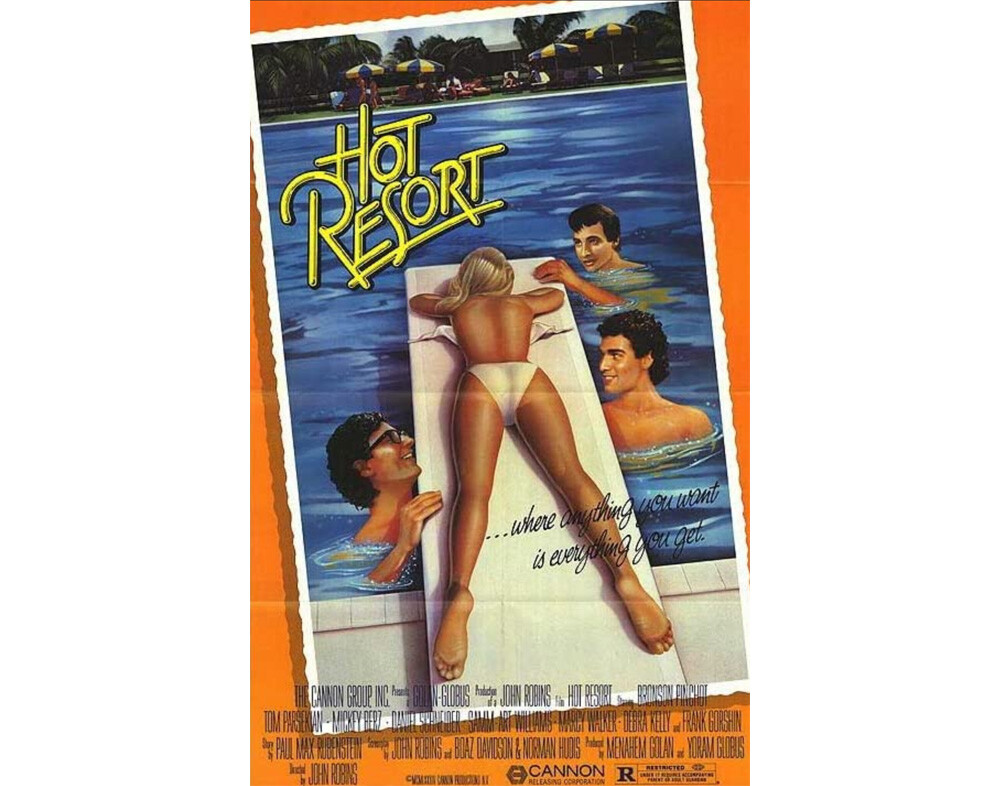 It all sounds spicy, but truth be told, the "sexy" content was incredibly tame by today's standards. The plots were cookie-cutter, almost always revolving around high school or college kids trying to hook up. More often than not, some goofy obstacle – a nosy gym teacher, a faulty car, an ill-timed food reaction – got in the way of doing the deed. You'd catch obligatory shots of bouncing boobs (often framed so that no face was attached), but today you'd see more action in a tweet promoting a rando OnlyFans account. "Sex comedies," writes Andy Salsberg, "are like the nonalcoholic beer of porn." 
So if sex was teased but rarely delivered, what accounts for the multitude of raunchy titles released during the 1980s, arguably making teen sex comedies the decade's most popular form of video entertainment? A perfect storm of pop culture phenomena – emerging technology, swelling social demographics, and of course, mind-blowing profits – help explain just what the eff happened.
Scroll down for the next article