The Insane Clown Posse, Neutral Milk Hotel, and Good Charlotte D&D Alignment Chart, Explained
A few weeks ago, music fans discovered what is truly in a name, learning the hard way that the moralistic qualifiers of bands like "Good Charlotte" "Neutral Milk Hotel" and "Insane Clown Posse" have some highly-cursed implications, including several adjective-fueled, Wario-like counterparts.
An epiphany stemming from a now-viral D&D alignment chart featuring the aforementioned three bands categorized by levels of goodness, neutrality *or* insanity created by Twitter user @progrockgf, it seems we cracked open Pandora's linguistic Box, discovering bizarre bastardizations like "Insane Milk Hotel" or "Good Clown Posse"
Yet this categorization seemingly poses more questions than it answers – what does it truly mean to be "Good Charlotte," "Neutral Milk Hotel" or "Insane Clown Posse"? In a world where everyone either associates clowns with fond memories of the circus or Tim Curry as a murderous spider in It, can a "Neutral Clown Posse" ever exist? Is a "Good Milk Hotel" just a farm-based Bed and Breakfast?
For the sake of science, we decided to find out, digging through each band's respective decade-spanning history in an attempt to meet this chart's challenge. 
Good Charlotte:
Aside from helping scene kids feel, well, seen, with their moody bangers throughout the mid-2000s, it seems Good Charlotte has kinda lived up to its name. Veeps, a commission-free touring-turned live-streaming company started by brothers and bandmates, Benji and Joel Madden, came in pretty damn clutch at the beginning of the pandemic, helping struggling artists find new streams of income as the live music industry came to a screeching halt. 
"We have over 300 artists on the platform, and we had developed a tool to ticket your live stream, and no one really needed that at the time, but it's become something that everyone's started using," Joel Madden told Alternative Press magazine in April 2020. "Now we see people using it more and more every week, really. They've optimized the experience of who's watching, can we communicate with those fans in real time before, during and after, but also we're seeing bands using it to make money for a charity they're supporting or a local community charity effort that they're in or really just supporting their crew that's at home."
With their roster at the time ranging from smaller bands to alternative staples including Sleeping with Sirens, Waterparks, and I Prevail, Madden reiterated just how "important" it was for their company to maintain a "commission-free model."
"It's very transparent, and the mission of the platform is to help artists survive and help fans have a better experience when they do purchase a VIP ticket or, in this case, live streaming," the singer added. "We like to think the live streams that are going up on the platform are really thought-out, special experiences elevated from what you may want to broadcast for free while also helping the artists with ticketing," Madden continued. "We are trying to create a way for everyone to win, and hopefully, it's empowering and equalizing in a way that artists can have options for how they want to do things."
In January 2021, the brothers sold Veeps to Live Nation, according to Rolling Stone. 
Good Milk Hotel:
Despite Neutral Milk Hotel's famed neutrality, it seems the band does have quite a bit of goodness, primarily stemming from lead singer Jeff Mangum's deep connection with The Diary of Anne Frank, which served as inspiration for the band's iconic 1998 album, In the Aeroplane Over the Sea.
For those of you that haven't passed 6th-grade English, The Diary of Anne Frank, also known as The Diary of a Young Girl, is a published series of writings from the journals of Anne Frank, a German-Dutch teenager of Jewish descent who ultimately died in a concentration camp at age 15 in 1945. It ls largely considered among the 20th century's most important literary works. Although Mangum had long heard of the book, he finally decided to read it as an adult, an experience he recalled as being highly emotional. 
"I spent about three days crying, and just was completely flipped-out," Mangum told music zine Puncture in an archived 1997 interview from before the album's release. "While I was reading the book, she was alive to me. I pretty much knew what was going to happen," he continued. "But that's the thing: You love people because you know their story." 
Mangum was so moved by the work that he decided to write the now widely-celebrated album about Frank's memory. "A lot of the songs on this record are about Anne Frank," he added. 
Aside from likely inspiring several fans to check out The Diary of Anne Frank for themselves, it seems the book also sparked, some, erm, bizarre conspiracies. For nearly a decade, some fans have touted a theory alleging that Mangum actually manifested his wish in the lyrics to "Oh Comely" rescuing Anne Frank from her 1945 death "in some sort of time machine." The definitely-not-grasping-at-straws evidence behind this bold claim? Apparently, Anne Frank resembles Mangum's sister, Caroline as well as his wife, Astra Taylor. 
The internet, folks!
Good Clown Posse: 
Despite his exterior as a scary clown who raps about beating people up and saying "f--- you" to people's moms, it seems Violent J is actually a pretty darn supportive dad – no matter where his children's interests lie. Back in 2018, Violent J and his then 12-year-old, self-proclaimed "furry" daughter, Ruby Bruce Lee made headlines for launching "SnakeBusters," a consumer advocacy YouTube series, after they unwittingly bought a "crap" fur-suit from brand OISK on AliExpress. 
"I'm Ruby, and I'm a furry Juggalo," the first video began, depicting Lee in a fursuit. "I'm dad, and I'm a Juggalo furry," added J, clad in his signature clown makeup. "And we're the Snakebusters!"
Between a series of self-deprecating jokes about Violent J's apparent broke-ness – "my dad likes to front that he's rich, by my mom says he's been broke since the '90s!" – and digs on OISK, – which the duo dubbed "Outrageously Insane Snaky Krooks" – the video has two major takeaways: Never buy a fursuit from AliExpress, and always strive to support your kids as much as the ICP frontman.
"I told Ruby, whatever my kids are into, I'm going to support it, like, as hard as I can. And she's into furries," the artist explained to Gizmodo of their "Snake Busters" series. "And I didn't know anything about furries, but Ruby taught me everything about them."
Although at first Violent J says he felt "ashamed," understanding the similarities between the furry fandom and Juggalos helped him change his mind about the community. "I was like everybody else — I was making fun of furries too," he recalled. "But now I realize furries are a lot like Juggalos — the people that follow our music — they're alike in a bunch of ways. And now I support furries and I support what they're doing to the fullest."
Violent J: a world-class dad. 
Neutral Charlotte:
When it comes to Neutral Charlotte, nothing comes to mind quite like "I Don't Wanna Be In Love (Dance Floor Anthem)." Although the lyrics center around a painful breakup, the band's 2007 song is also a certified up-tempo banger, marking one of their biggest hits. Rumor has it that to this day, the song's opening notes can still spark a pavlovian headbanging response in even aging milennial scene kids. 
In true neutral form, this song is the old adage of "you win some, you lose some" – and by "some," I respectively mean an "international hit single" and a "relationship via messy breakup."
Neutral Milk Hotel: 
The only thing arguably more neutral than Good Charlotte's banger is the waving drum lady depicted on the cover of In the Aeroplane Over the Sea.
Head empty. Just drum.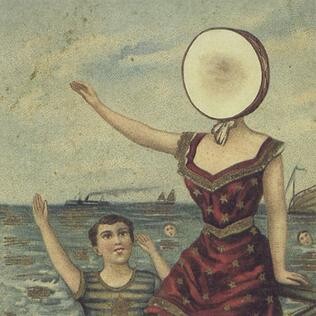 Neutral Clown Posse:
Considering their historically wacky hijinks, the closest thing we may ever get to a truly Neutral Clown Posse was when the band distinguished itself as the voice of reason at the bottom of the Faygo jug in the early days of the Covid-19 pandemic. In April 2020, the duo decided to postpone their annual festival, The Gathering of the Juggalos, which was set to take place that August, a schedule change they announced on social media. 
"The bottom line is that we REFUSE to risk even ONE Juggalo life by hosting a Gathering during these troubling times," the band wrote in a statement posted to Twitter. In light of this devastating news, ICP advised their fans to turn to the lyrics of their song "Fearless Fred Fury" for guidance amid this tragedy. 
"To heed the words of Fred Fury and Flip the Rat: 'BE SAFE: Watch your step and take it easy. You can't replace what you mean to our team," they added, singlehandedly making their entire fanbase question why they hadn't changed their name to "Sensible Clown Posse."
Insane Charlotte: 
Despite their status as beloved icons of the mid-aughts emo scene, Good Charlotte, like most things in this forsaken hellhole we call reality, also have some skeletons in their closet. Yet instead of existing in the form of unearthed decade-old tweets or getting busted with weed a la the "Dell Dude" circa 2003, the band's insane incarnation stems from the alarming three-ish-year relationship between frontman Joel Madden and teen superstar Hillary Duff, who was underage for a good chunk of their partnership. 
When the pair first started dating in June of 2004, Madden was 25 years old, whereas Duff, fresh off of her starring role in Disney Channel's Lizzie McGuire, was only 16, making the pair not only nearly a decade apart in age, but their union seemingly very illegal, a fact that evidently failed to set off alarm bells for almost anyone at the time. 
"While we'd forgotten about this mid-aughts love story, as soon as it re-entered our brains, we immediately wondered, 'Why didn't more people have a problem with a twentysomething dating a teenager,' mused Paper Magazine's Abby Schreiber back in 2015. "Was this just a case of misremembering what happened -- or what was reported -- ten years ago? Doubtful. Several Google searches focusing on articles published during the time in question -- roughly 2002-2006 (just to give the results a wide berth) -- turned up very few hits that made any reference to things like 'underage' or 'illegal,' save for one USA Today piece from 2004," Schreiber noted. 
To make an already cringe-inducing situation even more uncomfortable, Duff later implied that the two had a sexual relationship. "I had a 26-year-old boyfriend, so everyone can make their own assumptions about what I was doing," The actress told Cosmopolitan Magazine back in 2015 when asked about facing recurring (and kinda gross) questions surrounding her virginity. 
Although in a twist absolutely no one could have possibly ever seen coming, the two called it quits after roughly 2.5 years in November 2006, People magazine reported the following spring. Despite the vexillology of red flags surrounding their relationship, Madden asserted he did 'right' by his teenage ex shortly after their breakup. 
"I kind of ignored it and tried to just continue to live my life," the rocker told the celebrity publication of their split in 2007. "People can say or think whatever they want …so in my reality, it's kind of irrelevant. I'm always the kind of person that does the right thing and keeps my side of the street clean," he continued.
"Every girl I've ever dated I have respect for, and I always try to leave them in good terms," he added, noting that he and Duff were still in touch at the time. "I don't see the necessity to be friends with anyone you've dated but definitely out of respect of the time, you have to be kind of respectful and that's what I try to do."
Ah, yes, because as everyone knows nothing says being "kind of respectful" like dating a teenage girl in your mid to late 20's.
Insane Milk Hotel:
Although the eyebrow-arching insanity of Neutral Milk Hotel runs deep, complete with a time-travel conspiracy to Mangum taking an extended break from recording music due to a new loyal army of alt teenagers, the most truly unhinged aspect of the band and its iconic album is best summarized in one lyric from "Communist Daughter" – "semen stains the mountaintop." 
It doesn't get more insane than that.
Insane Clown Posse: 
Amid all the Insanity that is Insane Clown Posse, it seems nothing quite reaches the levels of the Juggalos' official classification as a "loosely organized hybrid gang," by the Justice Department's National Gang Intelligence Center back in 2011. 
"Crimes committed by Juggalos are sporadic, disorganized, individualistic, and often involve simple assault, personal drug use and possession, petty theft, and vandalism," the FBI wrote in their National Gang Threat Assessment that year, discussing the band's face-painted fandom alongside groups including the Crips and MS-13. "However, open source reporting suggests that a small number of Juggalos are forming more organized subsets and engaging in more gang-like criminal activity, such as felony assaults, thefts, robberies, and drug sales. Social networking websites are a popular conveyance for Juggalo sub-culture to communicate and expand."
As most any fandom would be upon learning they were considered a gang in the eyes of the U.S. Government, neither ICP's fans nor the band members themselves were too pleased about their inclusion in the report, with Violent J telling Rolling Stone that the whole fiasco proves their outcast status. "We don't fit in anywhere," the musician told the magazine in 2014. "And when people don't understand you, people fear you. All we're trying to do is be like the Stephen King of music. We like to tell horror stories." 
According to Patrick Flanary, the reporter behind the aforementioned Rolling Stone article, the FBI's lack of evidence in calling Juggalos a gang also probably sparked frustrations, the agency citing only two IRL incidents in their 2011 report. "One had to do with a violent home invasion, where a Juggalo was suspected and later convicted; and there was another violent crime associated in 2012,"  Flanary explained to NPR in 2017. "But as lawyers pointed out, this doesn't apply to every person who claims he or she is a Juggalo. It isn't fair just because this group depicts violent images, talks about very crude murder scenarios."
In January 2014, the band teamed up with the American Civil Liberties Union of Michigan to file a lawsuit alleging "their constitutional rights to expression and association were violated" after the Posse's fanbase was "wrongly and arbitrarily classified the entire fan base as a "hybrid" criminal gang."
"The Juggalos are fighting for the basic American right to freely express who they are, to gather and share their appreciation of music, and to discuss issues that are important to them without fear of being unfairly targeted and harassed by police," Michael J. Steinberg, the legal director of the midwestern state's ACLU said of the ruling in a press release announcing the filing. "Branding hundreds of thousands of music fans as gang members based on the acts of a few individuals defies logic and violates our most cherished of constitutional rights."
Despite a long-arduous court battle and a "Juggalo March" on Washington DC, which strived to "make a collective statement from the Juggalo Family to the world about what we are and what we are not," according to their website, it seems the band and fandom's efforts to shake their gang status were in vain. In December 2017, The U.S. Court of Appeals ultimately sided with the FBI, noting that as the government's label of Juggalos as a gang isn't a "final agency action," or legally binding, it can't be fought in court, according to the Washington Post. 
Top Image: @progrockgf on Twitter/ Shutterstock/SullyDC from Alexandria, Virginia, Wikimedia Commons
For more internet nonsense, follow Carly on Instagram @HuntressThompson_ on TikTok as @HuntressThompson_, and on Twitter @TennesAnyone.
Scroll down for more content