A Canadian Federal 'X-Men' Study Turns Into The Kinkiest Deep Dive
Established at the height of French film pomposity, an auteur is a commercial artist who manages to imbue his entire oeuvre with not just competence and style but also an elan of the soul (told you this was going to be both French and pompous.); letting their personal views, values, and even desires mold the recurring themes in their work. Auteur theory is typically applied to genius directors like Francois Truffaut, Lois Weber, and, of course, Michael Bay. However, it can be applied to most collaborative artforms like, say, comic books. But be careful about who you want to put to the auteur test. After all, the more content they put out, the more obvious the patterns of their inner desires become. 
If anyone aside from Stan Lee and Jack Kirby deserves the status of comic book "auteur," it has to be Chris Claremont. In 1975, he was given control of the already ongoing, commercially disastrous Uncanny X-Men series. Together with graphic artist John Byrne, Claremont spent the next 16 years transforming the X-Men into not just an entirely new beast (including Beast) but the most long-running, coherent and popular comic book series of all time -- its legendary story arcs that have shaped entire franchises such as the X-Men movies and, even more obviously, the Ducktales reboot. 
There's just one tiny challenge to applying auteur theory to Claremont's work -- there's so much of it. Yet this is the Shadow King-sized mission undertaken by The Claremont Run, an academic project funded by the Canadian government's Social Sciences and Humanities Research Council. Since 2019, Dr. J. Andrew Deman and his extensive research team have been combing through the 8,360 pages of Claremont's Uncanny X-Men to catalog and analyze even the tiniest recurring detail down to how often Wolverine is out of costume or how often Jean Grey gets knocked unconscious. 
As such, the project has become the most convincing argument for Claremont as a true auteur and the enduring X-Men universe as a manifestation of his personal vision. Consulting the Claremont Run, the artist's main themes can be best described as an unrelenting focus on mental trauma, otherness, and empowerment. These are found in all elements of the X-Men stories -- even in the Marvel-enformed X-Men Babies spin-offs. 
Take, for example, the female characters Claremont created. An important throughline here is that they are typically depicted as strong, even overpowering, and morally ambiguous women, like the seductive and domineering Mystique …
Or the seductive and domineering Madelyne Pryor …
And who can forget Emma Frost, the seductive, domineering, leather-clad ...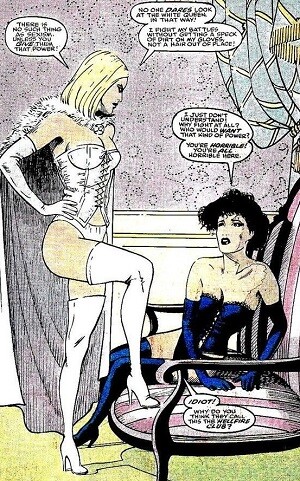 Moving on. Even X-Men that Claremont inherited from previous artists were reimagined in the same thematic direction, often turning them from two-dimensional caped brawlers into psychologically complex anti-heroes. Like Magneto, a Diet Dr. Doom turned Holocaust survivor and Malcolm X-like mutant rights leader...
And then there's Jean Grey, once the token girl hero who under Claremont's artistic gaze eventually transformed into the scarred Dark Phoenix, a powerfully psychic, domineering, leather-clad ...
Transformation! Let's talk about that. Making the concept of mutation much more interesting and psychologically complex, Claremont introduces a lot of involuntary body transformation to allow his mutants to narratively address the psychological toll of being so different from normal society. In a later issue, Kitty Pride has to deal with being turned into a gigantic fat woman …
While Karma has to deal with being turned into … a gigantic fat woman ...
Or how characters are inflicted with even more inhuman body parts -- especially female mutants being overwhelmed by ten ...
Ta…
Cles...
Did I mention the psychic part? Good. As outsiders, many of the X-Men thematically suffer from trust issues. Claremont frequently puts this to the test by introducing mind-control plots, which will force the X-Men to confront their motivations, paranoia, and how likely they'll get raped?
Motherf--Power! Let's focus on that! Claremont's overarching narrative themes will often deal with insecurity and powerlessness. Of course, as most mutants are basically demigods, that powerlessness is often manifested on the page as them being somehow restrained, like when Wolverine spent an entire story nailed to a wooden post in the desert while confronting his inner demons …
Or that time when trolls came out of the ground and tried to rape everyo--
OK FINE! I didn't want to mention it about one of the greatest comic book artists of all time, the one who transformed superhero cartoon strips into serious art, but one of the major themes in Uncanny X-Men is that Chris Claremont is freaky as hell(fire club), continuously superimposes his obsession with masochism, which includes female domination …
Humiliation …
And to tie it all together, a whole lot of BDSM ...
Unsurprisingly, one of the Claremont Run's main focuses is Claremont's "impact on gender and sexuality in comics, " which is much more nuanced and complicated than all the heel-pushy dominatrix images of Phoenix suggest, and has logged an impressive(ly disturbing) quantity of examples. Deman's years-long endeavor has created an invaluable database and continues to offer insightful analyses of the most important comic book run in history. As such, everyone interested in X-Men should spend some time paging through its statistics or video lectures. But for those comic book fans who grew up reading Uncanny X-Men with a flashlight under their bedsheets, be prepared to have your childhood mutated by a thorough laying out of Chris Claremont's unrelenting horniness -- courtesy of the Canadian government.
For more weird (but not Claremont-weird) tangents, do follow Cedric on Twitter.
Top Image: Marvel
Scroll down for the next article