Crack open your college edition of 1971's The Anatomical Basis of Medical Practice, and you'd think you accidentally bought a Hustler omnibus. Instead of plain nude imagery, the book invites students to study human anatomy by staring at Playboy bunnies.
These boomer babes weren't mere cutouts from someone's hidden porn stash either. Softcore models were hired specifically to pose nude for these pictures. They were even captured by an actual Playboy photographer to best show off their' axillary folds.
And this wasn't some prank by one of those problematic frats that rank all the women on campus by hotness and make pledges fuck a goat. The authors, three Duke professors, prefaced their book defending their use of "female models as model females" with all the wit and sophistication of a trio of balding middle-aged men whose midlife crises have synchronized: 
You see, this wasn't just some cheap sexist ploy to make more money by treating the female body as both a literal and figurative piece of meat. It was a brilliant educational tool that kept these young scholars' attention to the subject matter. "If you think that once you have seen the backside of one female, you've seen them all, then you haven't sat in a sidewalk café in Italy where girl watching is a cultivated art. Your authors, whose zeal in this regard never flags, refer you to figures III-IV and VIII as proof that female backs can keep an interest in anatomy alive."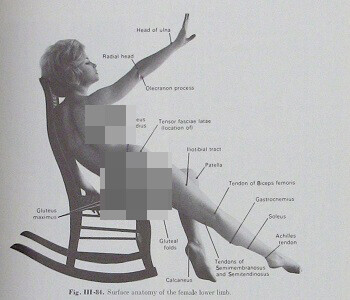 If writing about women with the same level of empathy they had for their medical cadavers makes it look like Duke's professors were a bunch of out-of-date sexists -- that's because they were. Until the '90s, prestigious U.S. med schools were total sausage fests, secretly capping admission of women (or as they called them, nurses) at as low as 10%. That this created the kind of bro-y bubble where tenured professors were one step away from bringing a stripper to class to demonstrate the ping pong launching abilities of the vaginal muscles isn't all that surprising.