In the faraway, long-forgotten time when we actually enjoyed the entertainment we paid to watch, Spider-Man: Into The Spider-Verse web-swung onto movie screens to wide acclaim. And a lot of that love went to its amazing animation, which somehow combined a unique comic book style with such realistic character behavior that you wouldn't be surprised to find out that they pushed Daniel Day-Lewis through that cartoon window in the Take On Me video and had him play all the parts.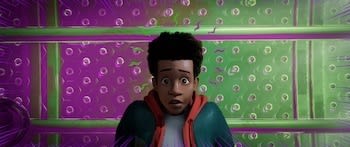 Sony Pictures ReleasingActually, best not to think about how Day-Lewis would method-act a supervillain.
Now, if you ever wondered how animators create such amazing body language, you're in luck, because one of the movie's artists will gladly show you all the hard work she put into bringing the Spider-Folk to life. Hard work that that only looks like she's on the couch sloppily eating fast food.