SPOILERS for the most recent episode of Game of Thrones.
Over 300,000 Game Of Thrones fans have signed an online petition calling for HBO to remake the final season -- presumably so that Daenerys doesn't murder a bunch of people out of spite, and Euron Greyjoy dies of syphilis offscreen. Of course, this is A) ridiculous and B) yet another example of the galling entitlement of modern fan culture. It's also nothing new.
Most recently, The Last Jedi prompted the ire of embittered Star Wars fans, who launched online petitions (albeit under the influence of prescription painkillers) to remake the movie. Because why should Luke Skywalker die when he could just as easily, say, have taken Rey and Chewie to Space Dairy Queen? One dude actually began crowdfunding a remake, raising over $400 million!
remakethelastjedi.com
Which would be super impressive, if not for the fact that all of those pledges were hypothetical, and no one was giving any real money. They may as well have accepted donations in Imperial credits, or Quatloos, or whatever currency they used on ALF's home planet.
remakethelastjedi.com
Even back before the internet was a thing, fans were using petitions to throw hissy fits. As we've mentioned before, in the '80s, fans circulated petitions calling for Warner Bros. to reconsider casting Michael Keaton as Batman.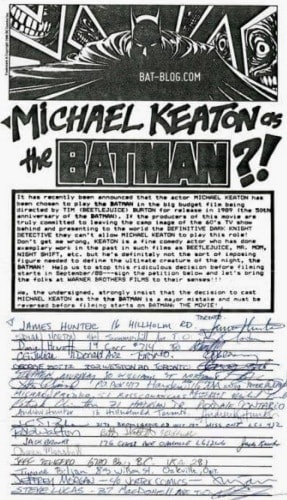 geektyrant.com