Only the keenest of observers will appreciate Rockstar's inclusion of "dynamic testicle physics" -- a groundbreaking system whereby a horse's testes grow or shrink, depending on the weather.
Rockstar GamesThe only game where your mount can teabag better than you.
That's right, take your bounding Missouri Fox Trotter or frisky Appaloosa too close to the northern edge of the map, and their big equine balls will shrivel up faster than those of a desperado realizing you've just activated Deadeye. Of course, the real question is: Why spend countless hours of precious programming time giving horse groins better AI than the average NPC? Unnecessary attention to detail, a PR stunt, or Rockstar trying to attract a very niche German fetish demographic?
We'll never know, just like we'll never know if horse balls are the only type of genitals that shrink or expand depending on the heat -- at least until Rockstar finally releases that official Arthur Nude mod we've been petitioning for.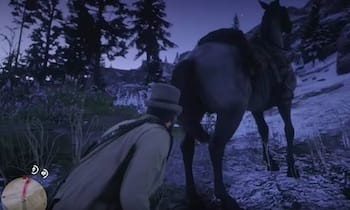 Rockstar GamesThen again, maybe leave the genital interaction at the one species ...