They ended up settling in 2012, at which point Stallone decided he'd stay out of endorsing wacky products forever. And by "forever" we mean "for a year." In 2013, he narrated what we're confidently declaring the most bonkers pen commercial ever made. First of all, it's obvious that they spent so much money on luxury pens that they had none left for decent CGI.
MontegrappaAnyone who watches this and thinks "I'd really like to buy a pen right now" should be tested for soundness of mind.
Turns out Stallone himself designed this pen, presumably with help from his goth nephew. After four minutes of inexplicable phrases like "death does not exist without life" and incomprehensible cinematics from a '90s PC game, the pen disintegrates, Thanos-style. That's not something you want a $48,000 product to do, but don't worry -- it then reassembles itself into the shape of an equally insane-looking $60,000 watch. Gotta admit that's a great value right there.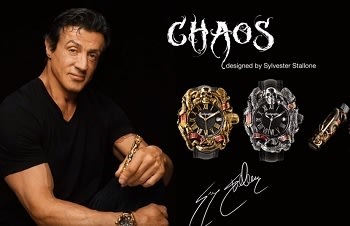 Montegrappa"For the word 'CHAOS,' I want an elaborate font that conveys the twisted darkness in my soul."
"And for 'Designed by Sylvester Stallone'?"
"Arial or something."