After taking off with his reward money and disappointing his new friends, Han triumphantly returns in the end, blasting Darth Vader so that Luke is free to murder the Death Star. What a surprising change of heart! What a great character arc! Except, it seems ... it wasn't?
Solo revolves around Han and his pals trying to get their hands on a load of coaxium -- super-valuable fuel that no one's ever mentioned before, presumably due to some kind of Force magic. After finally getting 60 million credits' worth of unobtani- sorry, coaxium, Han promptly hands it over to ... a scrappy band of teenagers? They inform Han that his generosity will be used to (sigh) fund a "rebellion."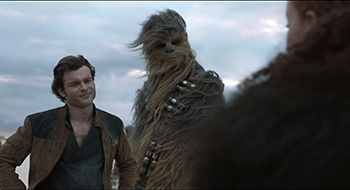 Walt Disney Pictures
Walt Disney Pictures"We'll always remember your generosity ... until you show up and we treat you like a complete stranger in a few years."
This pretty much torpedoes everything great about Han's arc in the first Star Wars. His journey from bar-dwelling scoundrel to noble hero is completely undercut if eschewing financial reward for the greater good has been his jam for years.