Until staggeringly recently, robotic "acrobats" were nothing more than smart sticks with joints. But Stuntronics quickly evolved into highly sophisticated self-correcting aerial performers that, with the help of an "on-board accelerometer and gyroscope arrays supported by laser range finding," can twist, tumble, and dive as good as any human to ever slide down a Cirque du Soleil pole.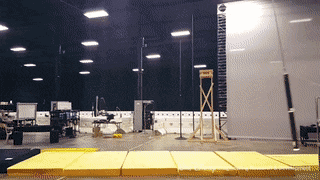 YouTube Finally, the pole has become the master.
But no stunt performer starts their career in Marvel movies. With all these superheroes and Jedi masters now hero-ing it up in Disney parks, audiences are expecting more dynamism from their animatronics. So, appropriately, Stuntronics are set to be employed as stunt doubles not for people, but for other Disney animatronics, doing the leaping and falling and denting the actor robots are too fragile and valuable for. But who knows, maybe one day these stunt bots will be working side by side with actual human stunt performers, adding a new range of practical effects that could greatly improve the realism in action movies. Or maybe Disney will skip all that and just go full Westworld before Season 3 is even out.
For more of Cedric's ramblings, do follow him on Twitter.
Support your favorite Cracked writers with a visit to our Contribution Page. Please and thank you.
For more, check out That Sarah Sanders Restaurant Story Is (80 Years) Old News and The 'WeRateDogs' Twitter Is Involved In Another Dumb Scandal.
Our Facebook is the happiest place on the internet. (Probably.)