Sadly, Ghanaian Mobile Cinemas have all but died out, and with them the greatest art genre in human history. But Brian and Heidi Anne weren't about to let all that talent go to waste, so they are commissioning the same Ghanaian artists to keep making posters of their favorite movies, clearly granting them the same creative license / total ignorance of the subject so they can turn Space Jam into a buddy cop movie starring a gun-wielding Michael Jordan ...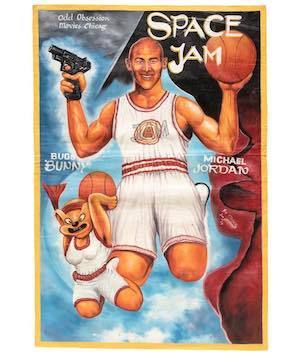 Deadly Prey Gallery
... or White Chicks into the third Matrix sequel ...
Deadly Prey Gallery
... or the family classic Mrs. Doubtfire into something with way more murder:
Deadly Prey Gallery If Netflix showed these posters instead of their boring tiles, we'd never stop clicking.
For more attempts at witticism and his personal recipes for toilet wine, do follow Cedric on Twitter.
Support your favorite Cracked writers with a visit to our Contribution Page. Please and thank you.
For more, check out This Mythical Creature Is Made Entirely Out Of Butts and How This Cartoon Made Everybody Love Garfield Again.
Follow us on Facebook ... if you dare.