According to economists, video games are an infinity-dollar-a-year business. 1.2 billion people play video games, which means there are now more gamers than Hindus. We have so many games being played that the World Health Organization recognizes gaming addiction as an actual health issue. So it's hard to picture how dead and buried the industry seemed in 1984.
Part of the reason for the slump was titles like E.T. The Extra-Terrestrial, a clumsy, incoherent maze game based on the love between a boy and his alien, and Chase The Chuckwagon, a game based on dog food. Stupid games like these were everywhere and growing in numbers, so stores stopped selling them altogether. Try to picture Battlefield Earth, The Last Airbender, and every Fantastic Four film all coming out at the same time, and every movie theater saying "Forget this" and becoming racquetball courts.
bad enough to get the developers sued, and even that wasn't KILL AN ENTIRE INDUSTRY bad." width="300" height="425" class="lazy" data-src="https://s3.crackedcdn.com/phpimages/article/9/6/6/654966_v2.jpg" />AtariAlien: Colonial Marines was bad enough to get the developers sued, and even that wasn't KILL AN ENTIRE INDUSTRY bad.
Obviously, something happened to resurrect the market. Otherwise we'd all have gone back to reading and spending time with one another. So what was it? An artistic revolution? An inventive developer? No, it was a bizarre chain of events that started with one businessman throwing a temper tantrum.
Ray Kassar was the CEO of Atari in the early '80s. The company had dominated the video game industry since they released the Atari 2600 home console in 1977, but 1982 was a rough year. That was when they released both the famously diarrhea-like E.T. and the maybe worse home port of Pac-Man. Both games were returned in massive numbers by dissatisfied customers. Atari would have made more people happy and turned a better profit if the employees had taped pictures of their genitals to $10 bills and went door to door surprising people with them.
But in 1983, a new opportunity came when a 94-year-old playing card company called Nintendo asked Atari to help them release their new Famicom console in North America. The two companies agreed to meet and sign a contract at the June 1983 Consumer Electronics Show. While strolling the convention floor before the signing, Kassar happened to walk by the booth of the company's old rival, Coleco Industries. He saw their new Coleco Adam computer system running Donkey Kong, a game made by his future business partners, Nintendo.
Kassar was shocked to see a Nintendo game running on his competitors' new hardware. He thought these folks were involved in some kind of scheme. The Nintendo guys, in fact, had no idea what Coleco was doing, probably wouldn't have brought Atari to that very public place where they were doing it, and could have cleared the whole thing up with a minute of reasoned discussion. But you didn't get to be a CEO in the '80s by having reasoned discussions.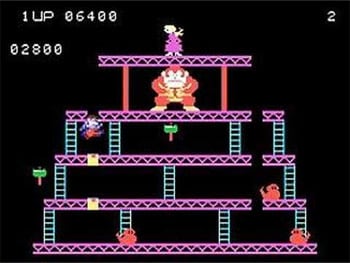 NintendoCoincidentally, a big dumb ape angrily yelling and tossing things at innocent people is a perfect representation of what was about to go down.