Rumor has it that the future husband of Amal Alamuddin copied the tape 300 times, circulating it through Hollywood the way most actors circulate headshots and/or venereal diseases. Because of this, the tape became so well-known in elite Hollywood circles that people actually began impersonating Parker and Stone to get meetings. Eventually, the real Stone and Parker were able to use their underground success to land a TV deal, and the rest is history. The pair thanked Clooney by giving him a guest starring role as Stan's gay dog.
Comedy Central Productions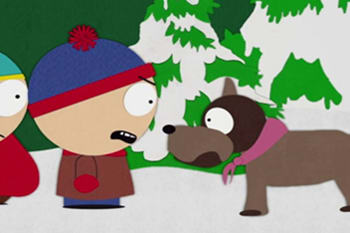 Comedy Central ProductionsWhich, to be fair, was still more dignified than how most celebrities are treated on South Park.