Rebuffed, Parker and Stone let go of their dreams of turning their short into a show. Meanwhile, it was attracting a bit of a cult following. But since the internet had still barely gone beyond being a glint in Al Gore's eye, the only way people could share obscure geekery with each other was to make VHS copies and physically pass them around like the girl from The Ring was about to crawl out. The Spirit Of Christmas got passed around so much that Parker and Stone once went to a party where the tape was shown and the host refused to believe they were the ones who made it. But to everybody's surprise, South Park's biggest fan wasn't some random nerd complaining on ICQ about plot incongruities on the TV show Sliders, but Hollywood's hottest up-and-coming handsome man, George Clooney.
NBCNo one man should be entrusted to wield that much mullet.
Rumor has it that the future husband of Amal Alamuddin copied the tape 300 times, circulating it through Hollywood the way most actors circulate headshots and/or venereal diseases. Because of this, the tape became so well-known in elite Hollywood circles that people actually began impersonating Parker and Stone to get meetings. Eventually, the real Stone and Parker were able to use their underground success to land a TV deal, and the rest is history. The pair thanked Clooney by giving him a guest starring role as Stan's gay dog.
Comedy Central Productions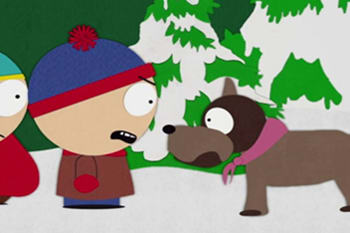 Comedy Central ProductionsWhich, to be fair, was still more dignified than how most celebrities are treated on South Park.