Hey, remember the 1999 Fox sitcom Action?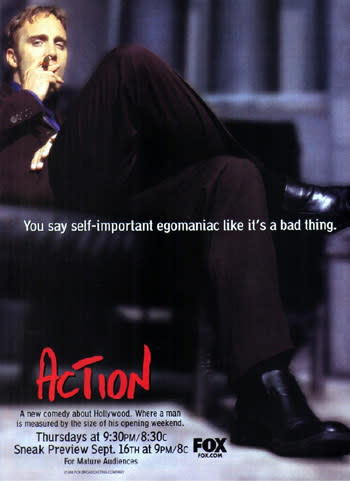 Sony Pictures Television
No? Not even a little bit? Don't worry, that's normal. Action might be long forgotten by most people, but that's just because it was ahead of its time. By about 18 years, to be precise. Seem like an oddly specific number? Bear with us ...
On the surface, Action had all the hallmarks of a surefire success. It featured cameos by Hollywood A-listers like Keanu Reeves and Salma Hayek, it was produced by Joel Silver fresh off the success of The Matrix, and it starred Jay Mohr, which ... look, not everything can be a hallmark, OK?
The show focused on fictional movie producer Peter Dragon, which you'll notice is not even close to "Joel Silver." Barely even any consonants in common. But as much as Silver wanted to distance himself from the character (for reasons that will soon become clear), one of the show's major hooks was the idea that Silver would use his own experiences as a producer to create an accurate depiction of "what [Hollywood] is about." What that town is about, apparently, is addiction, exploitation, suicide, and at least a little bestiality. When even HBO laughed them out of the coke-stall, Fox snapped up the show and put it in a 9 p.m. time slot, up against Frasier.
Honestly, it's hard to see what went wrong here.
CBS Television DistributionNotably absent: references to amphibian erotica
But unlike most dead sitcoms, today Action is more relevant than ever, in light of, um, certain new information.
MSNBC"Uh, yes, new ..." -- women
As more and more stories of Hollywood sexual abuse and exploitation come to light, we can plainly see that Action was decades ahead of the curve. The show frankly dealt with the industry's sex crimes in almost every episode. In fact, it was kind of a running gag throughout the show. Some brief highlights include:
-- A revelation early in the show that Peter's production assistant had to sleep with him to get her job.
-- A studio chief nicknamed Bobby G (allegedly based on Barry Diller) who intimidates everyone around him by whipping out his enormous penis during meetings.