It's no secret that the Han Solo prequel movie is currently a metaphorical flaming sail barge in a monster-filled desert. Lucasfilm has fired the original directors (The Lego Movie's Phil Lord and Chris Miller) and replaced them with Ron Howard, whom you might know as the legendary director of Apollo 13 and the guy who insists America wants to keep watching Tom Hanks solve escape rooms.
To be fair, even before this dramatic news, a lot of fans were skeptical about the project. After all, didn't we already have a Han Solo origin story with, you know, Star Wars? Plus, this story would take place only a few years before the original movie, and the guy they cast doesn't even really look like Harrison Ford.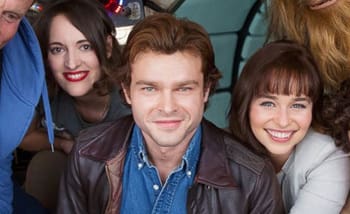 LucasfilmChristian Slater: A Star Wars Story
So what's going to happen to this movie? Merely assigning the credits on this thing is going to be a logistical nightmare. Lord and Miller have already shot a big chunk of the project, so if they get awarded the credit even after reshoots and don't want it ... well, this may be the first Star Wars movie with a pseudonym in the directorial credits.
Lucasfilm
There are also rumors that Alden Ehrenreich's Han Solo performance has so far been very Ace-Ventura-like -- either indicating that it's way over the top or that Han has some kind of alien parasite speaking through his butthole. So you have to wonder at this point: Is the movie beyond saving? Of course they can't up and throw away something that cost hundreds of millions of dollars. So what should they do with this goddamn thing?
Fear not, Lucasfilm, because we have a plan: Use the footage in Episode IX. How? Well remember, Han Solo is famous in these new movies:
Lucasfilm"No, the masturbation euphemism."
So what if someone within the Star Wars universe makes a biopic about Han Solo? They could use excerpts of his spinoff as a movie-within-a-movie. Kind of like the Stab movies in the Scream franchise.
Lucasfilm