"Our collective dignity ... not so real."
As if Lucas is some kind of hilariously clueless member of Spinal Tap, he then says this:
Lucasfilm
George Lucas is a grown-up Ralph Wiggum.
A lot of time is dedicated to how crazy it was to cast Anakin's actor, Jake Lloyd. It was down to two kids: one who was more experienced and clearly had a better audition, and Jake Lloyd. Hell, the other kid even looked like a young Mark Hamill.
Lucasfilm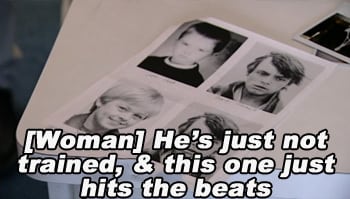 Lucasfilm
It's never too late to CGI him into the movies.
In an odd parallel to the plot of this movie, Lucas insists that Lloyd be in the film (see: Anakin becoming a Jedi), against the advice of his staff (see: the Jedi Council), leading to the near destruction of the galaxy (see: the near destruction of the galaxy). Keeping the tone light, we also get Ewan McGregor making the ol' lightsaber-as-dick joke:
Lucasfilm
"Mine also burns if you touch it."
Even the guy making the documentary seemed to know this thing was a giant turd waiting to happen, cramming the movie full of ominous foreshadowing:
Lucasfilm
Lucasfilm