That's because up until the 1940s, teenagers weren't really a thing. We don't mean that people used to time-warp from age 12 to 20. We mean that the cultural concept -- this ethereal, not-quite-child-yet-not-quite-adult period in human development -- simply wasn't considered to exist prior to the Great Depression. Up until then, you were either a child or you were an adult.
That all changed with a single spread in the December 1944 issue of Life.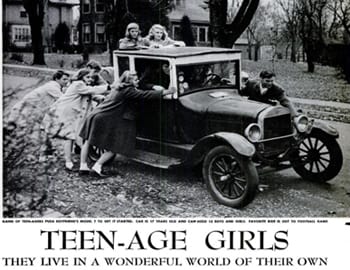 Life Magazine
Note the two girls standing in the back who are contributing nothing but friction.
In a historic attempt to quantify this "new" American youth phenomenon, Life excitedly told of the "teen-age" girl -- specifically the white, middle-class teen-age girl. They did so maybe a bit too excitedly, as evidenced by their up-close examination of Dorothy's too-tight sweater:
LIFE Magazine
Perhaps the thing Dorothy should've "known better" about was allowing a Life photographer within 90 yards of her.